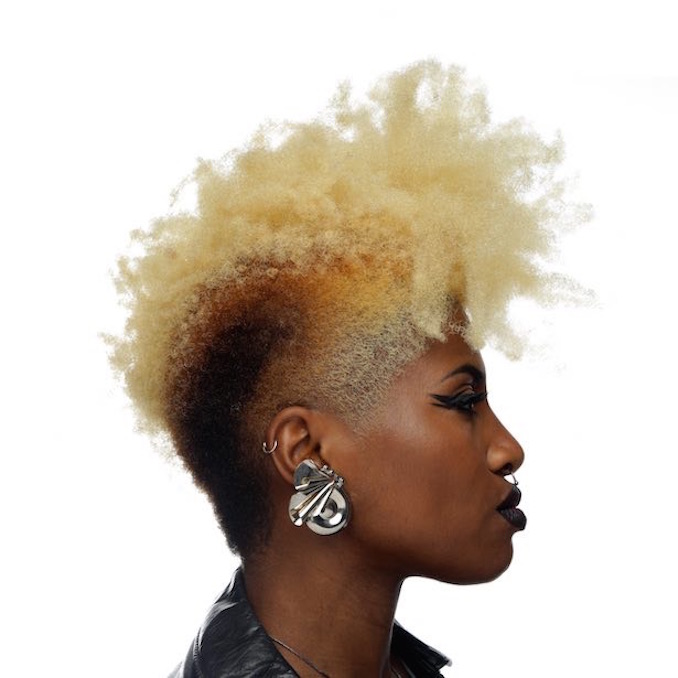 Energetic blues-soul-rock singer SATE, aka Saidah Baba Talibah, is making moves for her debut album. She is working with PledgeMusic, a popular crowdfunding site, to release 3 EPs over the next few months with pledgers having input on choosing 10 out of a possible 20 songs that will make the final cut for the her full length RedBlack&Blue.
SATE was dealing with heavy emotions associated with dealing with her mother's dementia and being estranged from her sister. She was emotionally trying to find herself and some peace within. In order to move forward in her life, she had to confront those issues and writing these songs was very therapeutic way to do just that.
The 3 EPs, produced by Tom McKay (JoyDrop) translate SATE's raw feminine energy in three colours Red, Black and Blue and each EP is represented by one of her totem animals: the Robin Red Breast, Black Panther, and Blue Morpho Butterfly which correlate to the three important women in her life: her mother, daughter, and sister.
SATE has released 2 singles so far including a music video for Warrior, a song serving as a call to action and urging listeners to seize the day.
I had the chance to chat with SATE about her new music and all the things she loves about Toronto.
What is story behind your music name SATE?
Well, I wanted something bold, short, strong and sexy. I wanted something that had depth, something that when people call me by name, my mission is the definition. Needless to say, the dictionary definition of SATE is to satisfy (an appetite or desire) fully. So, my mission is to satisfy.
Crowdfunding seems to be the way to go these days. But why did you choose Pledge over the others?
I loved how focused PledgeMusic was on music. I also loved how supportive they were, how accessible they were, their success rate, and their commitment to making sure every client of theirs is successful.
How long have you been performing music? What keeps the fire going?
Since I was a little girl. I have a very musical family. What keeps the fire burning is my deep love for performing and interacting with an audience.
Do you find it's easier to write a happy or sad song?
I'm all about the drama, so I'd say, sad songs.
What's your proudest moment on and offstage?
My proudest moment onstage was playing in Australia to a packed tent of people up on shoulders, moshing, singing songs with me that they'd never heard but were moved by. My proudest moment offstage, was running a half marathon.
When can we expect a full album?
I'm in the midst of collaborating with my pledgers to help me choose the 10 songs that will go on the album, so, I'd love to say by year end, but it'll most likely be 2016.
If you had to collaborate with one Toronto band, who would it be and why?
July Talk. Because they rock hard, have a great stage show and I wanna get between Leah and Peter.
What's your favourite song you've ever written?
That's really an evil question to ask an artist, who's a Libra (one who desires equality)! It's like asking a mother of ten, who's her favourite child? They're each special in their own way. But a song that I hold dear to my heart is a song that didn't end up on the EPs called 'Another Place', about watching my mother struggle with dementia. I wrote it while I was on a writing trip in New York, and it just poured out of me. I would love to put it out in collaboration with the Alzheimer's Society of Canada or something.
What do you do when you're not doing anything musical?
I cook. I got that from my dad. I'm a health, nutrition and fitness nut too.
Top 3 artists that have inspired you?
Big Mama Thornton, Betty Davis, Jack White
Favourite place to eat in Toronto?
Tabule on Queen East
What do you think of physical vs digital album sales? Do you have a preference?  Are CD's done?
I'm such an analog girl in a digital world. Who said that? Erykah Badu? I so prefer the physical. I love the immediacy of digital, but I want to see who wrote and played on the album, I want to see the lyrics, I want to see the artwork. CD's are done for some people, but there are still people buying them, plus I'm so happy that vinyl is having a little bit of a comeback.
What is one random thing about you that people wouldn't expect?
I'm a shy person most times.
***
Rapid fire:
Sneaky Dees nachos, Hey Meatball spaghetti or a superfood salad from Fresh?
Superfood Salad from Fresh
Queen or College St? Queen Street
Trinity Bellwoods or Highpark? Trinity Bellwoods
EP or LP? LP
Early bird or night owl? Early bird
Road or studio? Road, hands down!
So what's next for SATE?
Taking this show on the road.
A release show for SATE is in the works but for now, you can catch SATE live in Toronto on August 13th at The Rivoli.
Follow her for up to date news on concerts.