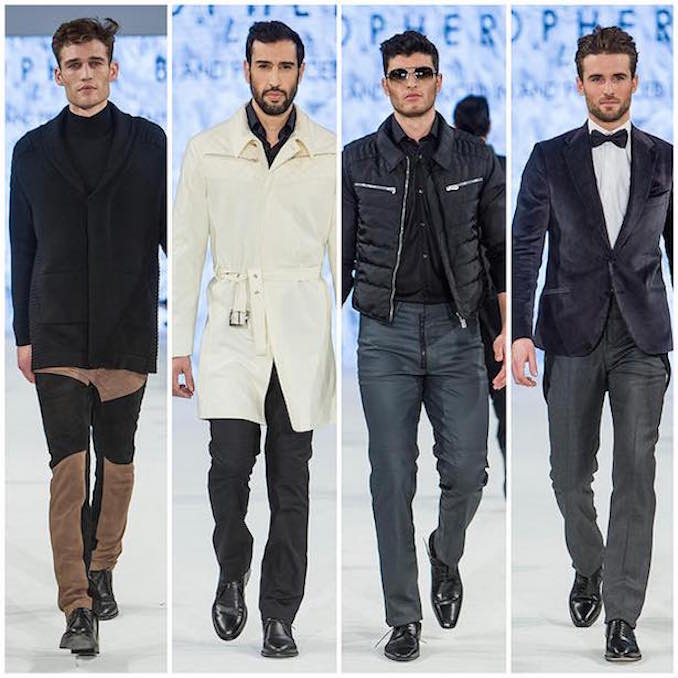 Last Friday, Canadian menswear designer Christophe Bates premiered his Fall/Winter 2015 collection to a full house marking the end of the second edition of Toronto Men's Fashion Week a.k.a TOM*. The show took place at College Park 444 (Yonge St.), which was TOM*s official event venue this season.
Christopher Bates opened his show with a short film which set the vibe for the presentation of his new Italian inspired collection. We saw implacably-tailored suits and slick velvet tuxedos, bi-colour button-up shirts and the cheeky shirt with a kiss mark that has quickly become his trademark. There were also some new styles like knit jackets, zip-front quilted jackets and a bordeaux side zip coat.
Bates took his inspiration from Leonardo da Vinci's Vitruvian Man to build what he considered as being "his most technical collection". He titled it Modular as Bates says it is based on and celebrates the principles of proportion, mobility, geometry, anatomy and architecture.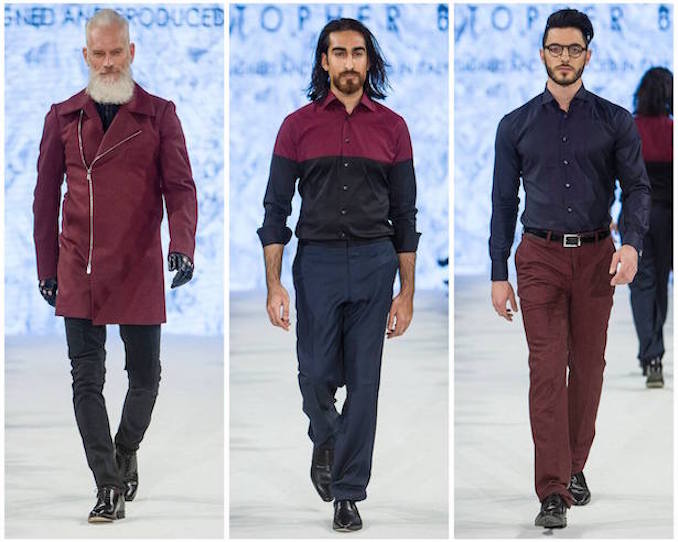 It was Christopher Bates' first ever collection entirely designed and made in Italy with the best materials like lamb suede and merino wool. His love for Italian craftsmanship and strong belief in the power of "Made in Italy" recently encouraged him to move to Milan. His goal is to eventually develop a luxury menswear brand for the style-savvy and career-oriented men around the world.
In Milan, Bates has also been working on a first collection of shoes all handmade in Italy, which will be launching later this year. Meanwhile you can get a sneak preview of his Fall/Winter 2015 menswear and footwear collections at the Christopher Bates trunk show taking place today (March 2nd) at the Trump Hotel Penthouse (325 Bay St.) between 3pm and 11pm. The Spring 2015 collection will be on sale and refreshments will be served as you browse the elegant Trump residence suite turned into showroom.