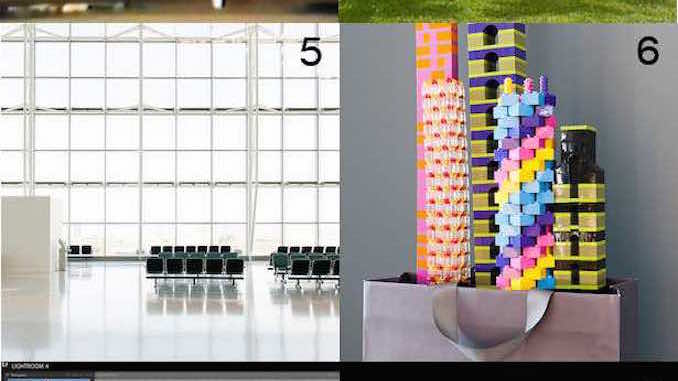 Laird Kay is the living embodiment of the term "getting there is half the fun". Except in his case, it's more like 99% of the fun! A look of utter joy washes over him when he's on a plane – and not a single seat, galley or lowly lug nut is immune to his prying lens. His art is also influenced by his solo travels as a young boy to South Africa, his education as an urban planner and designer – and his hyper sensitive eye that doesn't miss a single detail.
I was honoured when he turned his lens to Lego City, a sculpture I've been working on for a couple of years. His photos are a travelogue of sorts – a tour though an "imaginary" world that represents every city that he and I have traveled to. These photos also represent collaboration in its truest form – the view through Laird's lens has adapted the shape, colour and form of Lego City in a way that would have never happened without him.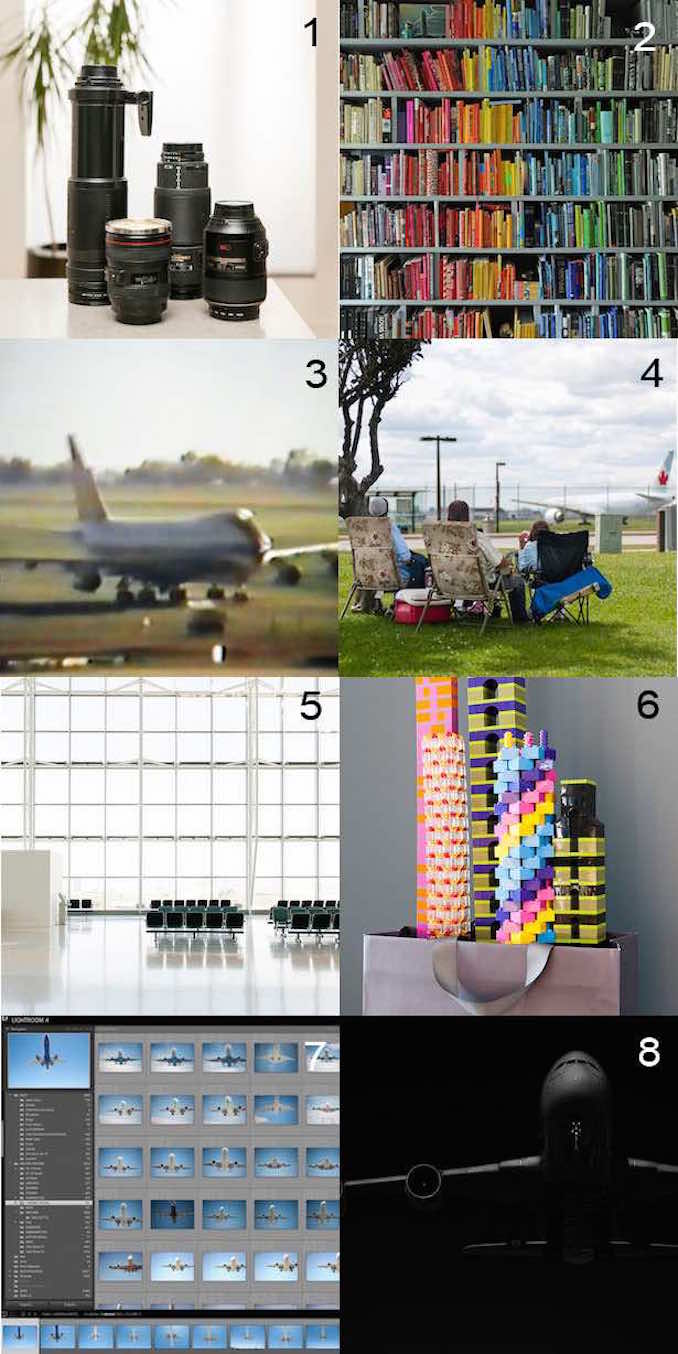 1. I need my coffee in the morning. I was given a lens mug as a gift…it just means I have to put my lenses far away from where I'm drinking my morning coffee.
2. Bookcase at home. Yes, it's colour coded – and is always there for colour and design inspiration.
3. How I became a plane nerd. This is screenshot of a video my grandparents took when I arrived in South Africa with my parents on my first plane ride. Ever since then I've been hooked.
4. My favourite place in Toronto – along Airport Road. Being a plane nerd is the great equalizer, everyone there is interested in seeing jets!
5. I do love empty airports. I love wandering around when there is a lull and taking photos of the grand open spaces. So pure and sculptural.
6. Getting ready to move Lego City into Holt Renfrew Men's Store. A bit of colour is always a good thing!!
7. What I'm working on…this is what I look at during the day..Planes…planes…planes!! And I love it!
8. One of the images I'll be using for my line of plane nerd travel products.
What neighbourhood do you live in?
I live in "Little Italy" close to Harbord – which we lovingly refer to as "Little Hipster"
What do you do and where?
I shoot both conceptual art photography and aviation photography. I've been a plane nerd since my first flight, and am always in awe of anything that flies!
What are you working on?
I am starting a line of travel products for the plane geek, using my aviation images. The first run will be luggage tags, passport holders and dopp amenity kits. I love the idea of mixing photography and product — some photos just deserve to be used in a daily basis vs having them hung on the wall.
Where can we find your work?
I've just completed shooting "Lego City" – an installation of Lego built by my husband Raymond Girard. We are incredibly honoured that we are doing a "Lego Takeover" of Holt Renfrew Men's Store this March. My photos and Raymond's Lego Sculpture will be installed in 100 Bloor Street on March 8th and March 31st, and will be on display for 3 months. And of course, at the 2015 SNAP! Gala in support of the AIDS Committee of Toronto (ACT) taking place this March 26th at the Toronto Reference Library.
Check out my website.