On the night of Saturday, March 3rd, 2018 in Hamilton, Ontario, a group of black-clothed and masked individuals descended upon the quaint Locke Street to vandalize local shop and restaurant windows. Some of which had patrons in them at the time of the assault.
One week later, residents of the community, the city and its neighbours beyond that, came out in support of the locally owned small businesses for #LoveLockeDay. For our first roadtrip of the year, we decided to join them.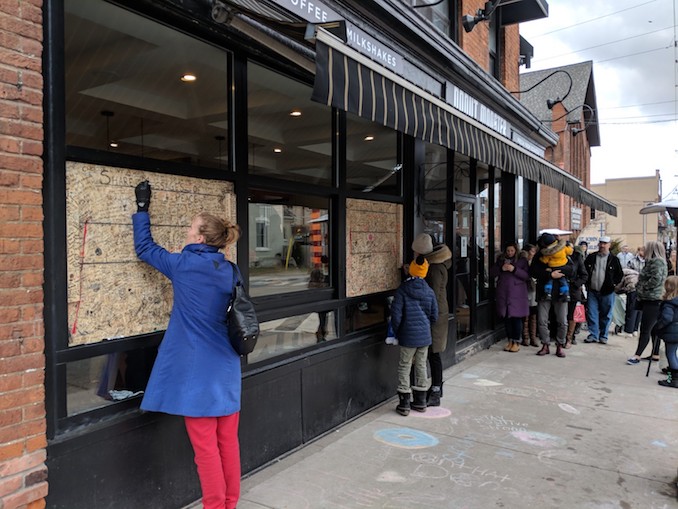 The shops and restaurants hardest hit were obvious. The Beverly, Donut Monster and bitton had almost all of their windows smashed and plywood covered in written messages of support were up in their place.
Locke Street has a very eclectic mix of restaurants and shops. Antique stores, specialty desserts, coffee shops, craft beer,  sports bars, farm to table restaurants and unique shops like the Canoe Trading Co. that offers "well-made goods for everyday living, cabin life and outdoor adventures.".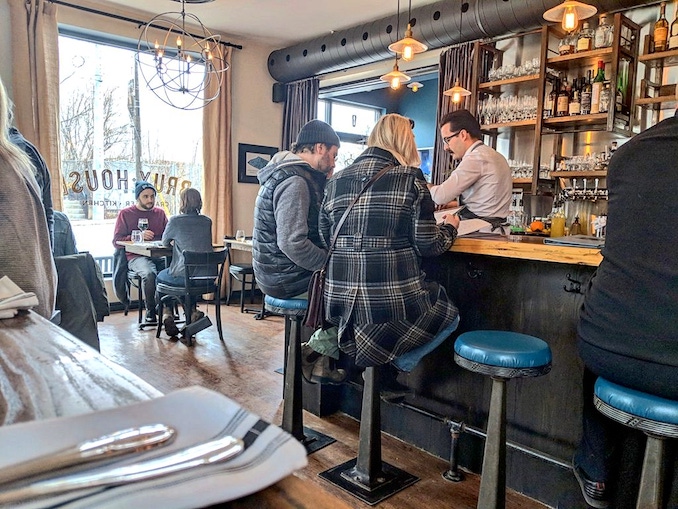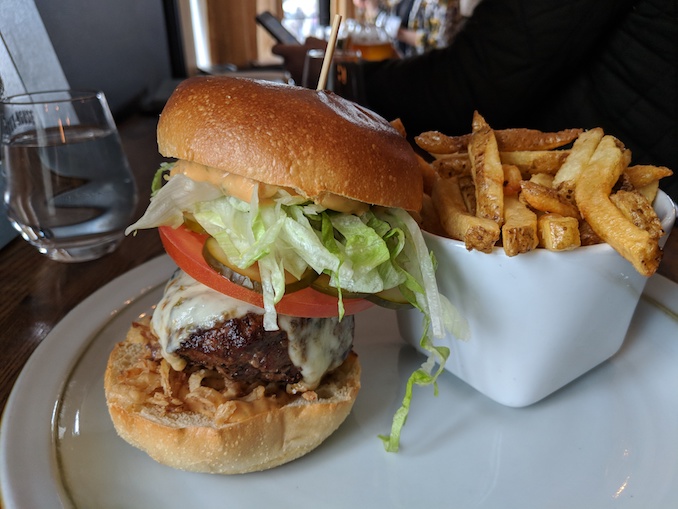 One of the restaurants I ate at was called Brux House which is housed in a beautiful old brick building on a corner. They specialized in craft beers and sold beer flights to get you through the variety of brews they have on hand. I arrived for the lunch menu which featured items under SMALL, like the House Smoked Salmon with pickled quail egg, scallion cream cheese and poppyseed pringle, BIGGER, like the Shrimp Saganaki with ouzo, tomato, feta and oregano, and BIGGEST, like the Brux Burger with crispy onion, tomato, lettuce, pickle, pepper jack cheese, Brux sauce and a choice of fries or a salad. All items mention if they contain dairy, gluten, eggs, seafood or seeds.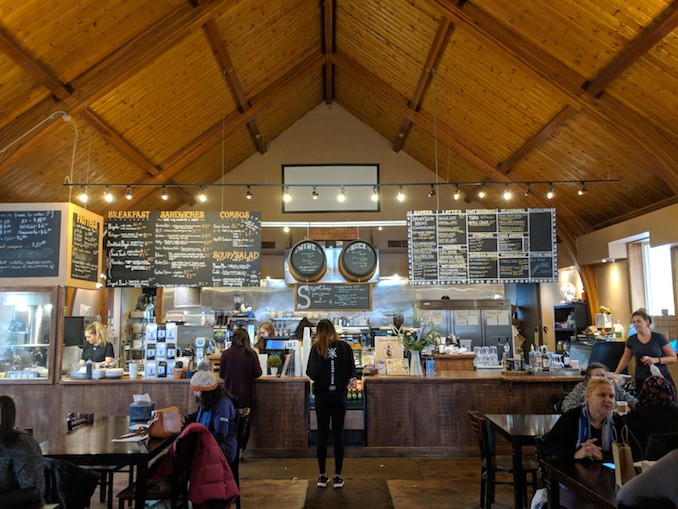 After lunch I grabbed a coffee from Brown Dog Bootleg Cafe, located inside a building that was once a church. The interior has a cottage country type vibe to it with wood ceilings and beams and large open spaces. A second level looks down on the main floor which is used for special events as well as additional seating for regular hours. This place does more than just coffee. They also advertise their passion for craft beer and wine and had quite a lot to eat on their menu, though I did not try any of the food items. I had a double espresso and it was back to exploring.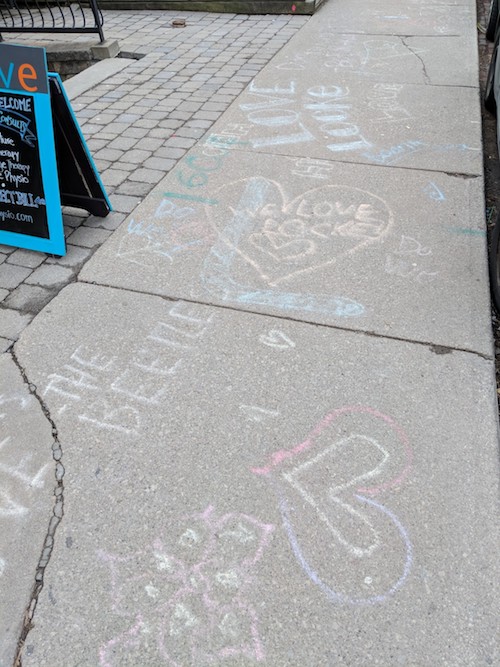 Along the sidewalks of Locke Street, kids had drawn pictures and more messages of support to the local shop owners. Patrons were talking to shop owners and local law enforcement as everyone seemed to be enjoying their day. The community was out and their celebration had overshadowed the reasons for them being there.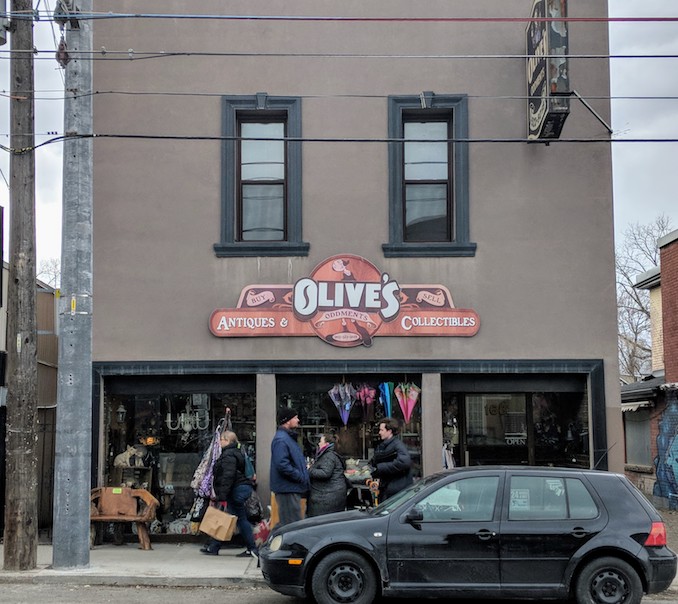 I pass Olive's Oddments – a family business for 25 years with a mother-daughter team who specialize in both old and new collectibles. Betty Boop, I love Lucy, Gone with the Wind, Wizard of O, China, Shelley, Walt Disney Classics, furniture and more are listed as items they carry. Their logo is of Olive Oil from Popeye, very cool.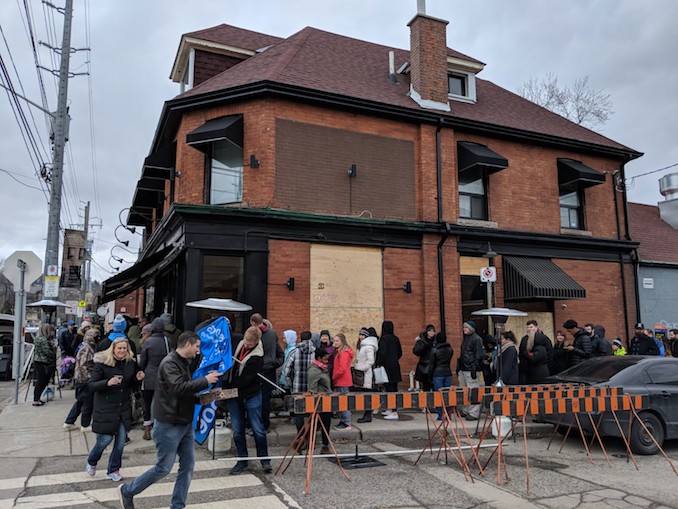 Walking further down the street and near to the end of the main strip, I arrived at Donut Monster where a large lineup around the building kept the spot busy all day. People were still signing the boards along the windows and the interior was packed to the brim with people.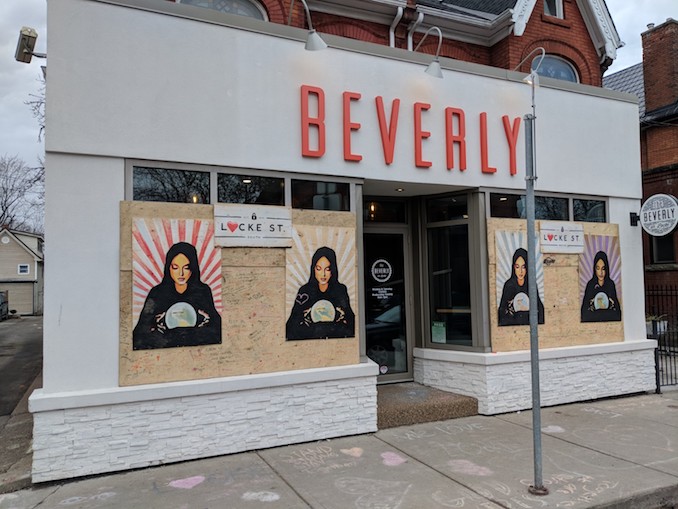 My last stop was just next door.  The Beverly is a breakfast joint and another one amongst those hardest hit. Their entire front facade was boarded up. I arrived here just after 3pm so it was already closed and I did not get to try out their food, but it looks really good from reviews and photos online.
It was great to see so many out in support of the small business owners and it was great for me to visit this awesome little street and its owners. I remember briefly visiting the street years ago to eat at Bread Bar, a Farm to Table restaurant, but I did not get to explore and was in a bit of a rush.
I look forward to the next time I am back in Hamilton and can try more of the restaurants. Farewell for now!