When you step into Hogtown Smoke, the first thing that strikes you is: "This place isn't messing around!".  Front and centre, behind what looks like bullet-proof glass, is a giant red "Hogfather Ferrari Smoker". On another side of the room, also through glass, an equally impressive "Ferrari red Wood Grill", both of these incredible machines – imported from the Land Of Smoked BBQ; Texas.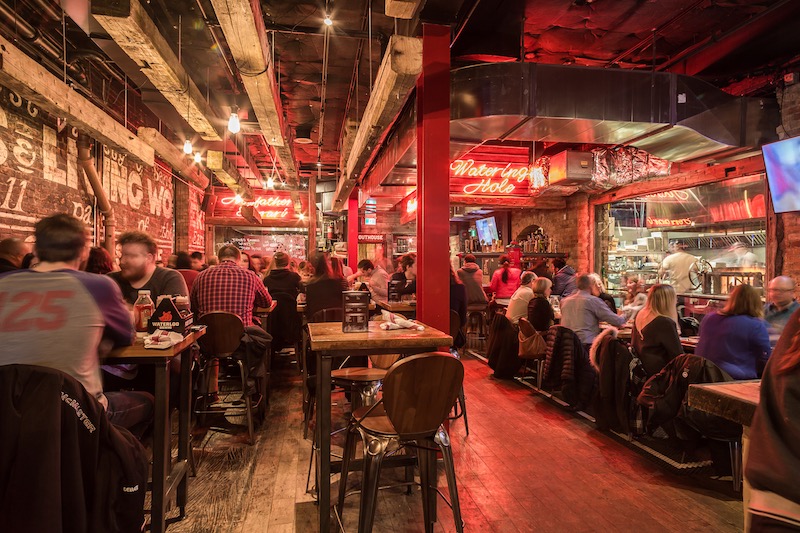 This is not any ordinary smoker or grill, the owners were proud to let us know that once these red behemoths were inside, there was no getting them out.  The building itself, located at 55 Colborne Street, is actually a piece of Canadian heritage.  The original architect was Edward James Lennox (the man responsible for two of Toronto's most famous landmarks: Casa Loma and Old City Hall), and the facade of the building bears striking resemblance to his other works around the city.
Hogtown did not find its beginnings, or its wild success, under conventional circumstances.  At the beginning there were no huge investors, or brick & mortar storefronts.  Just a couple hard working people, good food, and … a food truck.  Entrepreneurs Scott & Joanne would prep the original BBQ Hogtown truck out of their house, the night before hitting the streets.  The prices were good, the food was great, and soon their business was taking off – prompting them to upgrade – and rent out the rear of a restaurant in order to really get the Hogtown smoke truck going.
Soon the restaurant they were "piggy-backing" off folded – and their landlord approached them, with an offer to take over the storefront.  Hogtown Beaches was created – and the success wouldn't stop there.  Numerous features on various food shows, publications, and media outlets, have helped launch Hogtown to almost 'celebrity-like' status amongst BBQ connoisseurs, and 'food truck pundits'.
Fast forward to today – and the new Hogtown downtown location is bustling.  Complete with both authentic 'BBQ stools' and traditional seating, it gives off a very "wooden BBQ" atmosphere – which compliments the smoked flavour of the food, and adds to the authenticity.  They also serve their own special homemade BBQ sauces Hogfather, Hogmother, and a few others – because what is homemade BBQ without special homemade sauce?
Connected to the restaurant is "The Joint Bourbon Speakeasy" a new music venue (attention all performers!) and bar.  It opens on Friday and Saturday nights, with live music (Blues, Jazz & Rock on Fridays and throw back 70's, 80's & 90's on Saturdays).
It gets better – in April they will be kicking off 3 new nights: "Corporate Meltdown" (specials between 5pm-8pm), "Comedy Night Wednesdays", and "Industry Mondays".  And finally, possibly the most Toronto of all, they will have a patio in the summer starting in May, if the weather is cooperative. Furthermore, the city has shared plans to turn Colborne Street into a zero parking street with walking avenue and street patios for all of the establishments on the street.  We think that Toronto can always use more patios!  The public & neighbourhood should always get behind any initiative that involves less cars, more patios, and more BBQ.
Support by reaching out to your councillor on what a great idea this is.  Toronto needs more patios and pedestrian only streets like this!