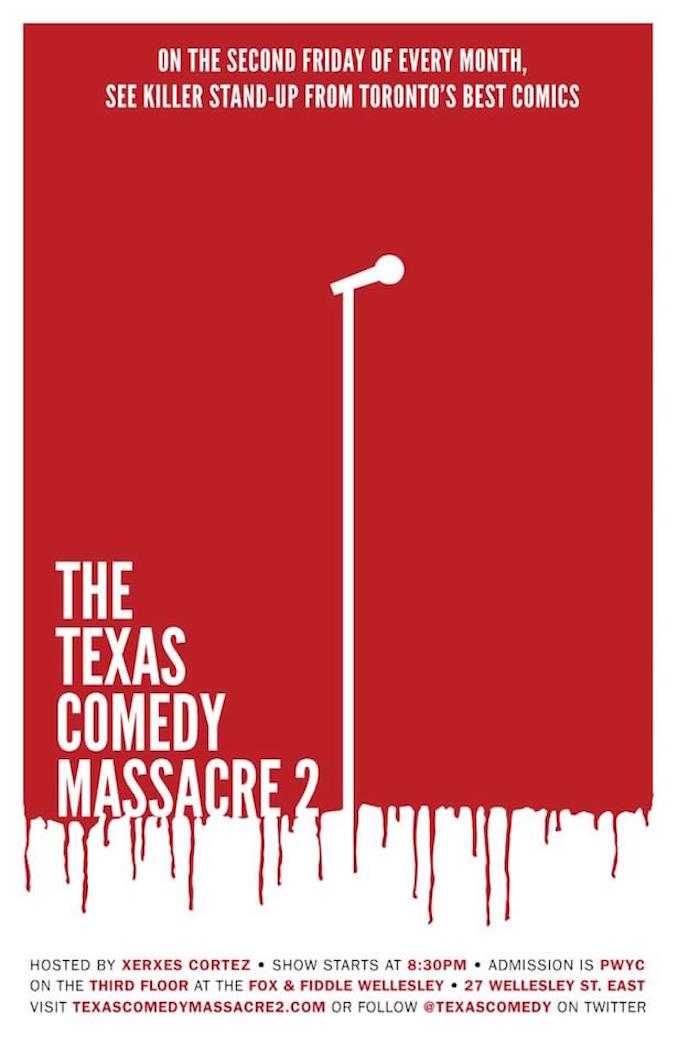 Here at Toronto Guardian Comedy its our M.O to showcase the major festivals, live shows, album releases and hidden gems of the Toronto comedy scene, here in Canada's comedy capital.
One of those so-called hidden gems is the TEXAS COMEDY MASSACRE 2. And to answer your first question before we get started, no there was never a 'Texas Comedy Massacre 1'. This is not a sequel.
TCM2 (as its called on the streets) is a Toronto original. And over the past decade this show has built up something of a cult following. Coming up on 9 years deep its becoming one of those rare "heritage rooms" in Toronto, those indie shows with a loyal, built-in audience. Shows that comics love to play. Where some of Toronto's top crowd killers have cut their teeth and touring pros passing through from coast to coast, drop in and put in some time.
There aren't a lot of shows that hit the decade mark and manage to keep up the pace so consistently. A few come to mind… Brian Coughlin has been running Corktown Comedy down at Betty's on King for just about a decade, launched around the same time as the Massacre
Jo-Anna Downey's weekly show at Spirits as just passed the 18 year mark, and at this point it's an all-out institution in Canadian comedy. Over the last 20 years every who's-who in Canadian comedy has passed across that stage. At this point, its hallowed ground for upcoming comics, a benchmark stage. And if not a sure-fire "career maker" then definitely one of those first milestones in the life of a Toronto standup
The Massacre on Wellesley has made it this far almost under the radar. For a show that maintains the same loyal crowd, the same packed turnout, and a consistently curated lineup – its pretty damn unassuming. Over the years (and especially since I arrived in the summer of 2011) not much has changed with the format or the feel of the show. There-in lies the magic of it all.
TCM2 is the mad creation of the producer/MC duo of JOHN COWITZ and XERXES CORTEZ. Two names that will be known almost exclusively to fellow stand-ups and diehard comedy scenesters. The second Friday of the month, Cowitz books a tight lineup of local comics and touring headliners. Cortez does the hosting. The show is planned, prepped, packaged to perfection – yet it has all the care-free "anything can happen" energy of a weekly comedy show, its a polished monthly in thin disguise.


As far as local hosts go, I've always considered Xerxes Cortez to be something of an un-sung hero. He makes his way around the local circuit occasionally, popping up on stage here and there. But his main energies are harnessed here at the Fox & Fiddle on Wellesley. He hosts the room with an infectious energy. He keeps it light, unencumbered – and borderline ridiculous. Getting the crowd to let loose, drop all inhibitions, and commit to care-free fun on a Friday night. That's the job of a host, stripped down to its simplest form. And Cortez is probably one of the best naturally funny hosts in Toronto.
I host a handful of my own shows, the occasional tour, a podcast network – and every time I play the Massacre, and I'm sure my subconscious picks up a cue or two from Cortez every time he brings me to the stage.
The first time I wandered into the Massacre, upstairs at the Fox, was purely by happenstance. I was a very new comic. I asked John Cowitz about the show, who was on? John Hastings was on the bill I remember, he hadn't left for the UK yet. Christina Walkinshaw was on, one of the first comics I met in Toronto. I asked John "how does a new comic get on the show?" Give it time, he said. First off, check out the show. See what it's all about.
He offered me a seat in the crowd. I understood this at the time and I understood it even more once I started running my own rooms. This is one of those indie shows that comics earn. They work their way up to it. A year later I was on, and it still remains one of my favorite places to perform in Toronto. I've been there many times since, over the years. Its always one of those anticipated gigs on my schedule that makes me feel warm & fuzzy all over.
The lineups are solid, the crowd is warm, and after a long week of hustling around, working big shows and small, with every bump and curve in the comedy road along the way, there's always something so relaxed about that room.
Whether you're on the stage, or in the crowd the way I first experienced it. The Texas Comedy Massacre 2 gets better with age, and nothing much seems to change. Maybe that's the secret after all.
Keep up to date with their Facebook page.