2015 was a good year for Canadian comedy heavyweight Ron James. Actually, that's a complete understatement. As politically astute and passionate off-stage as he is a walking embodiment of pure Canadiana on-stage, this year saw the takedown of James' greatest idealogical foe – Stephen Harper. Our shunned Prime Minister who stayed on for far too long, and started stripping away all of the things we hold to be purely Canadian. And Ron James, being a sort of elder statesman of Canadian comedy and one of our few true homegrown 'celebrities' (who stuck around and made a go of it here at home) took up verbal arms against our former Robot King. How could he not? There are few things as inherently Canadian as comedy – and Ron James himself for that matter.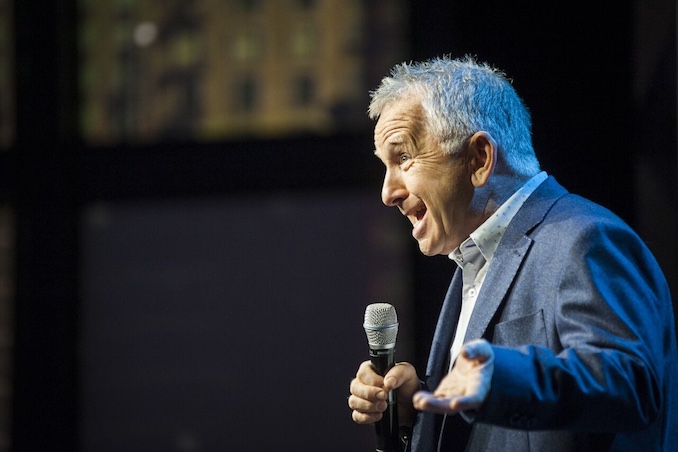 If that wasn't enough to put a little extra spring in his outspoken step (we Canadians don't actually swagger, we jauntily stride… well OK Drake seems to have some swagger, I'll admit) this year was also a personally productive one for the one-man showbiz machine. Passing across Canada on his 'PEDAL TO THE METAL' Tour (more dates to continue in January!) James also hit the stage here in Toronto. Playing to a packed house at the iconic Massey Hall. With a full schedule of road dates, and the return to some of his own personal favorite places along the way (criss-crossing Canada like a punchline flinging Wayne Rostad) James also taped a one-hour special to air this New Year's Eve, called FAST FORWARD.
Ron James telling jokes on national TV on New Year's Eve has become a tradition at this point. Right up there with lacing up the skates and heading out onto the rink with a thermos of rye (our little secret) or ringing in the new year at home with good friends, a fridge full of cold ones,  and a little Blue Rodeo on the playlist.
This year, fans (and hey, first time viewers too!) can expect James to cast a wide net with his trademark toolkit of acerbic wit and homespun obersvations. Taking on the pop culture stories of the year, and political blunders, and the events that shook and shaped the world in tumultuous 2015. From manbuns to memes. Twitter and Tinder to Plenty of Fish and Facebook shaming. Trump to Trudeau. From Toronto to the Alberta NDPs. From Caitlyn Jenner to the Jays.
Ron James is known to most Canadians as that perennial 'CBC Television' comic. With a manic energy and folksy charm, James just exudes those coveted cliches of Canadian politeness and approachability. But while he has that stuff in, it's also maybe his most disarming weapon as a comedian. On the outset, he's the every man. James is the average Joe with a neighbourly demeanour and loveable stage presence. He's also, in turns incredibly sharp and insightful. He hones his words into sharply pointed pieces of satire and deeply drawn observations that alway cuts to the core. Few comedians can launch into a fevered political rant at length that would hold an entire theatre at bay, dangling on every word. Switch-hitting from political punditry to pop culture and current events at a hundred miles an hour and a million words a minute, we can never predict his next move and his targets never stand a chance. He knows exactly what he wants to say up there.
Fans of comedy who aren't quite familiar with the many facets of Ron James on-stage, are in for a treat this New Year's Eve at 9 with FAST FORWARD (and believe us, you won't want to). Then again, many Canadians will be tuned in already.
For info visit – http://www.ronjames.ca/