Well, we know what Don Ferguson is doing for New Year's Eve. The original founding member of Canada's CBC-TV's AIR FARCE, one of Canada's longest running televised entertainment specials, will be celebrating the popular CBC-TV'S AIR FARCE NEW YEAR'S EVE  25th anniversary on December 31st at 8:00 pm.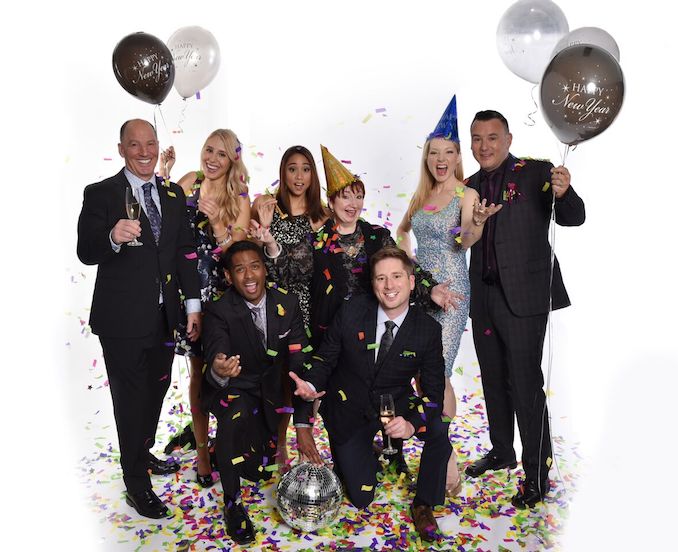 The New Year's special is one of the most watched shows in Canada on this night attracting over 2 million viewers annual, with the most enduring sketch comedy troupes in Canadian history entertaining viewers on Canadian politics, current affairs, and pop culture.
In addition to starring in AIR FARCE, Don Ferguson is also co-cheif executive of the production company but we all love him in his unforgettable characters like F-Bomb's Doctor Von Rikkengord, news reader Franklin W. Armstrong, the Chicken Cannon's Colonel Stacy, as well as portraying politicians such as Pierre Trudeau, Joe, Clark, Bill Clinton. He's also taken on convincing celebrity characters like Bob Dylan, Keith Richards, and many more.
This 25th year anniversary New Year's Eve AIR FARCE includes Luba Goy, Jessica Holmes, Darryl Hinds, Craig Lauzon, Isabel Kanaan and Chris Wilson along side the newest member to the troupe, Lisa Gilroy.
We had a chance to chat with Don Ferguson about the upcoming special.
So, when it comes to writing the sketches, is there anything that's off limits?
DF: What's off limits is making fun of people with physical disabilities, laughing at acts of cruelty, or attempting comedy where the victim is called to mind. This year, there were a lot of big stories that fell into those categories, and that created a challenge for the writers. But, I'm happy to say, our writers rose to the occasion.
Public submitted ideas for skits based on the past year's news? 
DF: People submit ideas for F-Bomb targets, rather than for sketches. (BTW the "F" in F-Bomb stands for "Farce"). Not sure offhand how many people submit suggestions, but it's not thousands. I like to think our audience is very discriminating.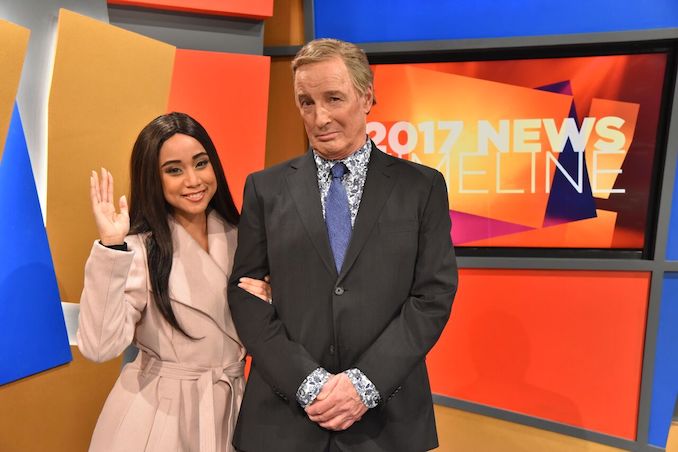 The White House and Donald Trump – how do you all decide what to focus on? 
DF: My issue with the White House and Trump is that I'm fed up with Trump. I don't want to look at him, listen to him speak, or even hear his name mentioned. I refer to him in the show this year as, "the president whose name escapes me". SNL, in the person of Alec Baldwin, has been having a field day with him. For these and other reasons we decided to keep his presence to a minimum. But it's a good minimum. Craig Lauzon plays Trump in our special, in a sketch where Wonder Woman, played by new cast member Lisa Gilroy, brings him to justice.
The most fun character for you to play?
DF: This year I enjoyed playing Vladimir Putin. He's powerful, ruthless and nasty – my idea of a fun character. Also, as is the case every year, I get to play Dr. Von Rikkengord, the scientist who drops the F-Bomb. It's always a pleasure to dump a load of gooey slop on targets that our fans think are deserving. The live studio audience especially loves it. If you weren't one of them, you'll have to watch the show New Year's Eve at 8:00 pm on CBC to find out who we "F-Bombed".
Finish this sentence "Hey 2017 …"
DF: "…. good riddance!"
What's your New Year's resolution?
DF: To learn how to shoot pool or play billiards.
How about New Year's traditions?
DF: I'm all for traditions. I lived in Italy for a while when I was younger, where the New Year's Eve tradition was to throw out old things at midnight. Most people lived in apartments (still do) and there were occasional catastrophes when someone tossed a sofa from a fourth floor window. Basically you didn't go out into the streets around midnight for fear of what might land on you. Another tradition, not unique to Italy, was firing gunshots into the air – also a recipe for disaster. Compared to that, I'm boring. My tradition is to stay home with family and friends, or get together at friends' houses. If I'm feeling particularly wild, I'll go for an overpriced, poorly prepared meal at a local restaurant. The idea is to have a social evening that revolves around companionship, food and champagne — the only beverage permitted, apart from water.
Congrats on 25 years of this NYE Special — this must call for better champagne? How are you celebrating?
DF: I don't have firm plans for celebrating yet. But better champagne than the previous 24 years will definitely be part of whatever I end up doing.
Amazing! Thanks Don… and PS thanks for answering our ghost questions too! You read our minds. lol
Want a hint of what's planned for this New Year's Eve special? Check out www.airfarce.com  . You won't want to miss this!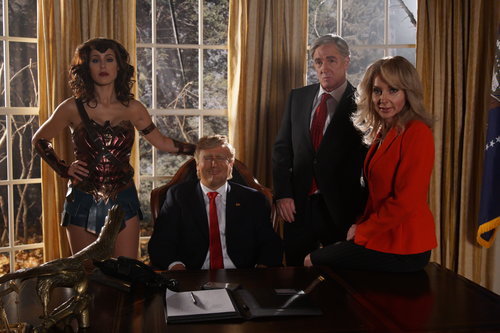 AIR FARCE began as a topical stage review in 1970 and grew into a wildly popular franchise, including: a CBC Radio series (1973-1987); a weekly CBC TV series (1993-2008); an annual CBC TV special, AIR FARCE NEW YEAR'S EVE (1992 – present), celebrating its 25th anniversary: national concert tours; lives stage productions; books; home audio and video releases. AIR FARCE has received many awards and accolades. The troupe members became the first Canadian inductees into the International Humour Hall of Fame in 1992 and were inducted into the Canadian Comedy Hall of Fame in 2001. They were the recipients of the Governor General's Performing Arts Award in 1998 and receive a star on Canada's Walk of Fame in 2000. At the 2000 Gemini Awards, AIR FARCE received bot the Earle Grey Award for its body of work in Canadian television, and the viewer-voted People's Choice Award for favourite television program. AIR FARCE is produced by Don Ferguson Productions in association with CBC.