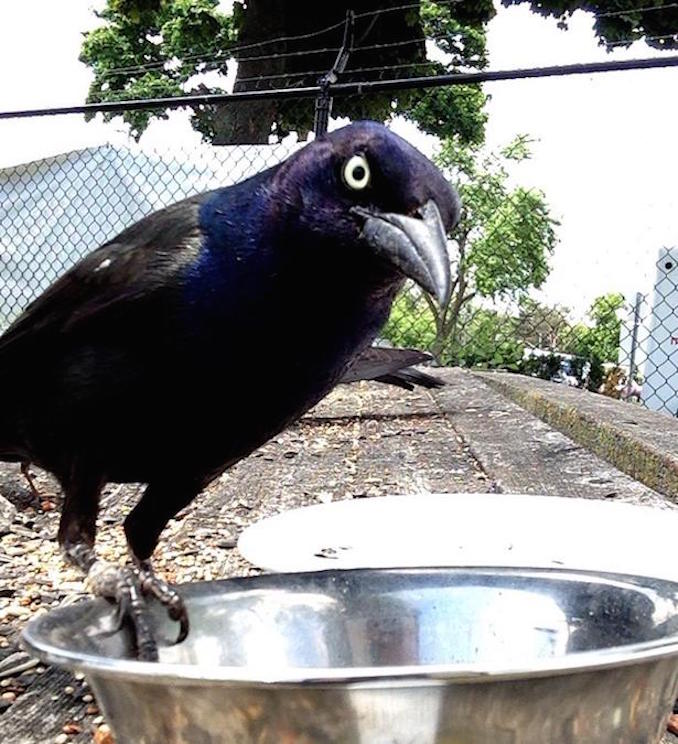 Week Three of the Toronto Bird Photo Booth Business Challenge saw the cameras fly north to Leaside and land in the back corner of the rear parking lot at 33 Laird Dr. The weather was brooding and ominous storm clouds threatened to drown myself and the water sensitive equipment. But as I waited, I noticed there were birds everywhere… Like out of a Hitchcock movie the air was thick with them. The nearby ravine and its trees and shrubs and the wetlands by the Don River below are natural habitat to thousands of Toronto birds. I could see and hear them all around this bird friendly area.
John Conn runs office phones, Standard IP Telecom which services older model phone networks, and his firm rents the location here on Laird Dr. In the back corner of their parking lot there is a very bird friendly area, with a fence and two tall trees in which the birds sit and serenade the staff who smoke cigarettes on break at the picnic tables below.
John had carefully thought out his photography strategy, and he knew where and how he wanted to set up the Bird Photo Booth with cameras pointing at a picnic table laid out with bird seed. And John also came prepared with custom bird seed that he picked out himself from a nearby garden supply store on Bayview which contained all manner of sunflower seeds, some shelled, some unshelled, with lots of corn and kibble.
A budding naturalist, John has been working in telecommunications and keeping an eye phone lines and birds for twenty years. And so he jumped at the opportunity to finally meet the ones hanging around outside his office window.
Although John runs his business on an old Blackberry Bold cellphone, he quickly caught onto how to use the iPhone 5C and set up the HD Camera Motion Detector app. He also took it upon himself to hide the unit from the prying eyes of passerbys, and he cut a hole in a greeting card to keep the device hidden from view.
One failure on my part was that I didn't show John how to adjust the Wingscapes BirdPro camera lens focus ring for the shorter distance he selected, and so I see now that almost all of the images from that camera are not as sharp as the crisp shots I collected during testing. Another failing of mine is the time stamped date mechanism on this rig reverted back to January 1999 despite my efforts to set it right.
John says he didn't have to wait long before the birds flocked to his offerings. The male Common Grackle is a bold creature. Grackles are blue tinted blackbirds that look like they've been slightly stretched. They're taller and longer tailed than other blackbirds, with a distinctive curved bill you can really see in this picture. This particular specimen has a nice dark blue glossy-iridescent head and shoulders. Grackles walk around lawns and fields on their long legs or gather in great noisy groups high in trees in the autumn. They prefer to gather in evergreen trees which is interesting. They eat many crops , most notably corn, but will eat nearly anything else they can find as well, including food waste on city streets and sidewalks.
Week Three – photos Standard IP Telecom's gallery is a terrific contribution to the collection; its filled with great shots from both cameras and really raises the bar again on the challenge as a whole. Next week the bird photo booth flies north to Rouge Park in the top right corner of the GTA.