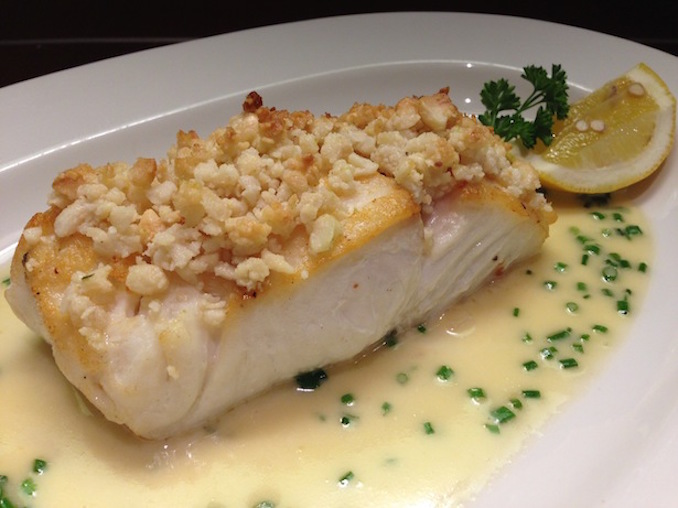 Macadamia Crusted Halibut
9oz portion of halibut (Skin off)
2 oz Macadamia nuts (chopped or ground)
Oil
Salt and pepper
Lemon
Put your pan on the heat. Add oil and wait until you start to see it smoke a bit.
Season both sides of the halibut, salt and pepper.
Place the halibut in the pan "presentation side" down (not skin side) and sear until golden brown.
Once seared on the presentation side, flip over and take out of the pan and place on baking sheet. Squeeze lemon over top of fish.
Put fish into a 400 degree oven. Depending on size of portion and doneness you desire it should take only a few minutes.
I place the fish in for 2 minutes or so, pull it out add your raw macadamia nuts on top of the fish and place back in the oven until nuts are golden brown.
Pour Beurre Blanc on plate + add chives on top – Place halibut on top.
—————————————————————————————————-
Chive beurre blanc for Macadamia Crusted Halibut
¼ cup white wine
1 tbsp. white wine vinegar
1 shallot chopped
2 tbsp. chopped chives
Salt and white pepper
1 lbs unsalted butter cubed and chilled
1 tbsp. cream
In a sauce pot place wine, vinegar and shallots over med heat and reduce by ¾.
Add cream and reduce by ½. Then slowly whisk in cold butter until incorporated. Finish with chopped chive and season to taste.