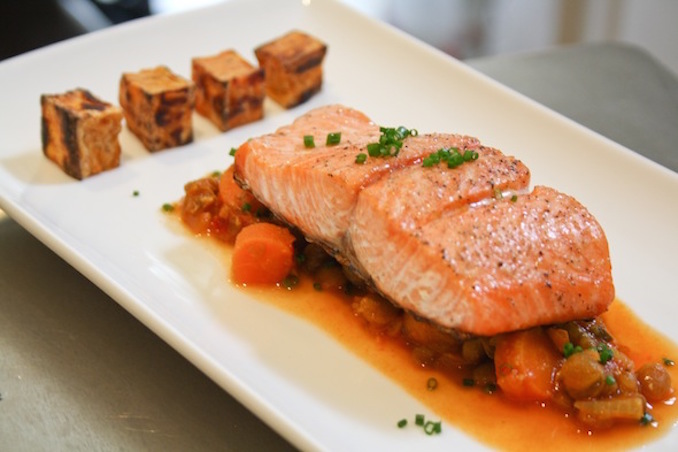 This is a dish I prepared for a good friends special engagement dinner.  Since the bride to be had a specific pesca-ovo vegetarian diet, I was challenged to create an entire menu that could accommodate her needs.  After a few courses of lighter, mostly vegetarian courses, I decided to end our meal with this dish of Arctic Char, since its rich flavours were arguably the most intense of all the other courses.  The flavours and textures were combined in such a way that the fish and the lentils were balanced in intensity, and the sweet potato brought the whole dish together in each bite with its smooth rich texture.
This dish succeeds in being healthy, complex, and surprisingly easy to prepare.  It also pairs beautifully with an off-dry gewürztraminer, especially that of German origin.  The ingredients are not only healthy and locally sourced, but they are also easy to find, and simple to execute.  If your local fishmonger doesn't have impeccably fresh arctic char, salmon or trout make an excellent alternative for this dish.
After finishing our last course, we were all in agreement that it was an appropriate way to end our meal. This dish incorporates the flavours of North Africa and the Middle East, but the ingredients keep it in the realm of local Canadian fusion cuisine.
INGREDIENTS:
Lentils
2 Tbsp Olive Oil
1 Onion (chopped)
1 Tbsp Garlic (chopped)
1 Tbsp Ginger (grated)
1 Tsp Cumin
1 Tsp Paprika
1 Tsp Coriander seed
½ Tsp Turmeric
1 Pinch Cinnamon
¼ Tsp Black Pepper
1 Tbsp Salt
2 Cups Lentils
1 Cup Tomato (Diced)
2 Tbsp Honey
1 Cup Vegetable stock
2 Tbsp each Cilantro, and parsley (chopped)
INSTRUCTIONS:
Cook onion in olive oil until soft and beginning to brown.  Add garlic, and ginger and cook 2 minutes on medium heat.  Add spices, salt and pepper, and toast for an additional minute.  Deglaze pan with vegetable stock, add lentils, and tomato.  Simmer for 20 minutes.  Season with honey and dash of hot sauce (sriracha).  Add cilantro and parsley.
Roasted Sweet Potato:
1 Sweet potato (peeled and cut into 1 inch cubes)
1 Tbsp Olive oil
Salt and pepper
Toss Sweet Potato cubes with olive oil, salt and pepper.  Roast in the oven at 350 degrees until soft (approx 25 mins).
Grilled Arctic Char:
1 Arctic Char Fillet (cut into 2 pieces, approx 4 oz piece)
1 Tsp Olive oil
Salt and Pepper
Grill on the barbeque skin side down until fish is just cooked.  Serve over spiced lentils and sweet potato cubes, and garnish with cilantro and parsley. Drizzle with extra virgin olive oil.
From Chef Mike Greenberg