Basso Pizzeria at 320 Queen E on the north side of the street, between The Berkley Church and Parliament is part of a culturally diverse neighbourhood called Corktown now 'emerging' as they say, on Toronto's lower east side.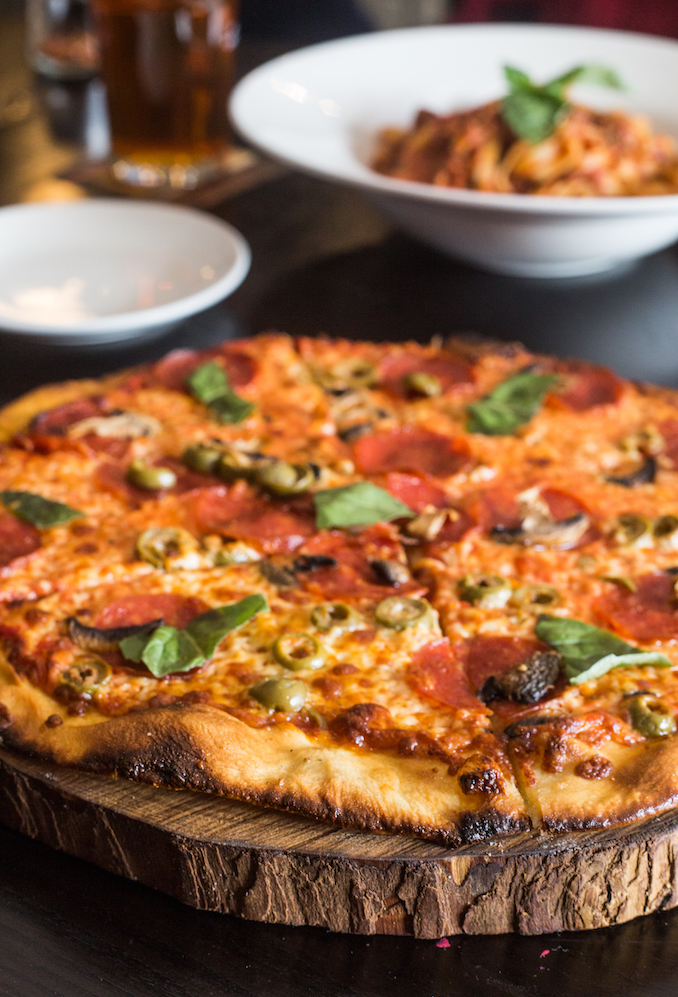 The restaurant's exterior black and white sign, with its stylish Basso Pizzeria name and logo employs a subtlety that's lost in this part of town, the half naked mannequin wearing bondage leather part of town, it's the lean mean section of Queen.
So you might not expect the inside of this cozy pizzeria to be so darn civilized, so comfortable and culturally sophisticated. The menu reads like a romance novel, especially if you love pizzas.
This is a pizza wine bar and the old wooden wine casks that have been cut apart to decorate the walls and corners of the bar also support the pizza maker's pedestal at the back of the room.
Basso Pizzeria has a wood fired pizza oven which patrons can smell as soon as they walk in the door. Their searching eyes will soon spot the glowing half oval orifice raised up high in a brick chimney at the back of the room. The oven is preceded by a crenelated podium of pizza toppings where a talented chef prepares thin-crust pizza pies to order.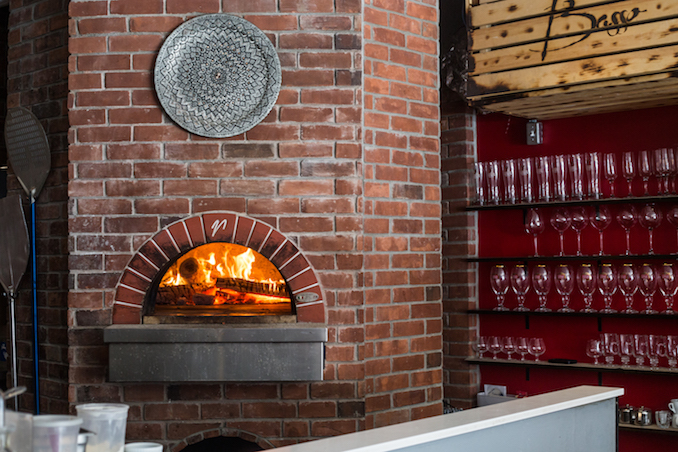 Look around, there are two dozen beers on tap and three big screen televisions above a fully stocked, and beautiful marble counter topped bar. The venue has a window table plank with four stools, which is my favourite place to sit and people watch. There's seating for two dozen folks upfront and twenty more in the back.
The rear portion of Basso Pizzeria is entirely an different province than the front-of-house. It's fine dining back here as signified by an electric fireplace under fine art paintings from local artists.
The white table clothes glow softly in the dimly room and become culinary canvasses on which the chef places his delicious art. His patrons eat and digest his world class pastas and cooked meat dishes alongside some of the best wine in the city. Basso Pizzeria is a wine bar after all and the wine list is unrivalled by any other restaurant in Corktown.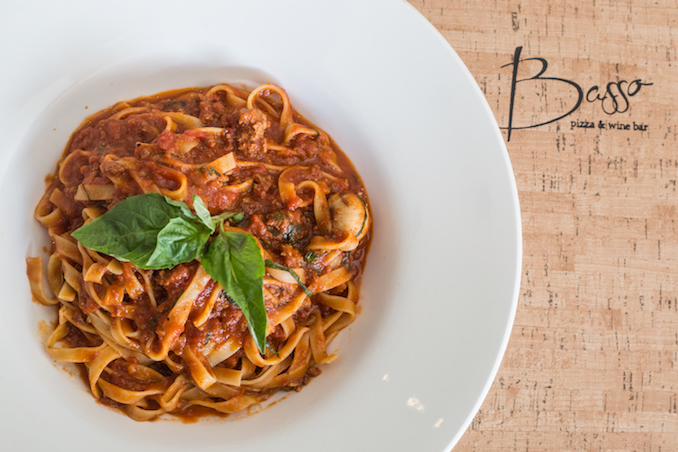 Additionally, Chef Courtland has selected certain wines to accompany choice cuisine and will not hesitate to emerge from the kitchen to share his recommendations with guests, adding to the artisanal feeling that Basso imparts, and further explaining how and why they're growing such a strong following in the community.
Book a table at Basso Pizzeria now, before this little restaurant gets as red hot as the wood-fired pizza oven behind the bar. Visit their website for more info.