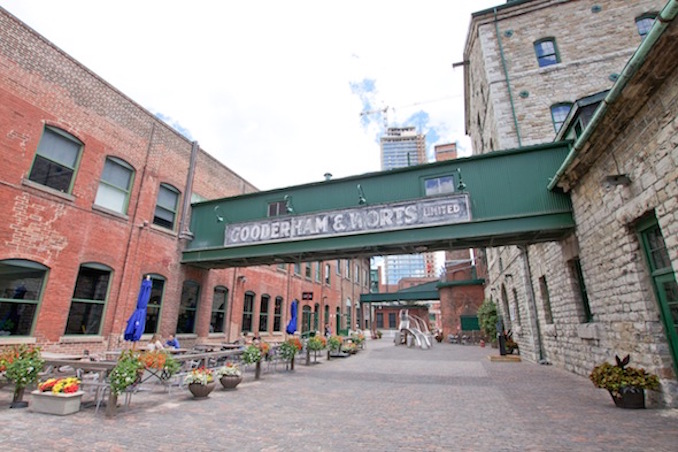 The Distillery District in Toronto is a collection of Victorian buildings from the Gooderham & Worts days, one of the biggest distillery companies in the world in the mid 1800's. In 1990 after 153 years of continuous production, the Gooderham & Worts Distillery finally closed down its operations. In early 2000s it was decided that the area, already a historical site, would be transformed into an art and culture hub. In 2003, after the restorations,  the 13 acre area consisting of 40 heritage buildings and 10 streets was opened to the public. It is located at the bottom end of parliament where the mouth of the Don River used to empty into Lake Ontario. The buildings are the largest collection of victorian-era industrial architecture in North America.
The area has become a huge tourist attraction as well as an events hub. Currently the Toronto Jazz festival has taken residency there until July 2nd when the festivities comes to an end.
The area contains many restaurants, galleries and shops. Keeping in with the history of the area Mill St beer has its brewery down here as well.
Future developments of the area are in full steam. The newest developments are condos that will be located at the south-east corner of the neighbourhood, bordering on Cherry Street and Tank House Lane. The PanAm Games Athletes' Village will also soon be joining the local area. The plans have it going up just north-east of the Distillery at the intersection of Cherry and Mill Streets.
Here are some more pics of the neighbourhood. Go check it out soon!