March of Dimes Canada is a charity dedicated to removing barriers and enhancing the quality of life of individuals with disabilities across Canada. The charity serves as a strong advocate for disability rights, working to influence policies, regulations, and legislation that promote accessibility and inclusion. The organization raises public awareness about the challenges faced by disabled individuals and advocates for changes that lead to a more inclusive society. We sat down and spoke with Len Baker, who has been the CEO of March of Dimes Canada since 2018, to find out more about what we can do to aid in this cause.
Describe your charity/non-profit/volunteer work in a few sentences.
March of Dimes Canada (MODC) is a leading national charity committed to building a barrier-free future. We champion equity and empower ability with a wide variety of services that enable people with disabilities to live and thrive in communities across the country. Our programs support everything from personal care and social connection to employment because every aspect of life should be barrier-free.
What problem does it aim to solve?
We work with stakeholders — including clients, government representatives, and the business community — to identify and reduce or remove the barriers that people with disabilities face every day.
When did you start/join it?
I joined March of Dimes Canada as President and CEO in October of 2018.
What made you want to get involved?
It was the complexity and scope of our programs and the fact that so many people aren't aware of everything we do. We offer an incredibly diverse, rich range of services — everything from in-home care and support for stroke survivors to technology, advocacy, research, employment, home modifications and more. It's quite a range, and people should know about it. I saw an opportunity to align our offerings so that clients across Canada could access them all seamlessly, consistently, and efficiently. I also wanted to build a brand that resonates with stakeholders, so we could expand and evolve to meet our clients' changing needs.
What was the situation like when you started?
I inherited a well-established, well-respected organization that was ready to move forward and build on 70 years of service. We were ready to evolve. That meant working closely with our clients to identify their changing needs and design programs and services to meet those needs. The insight and experiences they shared have guided every decision we made and every initiative we introduced.
How has it changed since?
I'm incredibly proud of what we've accomplished as an organization since 2018. Not only did we provide vital services during a pandemic, but we also partnered with clients to identify four focus areas that are most important to them and use those as the foundation of our current strategic plan. We've connected with other organizations and partners in the disability sector to lobby for the Canada Disability Benefit, which became law this year. And we embraced hybrid program delivery as much as possible, which is allowing us to offer new programs and to reach more people in more communities across Canada.
What more needs to be done?
Clients consistently identify two pressing issues. The first is financial security — people with disabilities are more likely than other Canadians to live in poverty and less likely to be employed. We need our federal government to implement the Canada Disability Benefit as soon as possible. It needs to be easily accessible and sufficient. The second is social isolation. We need to make physical and online spaces accessible to people with disabilities, so they can participate more fully in the workforce, in arts and culture, and in politics. In everything.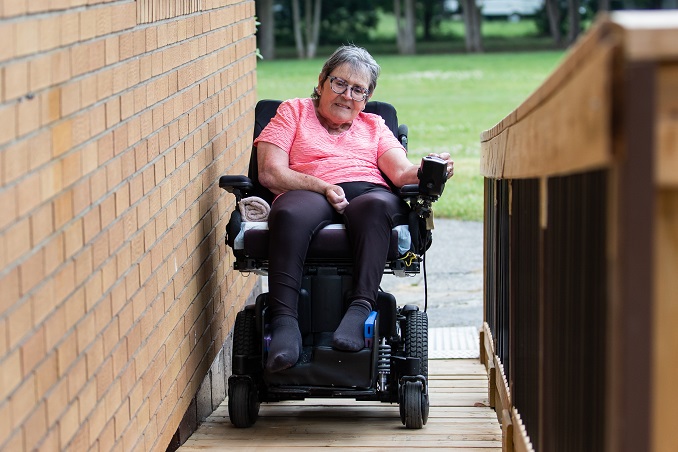 How can our readers help?
We can all help by volunteering for or donating to organizations that support people with disabilities. We can contact our municipal, provincial, and federal representatives to let them know that disability issues are ballot-box issues. We can educate ourselves and each other on accessibility, apply what we learn, and support others in doing the same. That's how we work together to build a barrier-free future.
Do you have any events coming up?
We have a few fundraising events every year — you can find details on our website at marchofdimes.ca. One of them is our second annual Changemakers Supper Club fundraiser on Wednesday, November 1 at the Liberty Grand in Toronto. There'll be cocktails, dinner, an auction, and a keynote address from former NASA astronaut Dr. Mae C. Jemison, physician, engineer, and leader of the 100 Year Starship project, a non-profit for space exploration. We'll also be celebrating community Changemakers with our Changemaker Awards — it's our way of recognizing individuals and organizations who've had a profound impact on the lives of people with disabilities. If anyone is interested, they can find details at marchofdimes.ca/changemakers.
Where can we follow you?
Website | Facebook | Instagram | LinkedIn | YouTube
PAY IT FORWARD: What is an awesome local charity that you love?
In addition to supporting MODC, I encourage people to learn more about the Canadian National Institute for the Blind (CNIB) and the amazing work they do in partnership with people who are blind or living with vision loss.