PokerStars, renowned for its epic poker experiences, took the game to new heights with the EPT Cyprus tournament set in one of Europe's trendiest cities. This year, the organization not only brought poker enthusiasts together but also championed gender equality through its partnership with Poker Power. This article delves into the highlights of the Women's Bootcamp Showdown, a platform designed to create equal opportunities for women in the male-dominated world of poker.
What is Poker Power?
The Poker Power initiative aims to empower women by teaching them the game of poker. Founded by self-made billionaire Jenny Just and her daughter Juliette Hulsizer, Poker Power provides a fun, supportive, and safe-to-fail environment for women to learn and compete in the game. The initiative believes that there is a strong connection between women's success, financial independence, and playing poker. By teaching women how to play the game, Poker Power also equips them with skills such as negotiation, risk assessment, and decision-making that can be applied in various aspects of life, including business and finance. The ultimate goal of Poker Power is to teach one million women how to play poker and empower them to play life differently, both professionally and personally. The initiative is supported by a team of women, including business leaders and poker professionals, who are passionate about opening doors for women worldwide.
PokerStars x Poker Power
PokerStars is committed to providing equal opportunities and fostering a safe space for women to succeed in poker. Recognizing the lack of inclusivity in the game, the organization launched the Women's Bootcamp in response to a survey revealing that over half of the surveyed women did not feel poker was inclusive to them. Despite this, a significant percentage recognized the game's potential benefits in terms of improved focus, concentration, and decision-making abilities.
The culmination of PokerStars' collaborative efforts with Poker Power comes in the form of the Women's Bootcamp Showdown, held during the EPT Cyprus tournament. This event showcases the journey of 40 novice women from diverse backgrounds who underwent an 8-week bootcamp to acquire essential gameplay skills that translated into real-world success, such as negotiation, strategic decision-making, and capital allocation.
Tournament Finalists and Their Stories
Out of the 40 participants, ten exceptional women secured their spots in the final Women's Bootcamp Showdown live at EPT Cyprus. It is through this culmination of hard work and dedication that they had the chance to compete alongside professionals by securing a spot in the EPT Prague tournament in December by winning the Bootcamp Showdown live at EPT Cyprus.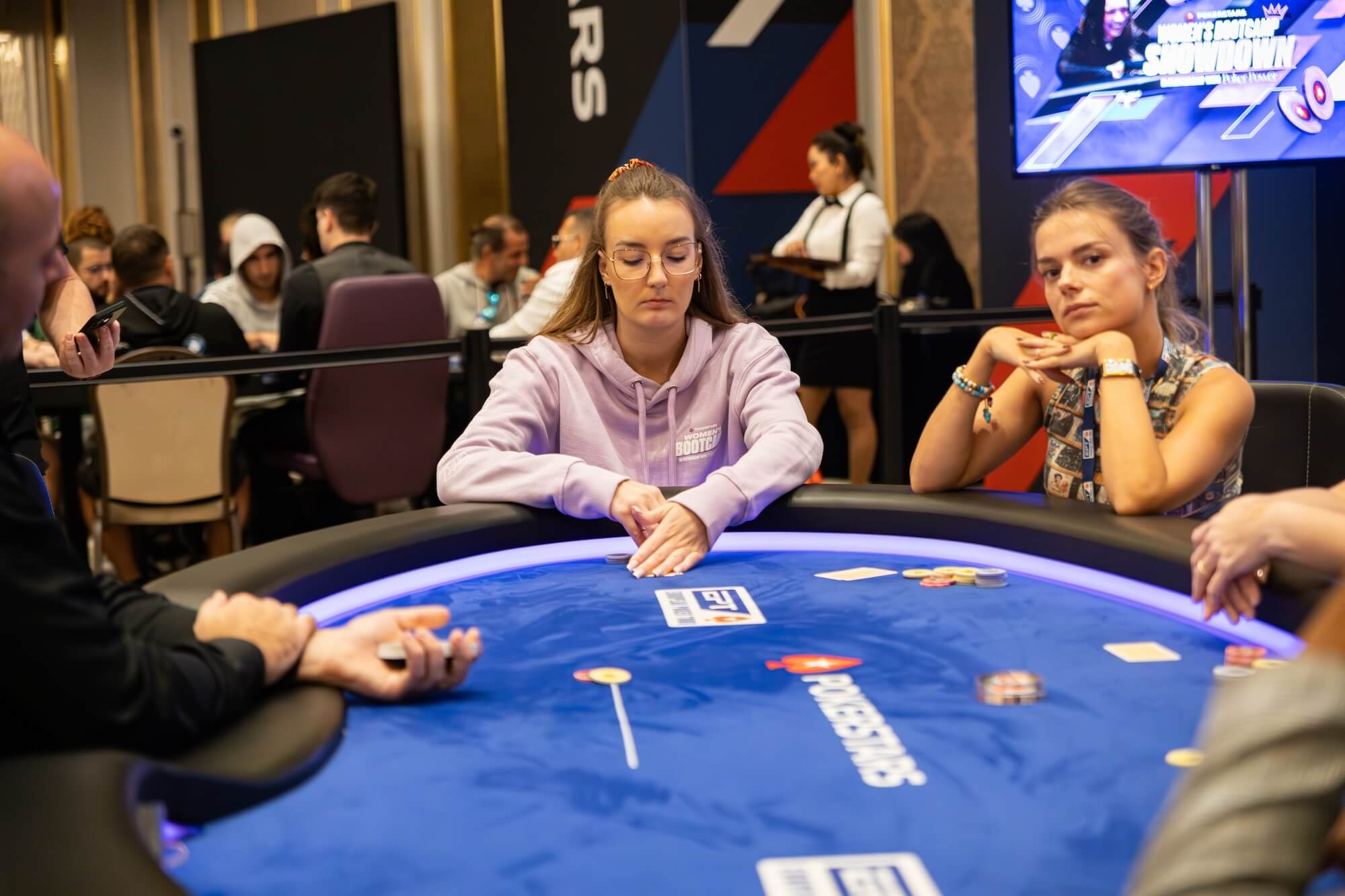 Laura Lebailly is a 23-year-old business school student from France and the youngest finalist at the Women's Bootcamp Showdown during the EPT Cyprus tournament. With a keen interest in poker and a fascination for its rules and strategies, Laura read a book that sparked her passion for the game. She has since been playing both online and live poker and was thrilled to learn about the Poker Power Women's Bootcamp through a PokerStars website article.
I spoke with Laura to find out more about why she got into the game and the benefits she saw when researching it. "I wanted to learn. First by myself. It is always better to learn with a teacher or a coach than to do it alone. There are only going to be benefits to this." Said Laura. "I like the fact that poker (gambling) has a bad image but it is actually a game that demands a lot of skills and decision making. I think it is good for everyone to learn."
As she is a student in business school, she also saw some parallels to the game through her studies. "I read that you need to have a healthy life to play poker. I worked on my discipline. From business school I learned a lot about analyzing the situation, the capacity to take or not take risks, which have translated to the game."
By the end of the week, Laura's trip had been beyond her imagination. She left with a better understanding of the game, and new friendships. "Everything was amazing. The girls, the trip, there were so many emotions in the tournament. The fact that I met all these girls. They are really nice, really funny."
Laura finished 3rd in the tournament
Katie Hopkins is a lawyer from the suburbs of Philadelphia who discovered poker through her involvement in the "Fore the Ladies" golf group and an intro session through Nasdaq and Poker Power. Due to a stress fracture in her foot and not able to pursue her usual hobbies of running and doing triathlons, she saw the Women's Bootcamp opportunity as the perfect chance to dive into the world of poker. Katie fell in love with the game and has added it to her list of hobbies. As an Associate General Counsel at Nasdaq, she is a strong advocate for gender equality and is inspired by the Poker Power initiative, which empowers women to succeed in any field through the game of poker.
Katie has grown fond of the game, finding many positives about her experiences so far. "I have a lot of fun with it. It has been great to meet other women and players in general. I think there is a transfer to life skills like taking risks and being more confident."
When she entered the tournament to select the 10 players that would go to Cyprus, her hopes were not high early on. "I was so excited. I knew going into the tournament that they were taking the final 5 (from her group), but when we got to the final table, I was in 9th, so i didn't think my chances were very high, but then as it played out, a couple people went all in and busted and then I was in the top 5."
The community of the game and the EPT tournament in Cyprus once again seemed to be one of the biggest takeaways. "The best part has been all the people I've met, all the other women, they have been incredible and supportive. Playing in the tournament was really fun too."
Katie finished 2nd in the tournament.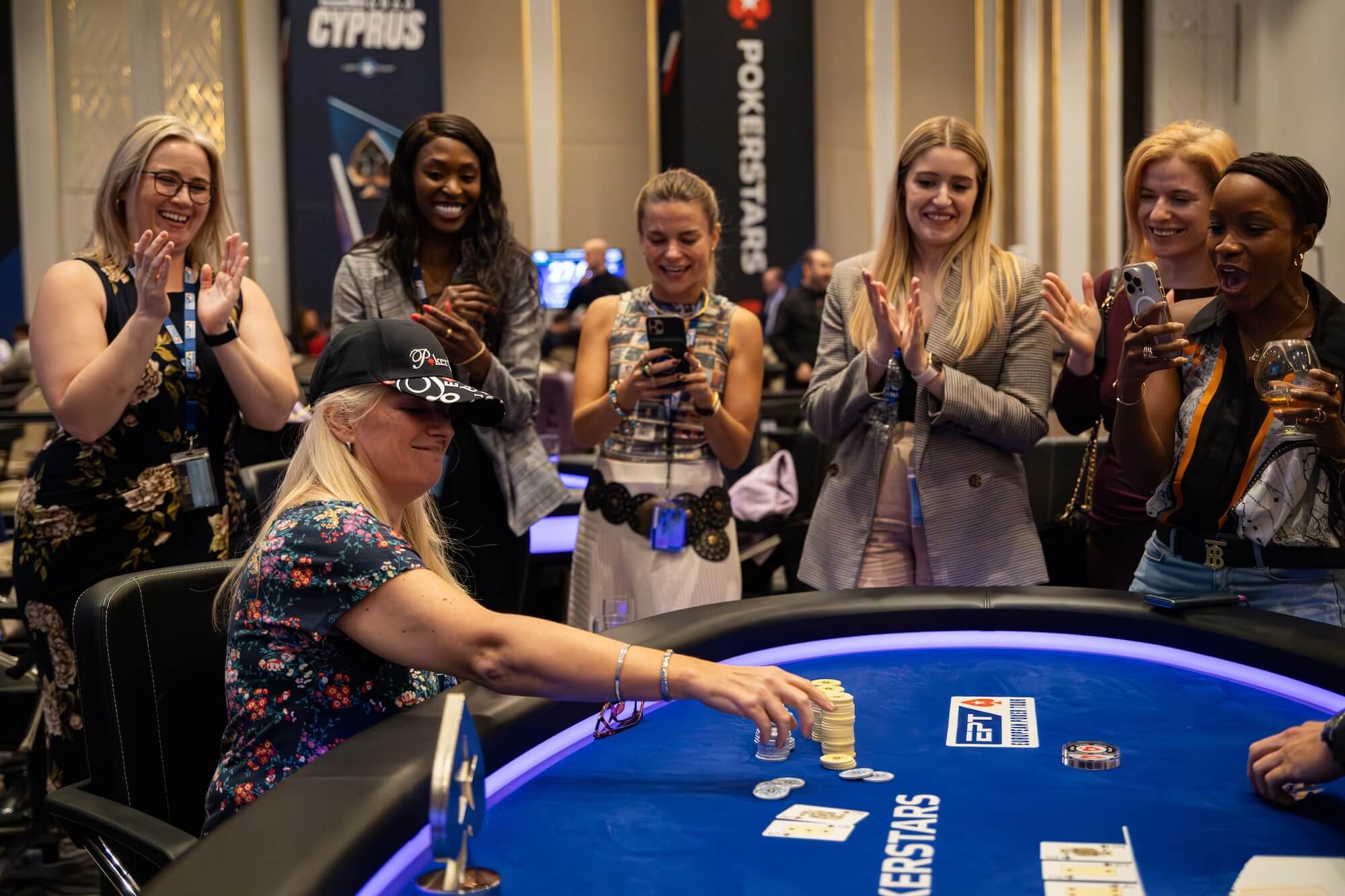 Louise Ulrick is from the UK and found out about Poker Power after wanting to teach herself the game and finding an article about them on PokerStars. Her interest in poker began after reading a book where the lead female character played poker. Upon winning a spot in the final 10 and securing her trip to Cyprus she had just finished a very bad week. "I was very excited. It was the perfect thing to happen at the end of a very bad week."
In terms of what attracted her to the game and what has made her stay, this is what he had to say. "I was reading this morning actually doing some last minute coaching of myself and they described it as a poker puzzle. You can learn all the theory and then it's working out which bits to apply in real life. Every hand is a puzzle." said Louise. "You don't have to play every hand life deals you. If you put time and effort into something it is okay to fold."
Louise won the tournament and will have her airfare, hotel and entry fee to EPT Prague covered by PokerStars.
Professional Poker Player Jen Shahade
Playing a crucial role in this initiative is author and professional chess and poker player Jen Shahade. As an advocate for women's empowerment and inclusion in both chess and poker, Shahade has made significant contributions to the Poker Power program and the Women's Bootcamp. Her involvement and expertise have inspired and guided the participants throughout their transformative journey.
Jen originally got into the game after learning poker from her brother. She graduated college and started playing the game on PokerStars. When PokerStars started running women's events with lower buy-ins, the bankrolling of games became easier for her. The locations included places like the Bahamas and Madrid, which further enticed her to get into the game. These games led her to becoming an ambassador for PokerStars and her career took off.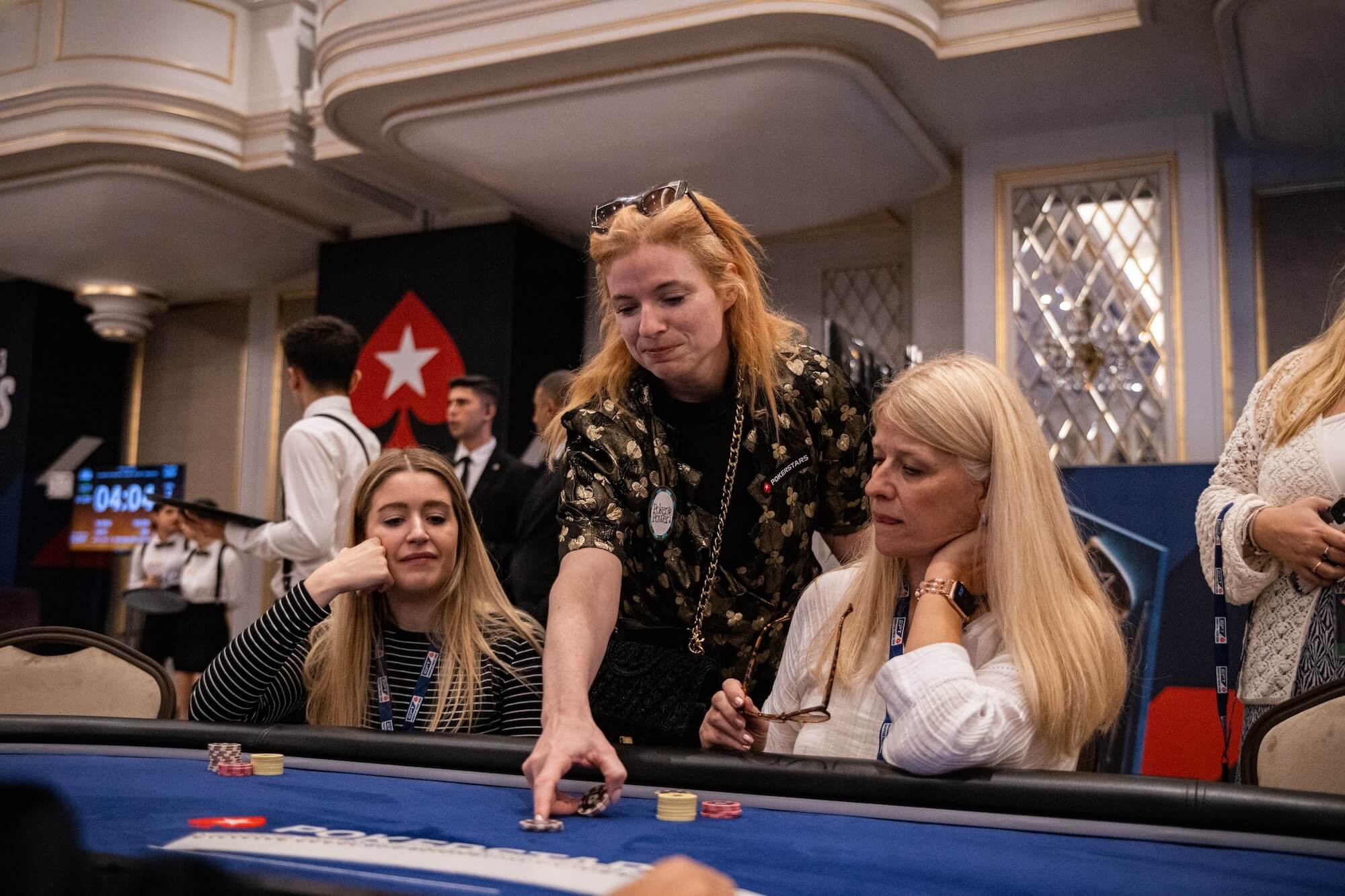 Jen sees poker as a great life skill and a good resume builder for women. "You can play your very best and still lose. You may have to keep trying and do everything right and may have to do it again. I think in a lot of fields that is life. Entrepreneurial, film, there are a lot of things you may have to try dozens of times before you get that one time where your skills line up with opportunity and luck." says Jen. "I think people would see a women who plays poker less as someone who likes to gamble and more like someone who is not afraid to play with the boys, not afraid to be aggressive and is confident. So I think it would be more beneficial to your career."
Through the Poker Power initiative and the Bootcamp, women are not only learning the game and life skills, they are also building a community. "You see here they are not only learning all these poker skills, but they are also meeting new friends and building a community, that is a big part of what attracted me to the game so I love that Poker Power and PokerStars are emphasizing that."
Experiences and Lessons Learned
During the EPT Cyprus tournament, there was the unique opportunity to connect with the bootcamp participants and learn firsthand about their experiences and the benefits they have gained from this initiative. They shared insights into the opportunities that have arisen, their newfound poker skills, and how the Women's Bootcamp has impacted their personal and professional lives.
PokerStars, in partnership with Poker Power, is spearheading efforts to create a more inclusive and diverse poker community. Through the Women's Bootcamp Showdown, this initiative provides a platform for women to showcase their skills, gain invaluable experience, and challenge stereotypes within the poker world. With Cyprus as an exciting new location, and the continued support of professionals like Jen Shahade, the future holds promise for women in poker.