Taste of Toronto kicks off today with an entirely new and exciting landscape at the Garrison Commons – Fort York. If you've dabbled in the art of culinary adventure, or if you're simply a beginner looking to bring some cooking tricks to your kitchen, be sure to check out the Metro Master Class!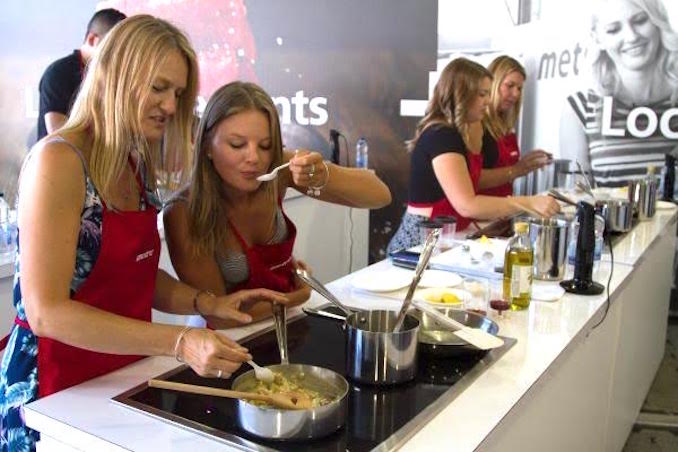 You will learn how to create your own mouth-watering creations all with the guidance and support of some of Toronto's hottest chefs. Make your own pasta dough from scratch or perfectly sear a fish filet (don't worry, all the prepping is done for you).
Be sure to check the website to pick the dish you want to cook. Spots are free but space is limited so be sure to reserve your spot at the festival as soon as you arrive to avoid disappointment.
Metro Master Class Schedule:
Thursday 5:30PM- 10:00PM
6:15 PM: Mark McEwan- The McEwan Group: Grilled Sea Bream with Capers and Mint
7:30 PM: Ted Corrado – The Drake: Meatballs
8:45 PM: Sonia Mondino – Pray Tell: Black Mean Mushroom Rice Noodle Salad
Friday 11:30AM – 4:00PM
12:30 PM: Rob Bragagnolo – Carver / Campo Food hall: Basque Style Cod with Salsa Verde & Clams
1:45 PM: David Lee – Nota Bene: Spiral Zucchini & Prawn Salad with Cashews
3:00 PM: Carl Heinrich – Richmond Station: Mushroom Fettuccine
Friday 5:30PM -10:00PM
6:00 PM: Rob Gentile – Bar Buca: Pasta Dough
7:15: Victor Barry – Piano Piano: Egg Yolk Raviolo
8:30 PM- Michael van den Winkel – Little Sister / Noorden Food Bar: Seared Tuna Tostado with Avocado and Sambal Aioli
Saturday 11:30AM – 4:00PM
12:00 PM: Sylvain Assié – Café Boulud: Friseé Lyonnaise
1:15 PM: Trevor Lui – Kan Pai Snack Bar: Southeast Asian Carb-Free Chilled Noodle Salad
2:30 PM: Mark McEwan – The McEwan Group: Grilled Sea Bream with Capers and Mint
3:30 PM: Cory Vitiello – Flock Rotisserie & Greens / CV Catering by 10tation: Fresh Corn Polenta & Summer Succotash with Sautéed Prawns & Basil
Saturday 5:30PM- 10:00PM
6:00 PM: Hans Vogels – Momofuku: Steamed Bao
7:15 PM: Rob Bragagnolo – Carver / Campo Food Hall: Catalan Chocolate and Olive Oil Mousse with Strawberry, Raspberry and Basil Salad
8:30: Elia Herrera – Los Colibris/ El Cabilito: Esquites
Sunday 12:00PM- 5:00PM
12:30 PM: David Neinstein – Barque: Southern Lunch: Cajun Cornmeal Crusted Scallops with Fried Capers, Lemon and Parsley and Charred Corn Wedge Salad with Alabama White BBQ Sauce Dressing
1:45 PM: Alexandra Feswick – The Drake: Avocado Tacos
3:00 PM: Michael Hunter – Antler: Pan Seared Rainbow Trout and Ontario Strawberry Salad
4:15 PM: Kazuki Uchigoshi & Michael Acero- Miku: Sushi