Guests on Earth is a female-founded, Toronto-based home care company on a mission to transform daily cleaning routines into delightful rituals that restore the balance between people and the planet. We spoke with co-founders Jackie Prince & Liz Drayton to find out more about them.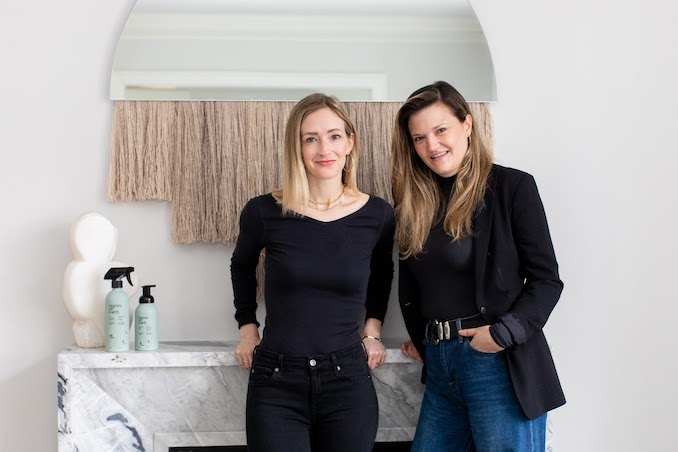 What is your business called and what does it do?
Guests on Earth is a female-founded, Toronto-based home care company on a mission to transform daily cleaning routines into delightful rituals that restore the balance between people and the planet. We are laser-focused on reducing packaging waste and creating elevated experiences through modern design and incredible all-natural formulations and fragrances. We launched in March with a Foaming Hand Soap, All-Purpose Cleaner and Waffle Cleaning Cloths and have exciting plans for what's next.
What made you want to do this work?
We were both working during the pandemic. I (Jackie) have two small kids and found I was constantly cleaning up around the house, and it became impossible to ignore the constant pileup of both garbage and recycling that would accumulate every week. I got curious, did some research and learned that most consumer plastic products are designed for single-use and that only 9% of plastic is actually recycled. The vast majority accumulates in landfills or ends up in the natural environment as litter and microplastics.
We continued to look into the home care space and saw a big opportunity to modernize it through intentionally sustainable design and a focus on self-care.
What problem did you want to solve with the business?
We are really focused on solving the problem of excess, unnecessary packaging waste in the home care category, and beyond that, helping people experience moments of self-care during their every day at-home rituals (cleaning, washing up).
Who are your clientele/demographics?
Our customers are people who want to live a more sustainable lifestyle and are conscious of their impact on the environment. They tend to put a lot of thought into creating homes/spaces and appreciate great design. They also care about quality and ingredients and often prioritize natural and/or organic products.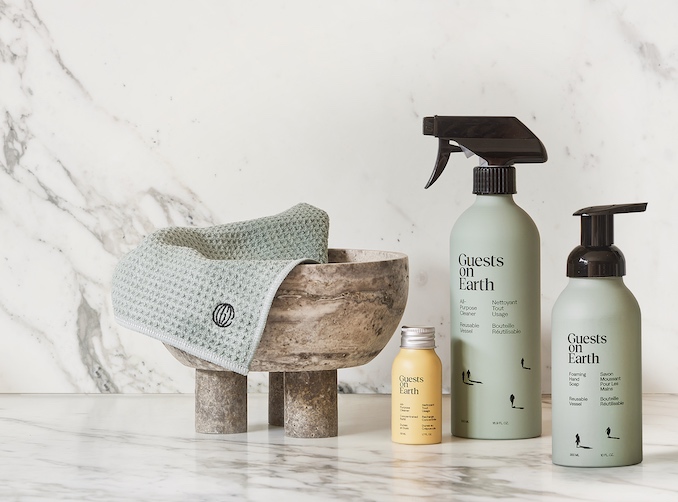 How does your business make money? How does it work?
We are a combination of DTC (direct-to-consumer) through our website, as well as retail.
Where in the city can we find your profession?
We are based in Toronto and you can always find us on our website as well as our Instagram and TikTok.
We are also in a number of fantastic retailers throughout Toronto, including Village Juicery, Summerhill Market, Coco Market, Good Neighbour, Health Hut, Harvest Wagon, Bather, and more.
We often do pop-ups at our retailers to get in front of customers and have them touch/feel/smell the products. It's tough to get across the amazing fragrances purely online. Follow us on Instagram for the latest on where we'll be popping up!
What is the best question a prospective customer could ask a member of your profession when comparing services? Give the answer as well.
Q: What makes Guests on Earth different / better than what I'm currently using?
A: Glad you asked! Here's what sets us apart:
1. Sustainable: We're committed to using less. We sell empty reusable aluminum bottles (more cleaning products are 90% water) and highly concentrated, small-format refills. Aluminum is infinitely recyclable, with ~75% successfully recycled vs. only 5-6% plastic.
2. Counter-worthy: Our products are designed to be seen and enjoyed, not hidden beneath the sink.
3. Self-Care: Our products make cleaning up feel like the spa. Seriously. We use all-natural, high-quality ingredients and category-defying fragrances (via essential oil blends). Desert Dawn will transport you to an energizing citrusy oasis (spa) and Dunes at Dusk is dark and earthy, a calming yet invigorating desert scape.
What is the best part about what you do?
Getting to dive into different parts of the business each day and learn something new. Whether it's sourcing, supply chain, material lifecycles, product development, marketing, etc. It's amazing to flex our existing skill sets while expanding our capabilities.
It's also been amazing to connect with the brilliant, creative and supportive female founder community in Toronto.
What is the worst part?
The roller coaster of entrepreneurship. Each day or week there are lots of ups and downs. Supply chains are difficult right now. Customer acquisition is expensive, which is difficult for a new, small brand trying to get the word out.
What is your favourite joke about your own profession?
How can you tell if someone is an entrepreneur?
Don't worry, they'll tell you
Where can we follow you?
PAY IT FORWARD: What is another local business that you love?
Can we share a few female-founded local businesses?!
So Supple Organics has amazing skincare products.
Ember Wellness has changed/simplified my skincare routine.
Paume's hand care products are fantastic (their hand sanitizer is a staple on my son's change table).
T.Line has created some fantastic pieces that I keep coming back to.
Postscript Designs reminds me of the joy of sending a letter.