Sorry, we couldn't resist…
Less than a year after the Hobbits took Toronto, the Comicon 2023 big draw was none other than Andy "Gollum" / "Caesar" / "King Kong" Serkis himself.
The incredibly genial Serkis – who genre fans recently encountered as Alfred to Robert Pattinson's The Batman – was the highlight of a somewhat quieter affair compared to last August's Fan Expo.
That's to be expected though: Comicon, which only takes up one building to Fan Expo's two, also comes at a chilly enough season that cosplayers think twice before lugging around sci-fi/fantasy gear on top of their winter jackets and scarves. Not that there weren't some mind-bogglingly fantastic costumes on display: as seen in the photos below, this year's Comicon offered a welcome reminder that us Canucks can nerd out just as well as anyone.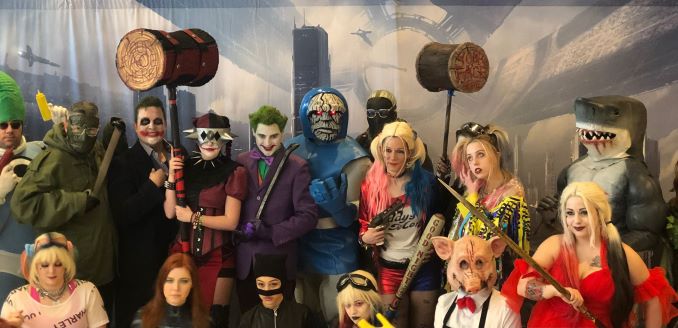 One of our favourite things about Toronto conventions, whether Comicon or Fan Expo, is the opportunity to check out – and overspend on – local artists and small businesses.
First, there's the dozens of GTA-based collectibles shops, their booths lined with Silver Age comics and classic PlayStation games and old X-Men action figures, making for a veritable wealth of nostalgia, as if several 1990s shopping malls reopened at once. Even more exciting are the local artists and artisans, purveyors of crocheted Grogus and false elf ears and intricately detailed Star Trek jewelry. But make no mistake: even if you can't tell your Quendi from your Ferengi, there was more than enough to pique the curiosity of even the most casual (non-geek) attendee.
We're especially fans of award-winning Toronto-based collage artist Clever Clippings, who combines beloved pop culture characters with lovingly rendered nature illustrations, resulting in weird, beautiful oddities like this art nouveau Sailor Moon. We also love the adorably prickly crochet succulents of local mother-daughter business Anna's Gardens.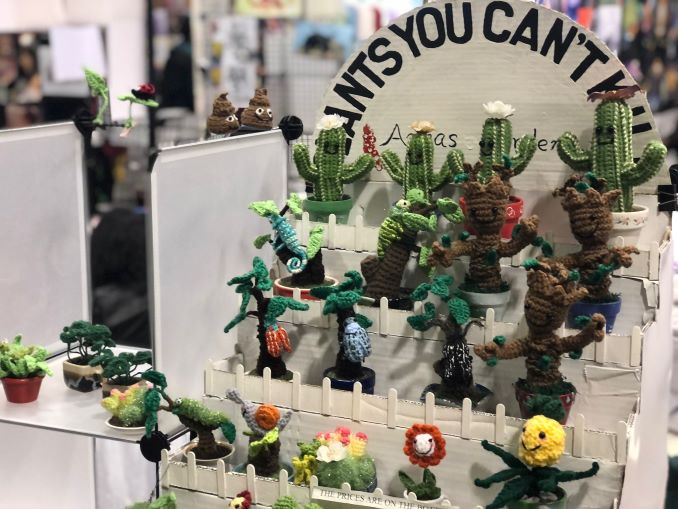 Of course, comic cons are nothing without comic creators, and a handful of interesting names were on hand to sign autographs and, for those who could afford it, sell off precious original art lifted from some of the biggest comic series around. Notable creators included Leonard Kirk (Supergirl, Marvel Zombies Resurrection), Jae Lee (co-creator of Marvel's The Sentry, rumoured to be coming to the MCU), and long-time Marvel/DC artist Dave Ross, who has worked on everything from Alpha Flight to Catwoman to Star Trek and Star Wars.
Some of the best parts of Comicon are simply hanging around, chatting with these legends as they distractedly sketch out a Wolverine or Superman a thousand times better than anything you or I could ever draw. And for those who wanted to learn more about their craft – or simply hear anecdotes from decades in the business – there were dedicated panels/Q&As with some of the biggest names. That was true as well for perhaps the hottest on-screen heroes of the day, with roughly half the cast of The Boys – Billy Butcher, A-Train, and Black Noir among them – making appearances over the course of the weekend.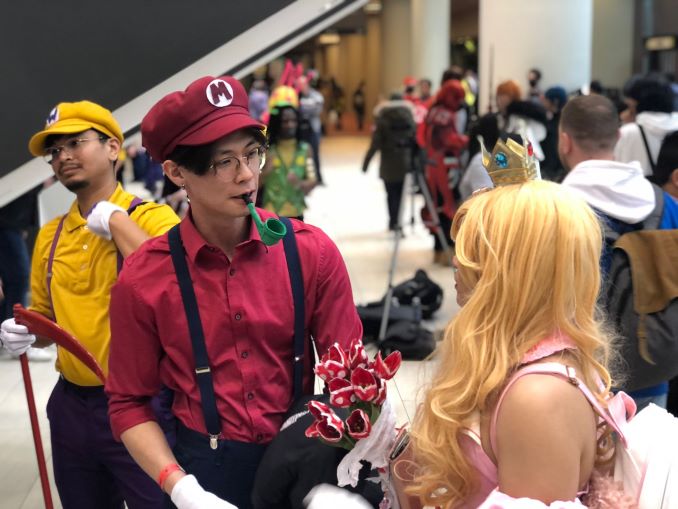 We've been known to dabble in a bit of costume play ourselves, here at the Guardian, but nothing has ever come close to the talent we encountered at this year's Comicon. From the hilariously lifelike King Shark to the terrifying Mortal Kombat Scorpion, replete with pupil distorting contact lenses, the amount of time we spent chasing down cosplayers for photos is probably equal to the time spent browsing the toys and comics featuring those very characters. (You have to feel a bit sorry for the cosplayers themselves, who probably spent more time posing for photos than experiencing the 'con itself!)
Next up at the Metro Toronto Convention Centre is Fan Expo, August 24-27, 2023. Details are scarce – stay tuned to fanexpo.com – but judging by last year's extravaganza of hobbits, stranger things, Starfleet alumni, and Jays and Silent Bobs, it's sure to be a big one.
May the force be with you, live long and prosper, and keep guarding those rings in your pocketseses.
#
For all things Fan Expo, click here.