Papuk, which means soft and fluffy in Armenian, is a brand that designs human-friendly cat furniture. We spoke with Vazken Karageozian, founder of Papuk and the designer of CONNECT Collection, to learn more about them.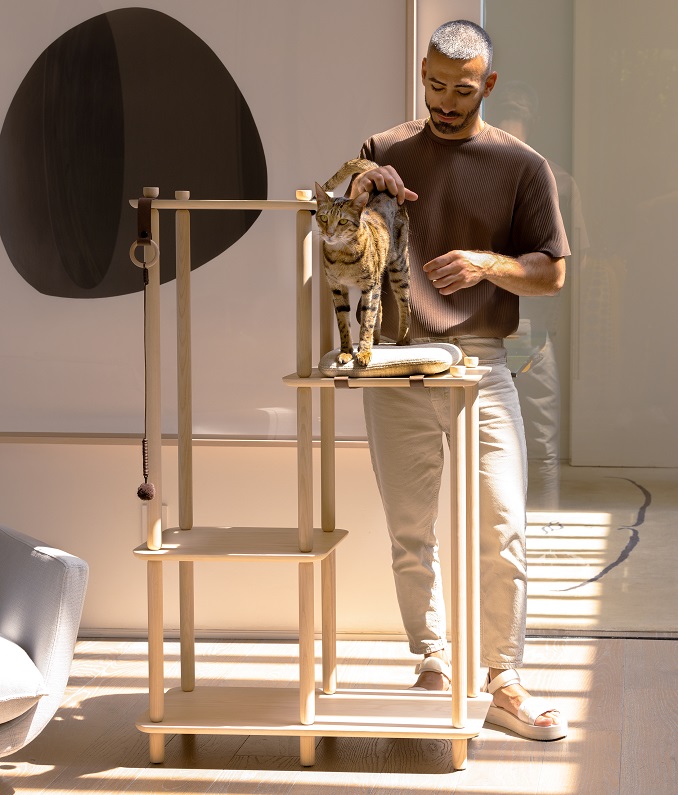 What is your business called and what does it do?
We are Papuk, which means soft and fluffy in Armenian. At Papuk, we design human-friendly cat furniture, driven by the belief that humans and cats can live together without sacrificing the beauty of our home, for their comfort.
What made you want to do this work?
It all started when Vazken our founder/ designer and cat dad was looking for a cat tree for his two cats Grayson and Ella.
However, few options were available for cat furniture that considered both function and aesthetics. That's when he decided to design CONNECT Collection.
What problem did you want to solve with the business?
Papuk Cat Furniture is filling a gap in the pet furniture market with a unique modular approach to design and personalization. A careful balance between functionality and aesthetics, Papuk's inaugural line of products features a cat tree that can be personalized with a series of attachable accessories.
New accessories will be added in the coming months with new colours, materials and finishes released every season. Through design customization, Papuk is creating the opportunity for cat parents to curate their feline connection based on their own design preferences.
Who is your clientele/demographics?
Aesthetically inclined cat parents who care about the quality of the furniture pieces they invest in.
What is the best question a prospective customer could ask a member of your profession when comparing services? Give the answer as well.
Q: Why spend more money on a designer cat tree when there are cheaper alternatives?
A: Our commitment to the highest standard of materials and craftsmanship ensures our cat tree endures the test of playtime for years to come.
We seek to create a perfect balance of both functions from the feline perspective while maintaining a modern design aesthetic that humans love.
What is the best part about what you do? What is the worst part?
The best part of what we do is showing the world that cat trees can seamlessly blend with your home interior and still be functional.
The worst part of what we do is seeing people invest in cheaply made cat furniture that breaks down quickly and end up in landfill.
Where can we follow you?
Website | Instagram | Facebook
PAY IT FORWARD: What is another local business that you love?
Philia Flora and its creative founder Serena.
Serena's love for flowers is endless. Each of her pieces is personalized and artful with a sense of romance and serenity. She is rooted in nature and views floral design as poetic storytelling.