Craig Fay is a Toronto-based stand-up comedian. He has appeared on CBC Television as part of the Winnipeg Comedy Festival, performed at the world-famous Just For Laughs Festival in Montreal and is co-host of The Villain Was Right podcast which won "Outstanding Debut" and "Outstanding Comedy" at the Canadian Podcast Awards. He just released his new comedy album "Performance Review", recorded in July at Comedy Bar in Toronto, and available on stream platforms. We had the chance to catch up with him to find out more about his style, influences and projects.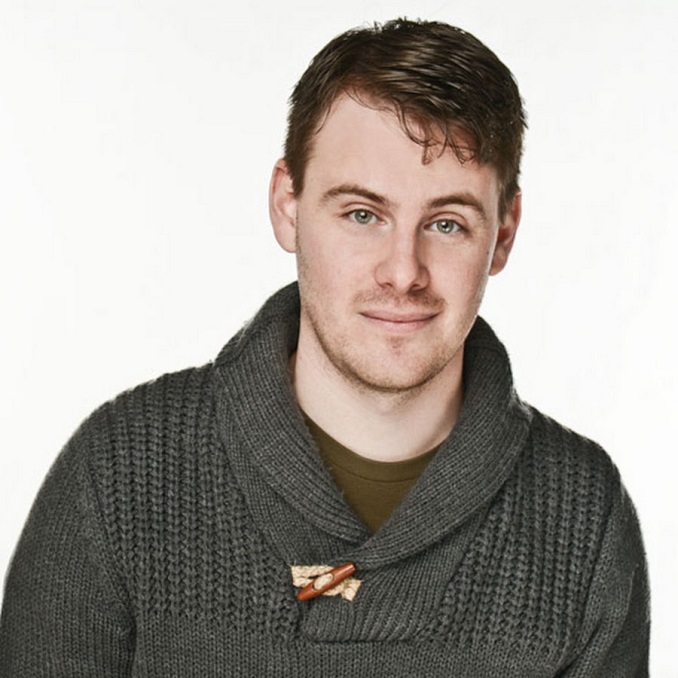 How would you describe your comedy style?
Comedy style is so hard to nail down. With movies or music, I could say "Historical Romance" or "Electro Jazz Fusion" and people would have a pretty good idea of what those things are about. Comedy doesn't have that same common language.
But I think I would describe my style as being highly written, precise, and intricate. I love taking a thought or feeling and really breaking it down, analyzing the minutia and spinning that off into something unexpected or absurd. I would also describe it as "cohesive" with stories and bits that loop back on themselves, and build off each other. But in case that description is too confusing I'll go with "Sci-Fi Rom-Com" and "Pop-Punk Screamo". That should clear things up.
Who are some of your influences?
John Mulaney for taking observational humour and infusing it with such personality, Pete Holmes for showing that you can make jokes about things that make you happy,  and Mike Birbiglia for his ability to mix traditional stand-up with storytelling.
Who was your favourite comedian growing up?
Let me preface this by reminding you I was a child but, remember that baby dinosaur who would hit his father on the head with a frying pan? Him. That got me every time.
Who is your favourite comedian now?
Nate Bargatze put out a great special during the pandemic. Also Joe Pera for his series "Joe Pera Talks With You" – that show was like nothing I'd ever seen before and was truly a soothing balm during the rough days of lockdown.
What is your pre-show ritual?
I have conversations with people – club staff, and other comedians in the green room. I think of it as kind of a "social stretching". Sometimes your tongue and brain need reminding of how to interact with people in a normal natural way. Because that's what audiences want –someone who's already been at the party for a couple of hours and is ready to chat them up and have a good time.
What is your favourite place you have performed? Why?
So many places where comedy is performed have something wrong with them. It might be the lights, the sound, the sightlines or a dozen other things that you never think of but contribute greatly to a show. The audience can still have fun at those places but as a comedian, I'm always keeping it in mind and making adjustments. Then there are places that you walk into and they just have everything set up right. You walk in and think "Oh good, all I have to worry about tonight is being funny". It's such a great feeling.
What is your favourite bit you have written and why were you proud of it?
I really enjoy the bit "Joy Scissors" from my new album. It starts out talking about one subject and then takes a very strange turn. It's so fun to lead the audience on a strange journey and have them go along with it because of the trust I've built up through the rest of my set.
What is your favourite medium for listening or finding new comics/comedians?
Nothing beats seeing it live. Being in the room and seeing and feeling how an audience is reacting to a comedian is fantastic. Especially when they're doing things that surprise you.
But if you're not seeing it live I have a very strong belief that comedy works best in an audio format. I much rather listen to someone's album than watch a special. That's why services like SiriusXM are so great.
Tell us a joke about your city.
The number of news stories we have in Toronto about raccoons sneaking into and shutting down important infrastructure is insane. We're a world-class city with all the problems of a backwoods lumber camp.
Do you have anything to promote right now?
My new comedy album "Performance Review" is available to stream now on pretty much every platform. It's an album about quitting my office job and all my thoughts, feelings and frustrations I had at the time. But even if you've never worked in an office or quit your job, you'll still enjoy it because at its core this album is about something we can all relate to the world not working the way you think it should.
I recorded it in July at Comedy Bar in Toronto and I'm so thrilled with how it turned out. Give it a listen. Share it with your friends.
You can also listen to me on my weekly podcast The Villain Was Right where my co-host Rebecca Reeds and I defend the villains from movies and TV.
Where can we follow you?
Album | Facebook | Twitter | Instagram | Website – Newsletter | Podcast
PAY IT FORWARD: Who is another local comic/comedian we should know about?
Peter Saran and Sashka DC always make me laugh.