Everyone wants their wedding to equal their dreams. However, not everyone has an unlimited budget with which to plan the perfect day. If you are ready to take the plunge but need to watch what you spend, you may need to get a bit creative with your wedding planning.
All couples must remember that the wedding itself is just one day, and the relationship and commitment pledged are truly important. Often, couples spend more money than they can afford to impress their guests and end up holding too much debt as they begin their married lives.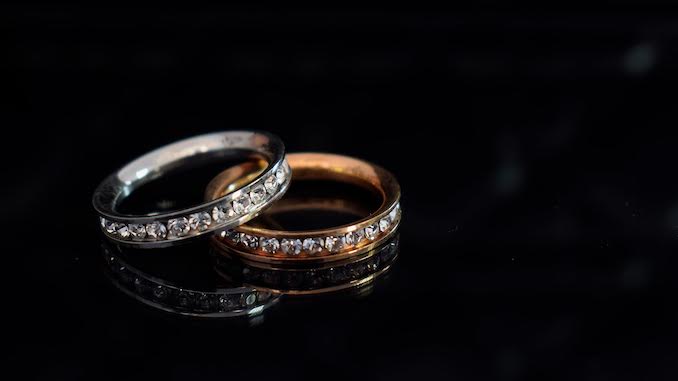 It is entirely possible to throw an elegant and stunningly beautiful wedding without spending a fortune. Your guest list, made up of family and friends, simply wants you to be happy and not care how much you have spent on your table centrepieces. 
Your wedding spending starts when you pick out your rings. Diamonds don't come cheap, so starting off with a bargain on your rings, like the savings you get when you choose a lab-created diamond ring, can put you on the proper spending path. Let's take a closer look at a few other genius ways that you can save money on your dream wedding.
Rings
Lab-Created
Millennial couples have made lab-created diamonds one of the most popular choices for wedding and engagement rings. Lab-created diamonds are genuine stones that have only a fraction of the cost of mined diamonds. When choosing a lab-grown diamond, you also avoid the guilt of purchasing a product associated with global conflict and humanitarian issues.
Sets
If you want to save money on your wedding rings, you should take a look at customized sets. This set includes a matching engagement ring and wedding bands for both partners. This guarantees that you will get the perfect fit between your wedding and engagement rings and that your partner's ring will complement your own.
Tattoos
If you want to take the statement of "forever" up a notch, you may consider getting tattoos on your ring fingers. This is a unique way to celebrate your union. During the ceremony, you can exchange lower-priced bands just for the purpose, and then after the wedding, head to the tattoo parlour.
Flowers
Artificial Flowers
There is no denying that buying authentic floral arrangements, centrepieces, and bouquets can cost a fortune. If you want to save money on your wedding flowers, you may want to go with artificial or silk flowers. They can be found for a fraction of the price of real flowers, and you don't need to worry about keeping them watered or stored in a refrigerator.
DIY
There are so many realistic artificial flowers available today that it makes DIYing your own wedding flowers a breeze. If you want to keep your wedding budget manageable, you can stretch your creative nature and take on making your own floral arrangements by hand. 
Double Duty
To save money on your flowers, you must consider how they can be repurposed. You can use your ceremony floral arrangements to decorate different areas of your reception venue. Aisle flowers can be used as table centrepieces, and bouquets can decorate the cake or head tables.
Candles
If you want to keep your flower budget to a minimum, you need to start thinking about other elements that can compliment your wedding decor. Adding candles to your reception room or ceremony area will add a soft and romantic look to your wedding and are very affordable.
The Dress
Buy Early
One of the most exciting parts of planning a wedding is finding the perfect dress. If you want to save on your dress budget, you need to start early. Waiting too long to find your dress could cost you more in last-minute expensive alterations.
Trunk Sale
After the current wedding season is over, many retailers hold Trunk Sales to clear out more area in their stores for newer styles. These sales allow you to find premium dresses at discounted prices.
Floor Model
If you walk into a dress store and spot the dress of your dreams on a mannequin, you may be in luck. Most boutiques are willing to give you a discounted price on a floor model dress.
Heirloom
If you are lucky, you may have someone in your family with a dress that will fit you perfectly for your wedding. You may require a bit of alteration, but wearing a family heirloom dress can provide you with a special moment at your wedding,
Catering
Minimize Choices
Many couples like to give their guests two or three choices of entrees at their reception. While this may be traditional, it's not that affordable. To save money on your catering, choose one entree, and allow those with dietary needs like vegans to choose a specialized menu.
Cocktail Reception
The best way to keep your catering budget down is to skip the sit-down dinner altogether. You can opt for a cocktail reception with various appetizers served by waiters throughout the evening.
Lunch
If you want to keep your wedding intimate and small, you can save a fortune by hosting a brunch wedding. You can serve a simple meal at midday and skip the party portion of your wedding reception. You will avoid spending too much on your meal, entertainment, and alcohol.
Timing
Avoid Saturdays
The traditional day for weddings has always been Saturday. However, no rule states that you must hold your wedding then. If you want to save on bookings for your ceremony and reception venues, booking on a Friday evening or Sunday morning is recommended.
Common Venue
When you book a separate venue for your ceremony and reception, you need to make more room in your budget. An excellent way to minimize your spending is to hold both your ceremony and reception at the same venue. You will only have to pay deposits to one vendor. 
If you are dreaming of your wedding day and starting to work on your budget, you are likely looking for ways to keep your spending in check. Follow some of these tips to help you save on your wedding planning.