The video game industry is fast-growing, and it has been in the past several years. With it, the esports industry has been rapidly growing as well. It certainly doesn't surpass the real thing, but the popularity of esports is not trivial.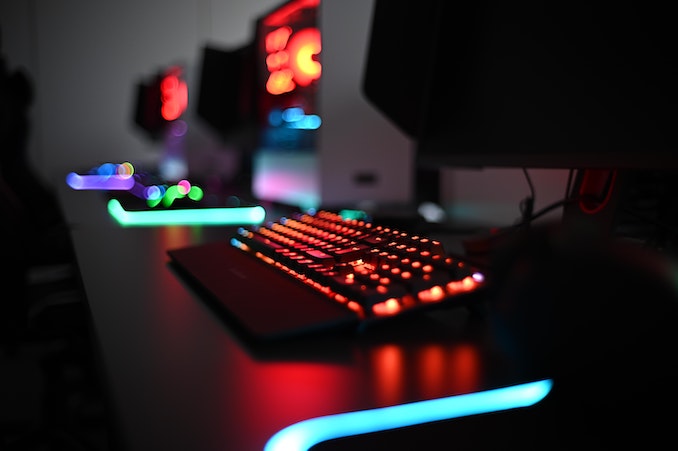 The industry's market value surpassed the ubiquitous $1 billion in 2019, and the viewership crossed the half a billion mark in 2021.  
With kids talking about the popular streamer Ninja as if he were LeBron James, it's clear that esports is massively popular today. But just how popular esports is and where this industry is poised to go is the real question. 
History and Growth of Esports
Esports may seem new, but that's because the concept as we know it today has gained popularity in recent years. However, it began a lot earlier, in 1972, when home video game consoles just became popular. 
The early days did not see many competitions, but the first large tournament occurred in 1980. This was the nationwide Space Invaders tournament, and it brought together as many as 10,000 competitors. 
Only a year later, we had the massive Donkey Kong tournament, and in the 1990s, Mortal Kombat and Street Fighter tournaments gained wider prominence. 
The 1990s were pivotal for esports as this was when the first massive LAN parties began, and players got to compete against one another by playing a wide range of their favourite games. LAN parties allowed for the modelling of the first clans, and in time, real teams started forming, eventually competing with each other on a grander scale. 
Naturally, these were just the beginnings, and it took time for real large tournaments as we know them today to begin. But once they did, we all saw how fast-growing this industry could get. 
Easy access to the internet and the rise of popular platforms like Twitch enabled players to watch esport tournaments. The viewerships kept rising, which only led to revenue growth. This is mainly because brands saw these massive audiences' potential and started to truly invest in esports marketing. 
This further led to the industry's expansion, and only the COVID-19 pandemic slowed it down. But by late 2021 and early 2022, the industry got back on track and now continues to grow. 
It's worth mentioning that esports still have hurdles to overcome. They aren't classified as real sports in all countries, but many notable nations have recognized the practice as sports from 2000 onwards. South Korea was the first, but countries like China, Russia, South Africa, Italy, the US, Canada, Finland, Denmark, Nepal, Germany, Serbia, Brazil, Indonesia, Sri Lanka, and others followed. 
Number of Viewers Keeps Rising
Global viewership has been experiencing fast growth in the last few years. In 2016, estimates counted around 270 million esports fans. Only a year later, that number grew to 365 million. In 2019, it was 451 million, and in 2021, it crossed 500 million. 
The global audience is set to reach 532 million in 2022, which is an 8.7% growth yearly. The exciting thing is that the number of enthusiasts among them is truly staggering, set to reach 261 million, which is almost half of the entire viewership. 
By 2025, we'll likely count around 641 million esports fans, a CAGR (compound annual growth rate) of around 8%.
East Asia, North America, and Europe are the biggest markets, but the emerging markets where we're seeing massive growth are Latin America, Southeast Asia, Africa, and the Middle East. 
Interestingly, the number of viewers in the US is comparable to major sports leagues. What's more, it's larger than most of them, and only the NFL has more viewers. The NFL enjoyed about 141 million viewers in 2021, while esports had 84 million. The next was the MLB with 79 million and the NBA with 63 million.
Growth of the Market and Revenues Seems Unstoppable
The industry's market value first reached $250 million in 2015. The growth was unstable after that, with global value reaching $463 million in 2016 and more than $700 million in 2018. 
In 2019, the value went above the $1 billion mark, surpassing $1.44 in 2021. It's currently estimated to cross $2 billion in 2024 and reach $2.28 billion in 2025. 
As for revenues, each esports market segment is bringing in different numbers, and in 2021, sponsorships brought more than 60% of the total revenues, or around $641 million. Then came media rights with around $192 million, publisher fees with $126 million, merchandise and tickets with $66 million, while digital and streaming brought about $32 million and $25 million, respectively. 
Interestingly, the largest esports market in the world is China. It's estimated to be worth $360 million, while the US market is worth more than $100 million less, or currently $243 million in total. It's also the second-biggest esports market, while Western Europe is estimated to be the third and worth around $205 million. 
However, these numbers are ever-changing, and the current estimates state that the US will be the largest esports market by 2023, with a market share of 28.7%. The Chinese market share will be 21.8%, while South Korea will come in third with an 18.2% market share. 
Many countries are also seeing an increase in esports betting including US, Canada and most of Europe. While it is still early days, it is certainly going to be a rapidly growing industry as popularity grows.
What About the Games?
As you already know, esports comprises various video games, and each one has its own spot in the industry. Naturally, they are not all equally popular. One of the best ways to check their popularity is to look at the cumulative prize pools from all esports competitions each major game had recently. 
In 2021, the biggest game was DOTA 2, with a cumulative prize pool of almost $48 million. Next came Counter-Strike: Global Offensive, with a more than $21 million prize pool. Then we had PUBG Mobile with $17.7 million, PUBG with $16 million, Arena of Valor with around $14.5 million, Fortnite with less than $10 million, and LoL with almost $8 million. 
As for tournaments, the most viewed tournament was the Free Fire World Series 2021 Singapore, with almost 5.5 million viewers. The following two most-viewed tournaments are both LoL World Champions from 2019 and 2020. 
Bottom Line
As you can see, esports keeps growing in all areas, and besides the blip that was the COVID-19 pandemic, that growth is effectively unstoppable. 
We'll see what the next few years will bring, but they will undoubtedly be incredibly positive for the market. 
With all the new games bound to enter the market, many of which will captivate the hearts and minds of players, the esports industry will get richer with novel games and tournaments.