After selling more than 300,000 copies of both Flight Log: Arrival and 7 for 7 in 2017, darling boy band Got7 embarks on a 17-city global tour with Toronto being it's first North American stop. And if you think Korean pop (aka K-pop) music only appeals to asians you only need to attend one of their concert to discover that the audience extends well beyond cultures and language. Screaming teens and tweens along side middle-aged moms, and the occasional date night couple, all took in this high energy and very entertaining night.
The last time GOT7 performed in our city was two years ago at a K-pop Convention as part of a number of entertainers who attended with the organizers, Pop! Goes The World. This time around, they're on their own with the capability of filling the Scotiabank Arena (formerly ACC) to a near sell-out crowd. Just to give you an idea, tickets in the general pit area were starting $259 each.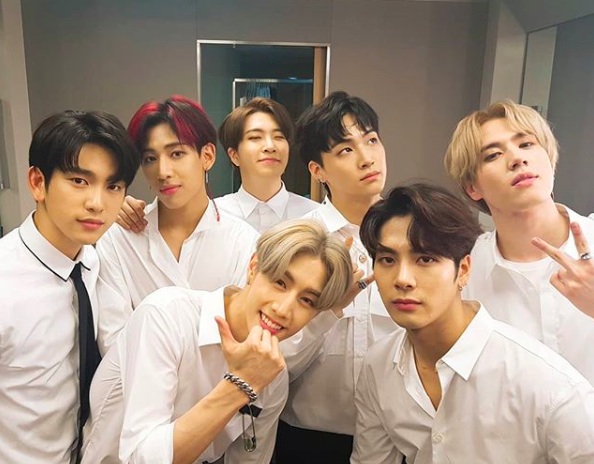 The band is made up of seven good looking young men with perfect skin and hair who perform hit after hit in both Korean and English. JB, Mark, Jackson, Jinyoung, Youngjae, BamBam, and Yugyeom  makes up this seven member group — each one getting their fair share of screams from adoring fans with good reason. Each one of the members have perfected the art of making each audience member feel as though they are the only one they are singing to. They've come along way since their debut in January 2014 with their hip hop track Girls Girls Girls. But make no mistake, they are grateful for their rapidly growing fan base here in North America and globally.
When one member of the group asked the audience, "Who is here at a GOT7 concert for their first time?"during a break in between sets. It appeared that more than 70% raised their hands and  enthusiastically screamed.
Their music is a blend of pop with hip hop and R&B.  The set list consisted of new tunes from their Eyes on You mini album release along side familiar hits. Hard Carry, Prove It, Paradise, OUT, Hey, Teenager, Beggin On My Knees all delighted the crowd.
As with many boy bands in the past (think NKOTB, Backstreet Boys, and One Direction) this one holds true to a profitable formula of cute boys singing songs we can sing along to — no kidding, it was amazing to see a diverse crowd singing in korean and english along with the guys! But much like other well-groomed boy bands, Got7 knows how to put on a great show with all the bells and whistles of precisely choreographed numbers, state of the art sound and stage design, and high quality videos and graphic imagery that made fans swoon in delight. They didn't blink an eye at the $50 t-shirts sold at the venue. That's all thanks to the JYP Entertainment who is known for producing, training, marketing and managing talents like RAIN, Wonder Girls, 2PM, 2AM, miss A and TWICE.
There's no doubt that the production and marketing team behind GOT7 is a well oiled machine. A predictable show yes, but when we asked fans around us it was clear that's what they wanted — A comfort zone of knowing that you will be entertained and won't be disappointed. "We are having SO much fun!" one screamed our way as another continuously screamed "I love you guys!" throughout the night.
While singer Yugyeom slipped on stage during the concert in Toronto, fans are relieved to know that he wasn't injured. The group's management team reported that he's okay and he will continue the tour. Phew!
GOT7's Eyes on You tour launched in Seoul, Korea early May and aside from Toronto, they will hold concerts in Bangkok, Macau, Moscow, Berlin, Paris, Taipei, Jakarta, Los Angeles, Houston, New York, Mexico City, Buenos Aires, Santiago, Singapore, and Hong Kong.
If you haven't heard of Got7, here's one of their recently released music videos.