Name: Paper Parachutes
Genre: Latin/Funk/Reggae
Founded: 2015
# of Albums: 2
Latest Release: No Bad Days (2018)
Latest Video: The Door (2018) and Vivid Dreams (2018)
Latest Single: The Door (2018) and Vivid Dreams (2018)
Bio
"One nation under a groove" Paper Parachutes hold strong to these famous words penned by the godfather of funk: George Clinton. With roots in Venezuela, Trinidad, Jamaica and Canada, Paper Parachutes brings a textured sound like no other while breathing analog life back into the dance floor.
Favourite Restaurant:
ARA: Arepa Cafe
BB: Jabistro or Taro's Fish; I debate this in my head weekly.
SC: Anything Vietnamese or Thai.
WS: The Lakeview: that 24 hour burger.
Favourite band as a teenager:
ARA: Incubus
BB: Nirvana
SC: Radiohead
WS: The Police
Favourite band now:
ARA: Foster The People
BB: Beatles
SC: Vulfpeck
WS: Everything Everything
Guilty Pleasure Song:
ARA: Asereje – Las Ketchup
BB: You Spin Me Round – Dead or Alive
SC: Crazy in Love – Beyonce, or Sk8r Boi – Avril Lavigne
WS: Song #41 by the DMB
Live Show Ritual:
ARA: Awkwardly starting conversations with other bands playing that night.
BB: Large can of Red Bull usually shared with SC or an espresso
SC: Fruit smoothie and a can of Red Bull
WS: Practice breathing deep breaths so not to tense up while playing especially during drum fills.
Favourite local artist:
ARA: Monowhales
BB: Fat As F
SC: The Big Sound (Motown tribute)
WS: Neon Bloom
Sneaky Dees nachos, pasta from Terroni or a superfood salad from Fresh?
ARA: Nachos
BB: King's Crown nachos
SC: Pasta!
WS: Pasta! Need the carbs and never know when he next meal is coming.
Queen or College St?
ARA: College St. SC and I came up with a lot of material on the street. The raccoons where a great audience.
BB: Wherever there's more dive bars; I think Queen St. has the market on it right now.
SC: College St
WS: Queen St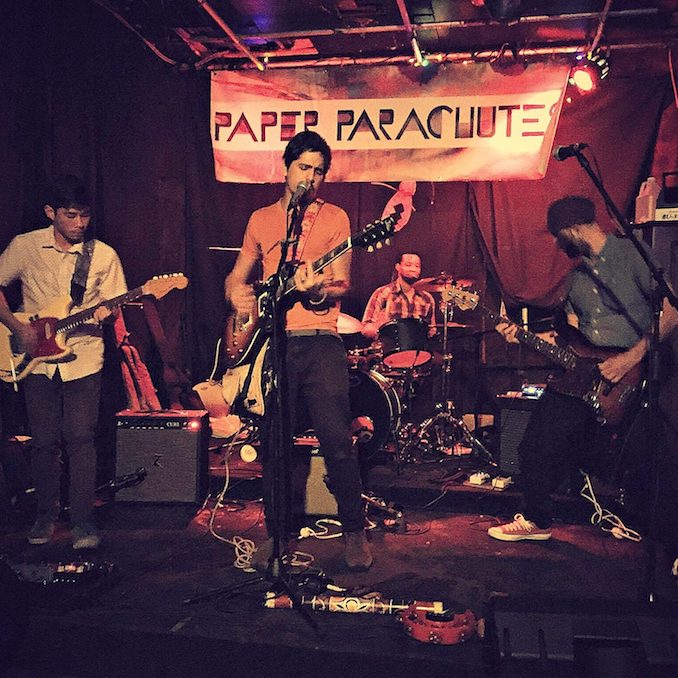 Trinity Bellwoods or Highpark, Riverdale or Kew Gardens?
ARA: Bellwoods; BB's studio is named after the park.
BB: Bellwoods
SC: Trinity Bells all the way!
WS: East end! So Riverdale!
EP or LP?
ARA: LP
BB: EP
SC: EP
WS: LP – But well thought out!
Early bird or night owl?
ARA: I'm an early bird
BB: Night owl
SC: Night Owl
WS: Nothing good comes after 2 am, but also the best stuff! Night Owl.
Road or studio?
ARA: Road
BB: Studio. Considering I do the production for our band I'm concerned why everyone else picked road. Am I that bad to work with? Haha.
SC: Road
WS: Road!
Swiss Chalet or Roti?
ARA: Roti
BB: Roti
SC: Roti 100%
WS: Dude! Roti!
Where can we follow you?