As an attempt to draw eyes from the big box cinemas monopolizing film distribution with bang-bang-boom movies, this is the very first of a new Independent Movie Theatre review series at the Toronto Guardian. The series will digest the essentials of an ideal cinema experience and consider the similarities and differences between independent institutions and the big guys.
We start by reviewing a true Toronto cultural institution: The Revue Cinema! This theatre has been a staple at the corner of Howard Park and Roncesvalles since 1912. The Revue Film Society was created in the mid-2000s to preserve the theatre at which time the Revue Cinema became a not-for-profit, community-led cinema.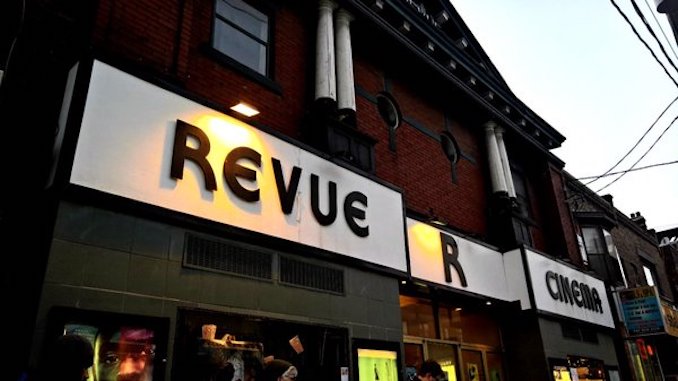 I deeply understand that a lot of us are still concerned about going to a movie theatre and a stranger sitting beside us. It terrified me before the pandemic! The Revue Cinema, like most businesses, is no longer enforcing masks. However, the staff are required to mask up, and only two out of the five other attendees I watched a matinée with were unmasked. That's a pretty good ratio. Also, there was plenty of room to socially distance, I didn't feel my space was invaded at all during my viewing.
3/5 Masks for COVID-19 safety
The Revue Cinema is ideal for transit: it's right by the 506 Streetcar and just a couple of blocks from Dundas West subway station. Solid.
5/5 Trains for Transit-ability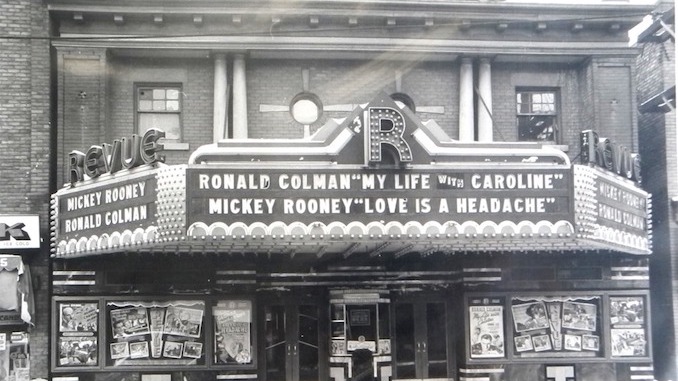 Accessibility for older buildings can be hard. The Revue Cinema has done its best to provide a place for wheelchair viewers to watch from a shorter isle, a system similar to the big-box cinemas but perhaps in a better seat. However, due to the size constraints of the building, they do not currently have a wheelchair accessible bathroom. Admittedly, even as a midsized 5'6" woman, I found the stalls rather cramped so, bear that in mind plus sized folk. The box office, seats, and concessions are all wheelchair accessible.
3/5 Wheels for Accessibility
General admission sent me back $13, and a small popcorn and cider cost $14.50. These prices are average compared to Cineplex and Imagine Cinemas. However, the Revue's special events' ticket prices vary. The concession is small with prices comparable to the big guys – perhaps a smidgen less expensive but nothing major. They offer deals for those opting into memberships, although these get pretty steep for the average film enthusiast.
4/5 Coins for Pricing

The Three Big S's of the Viewing Experience:
Seating: comfortable, reclinable, rows spaced well, seats a bit narrow, and no matter where you sit, you look up at the screen
– 4/5 Pillows
Sound: predominantly front speakers, well-rounded and crisp, but the doors to the front of house aren't well soundproofed
– 4/5 Eardrums
Screen: the size and fixture leave a frame around the picture which is less immersive than big box cinemas, however, I think it adds an introspective charm to the viewing
– 4/5 Corneas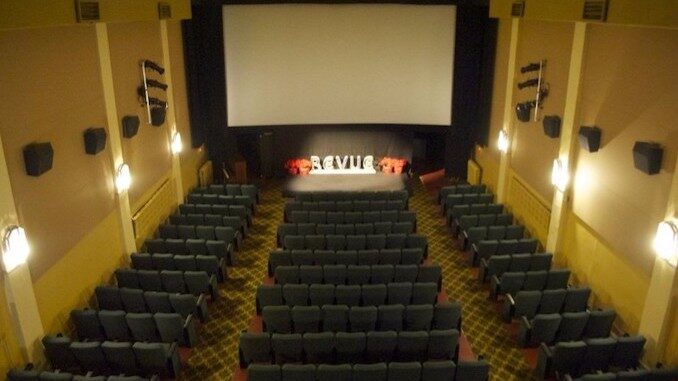 Films on their roster are about a quarter Canadian and feature international independent films with a sprinkling of mainstream picks. As an independent theatre in Canada, the Revue needs to encourage and support Canadian filmmakers; I sincerely wished their schedule featured more Canadian films. I do appreciate their interest in international films, although their current schedule lacks diversity as most appear to be from the USA or Europe.
2/5 Butter tarts for Canadian content
3.5/5 Hipsters for Indie to Mainstream content ratio.
Their special events feature reviews of remastered cult classics to niche anime, old blockbusters, and silent films – their range is impressive.
5/5 Girl Scout Creativity Badges for their special events
As for customer service, the staff were polite, and the box office opened a prompt half-hour before the showing (as advertised). Aside from their audible conversation coming through the doors during the movie, all went smoothly.
5/5 Helping Hands
I think the Revue Cinema is a great spot to catch an independent movie or take a friend to one of their special events. They have huge werewolf movie marathons celebrating full moons, some incredible remasterings, and date night picks. I highly encourage you all to check out their schedule.