Having four walls and a roof on top isn't usually enough to turn a house into a home. It would be best to have unique decorative additions to your space to add character and express your personality. Particularly, wall decor makes your home feel warmer and more welcoming. To get you started in decorating your walls, here are six must-try ideas guaranteed to refresh your space.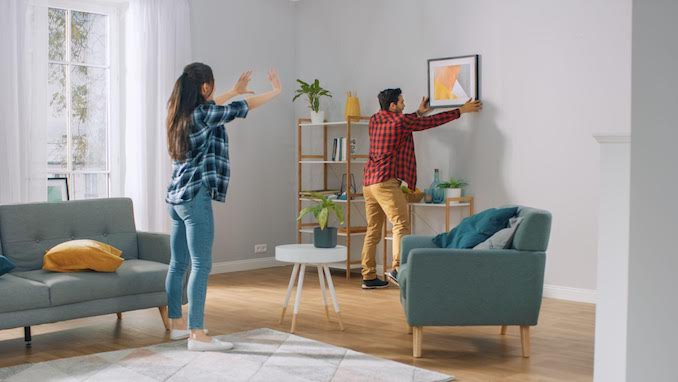 1. Gallery wall
Gallery walls are one of the most popular wall decor ideas. Essentially, you choose a specific wall in your home and hang several related art pieces, usually five or more. Given that now you can conveniently buy art online, it shouldn't be challenging to grow your collection to whatever size you want. Here are some useful tips on setting up a cohesive gallery wall:
Have different frame styles to avoid being too matchy-matchy, but still let them have something in common for cohesiveness.
Build the gallery in a powerful spot where everyone entering your home can see it, for example, above a couch in the living room.
Include a large statement piece that's meaningful to you.
Ensure enough light falls on your gallery.
Mix the sizes and art media for a more casual feel.
2. Original paintings
Buying and displaying original paintings in your home essentially creates an emotional connection between you, the artwork, and the artist. It doesn't matter if it costs more than duplicated prints, but there's something sentimental and deep about original paintings. Usually, you'd go for the ones that would most represent a particular feeling, memory, or philosophy you value most. And once you hang them on your walls, viewers will get to appreciate your beliefs and experiences.
3. Mirrors
While mirrors are primarily used for dressing, you can also use them as wall decor. Doing so makes your space feel bigger, brighter, and more visually interesting. They're also a perfect choice for a focal point object. To learn how best to hang your mirrors, consider the following tips:
Hang them off-centre to create surprise and additional dynamism to your interior décor.
Layer them over wallpaper.
Fix them on doors.
Arrange several vintage mirrors in a gallery wall style.
Hang them where natural light can fall on them and subsequently light up the room.
Hang them on an accent wall with bold painting.
Use them as a decorative window, complete with panes.
Mix them with other art pieces on a gallery wall.
4. Vertical garden
Another excellent way to decorate your walls is by fixing shelves and placing potted plants. You can consider plants like lavender, jasmine, snake plant, gardenia, feverfew, croton, peace lily, Boston fern, devil's ivy, eucalyptus, and areca palm. These not only make your walls visually attractive, but they also benefit you in the following ways:
They may help reduce your degree of stress.
Maintaining them is therapeutic.
They can help you quickly recoup from an illness.
Indoor plants help boost productivity and creativity.
They improve indoor air quality by using up carbon dioxide and giving off oxygen.
5. Mural
A mural is an extremely large artwork directly painted on walls or printed on paper and then fixed. They're usually eye-catching and have an unmistakable expression of emotions due to their size. You can paint any graphic on walls as a mural, including landscapes, seascapes, plants, flowers, animals, facial portraits, and abstract art.
If you're wired for do-it-yourself projects, try your hand on your walls. Decor experts can advise you on the best practices to apply. But you can still hire professional mural artists around your neighbourhood to do the job for you. Alternatively, you can purchase custom-made murals of high-quality photographs printed on paper and fix them on your wall.
6. Sculptural sconces
You can use wall sconces for decoration rather than a mere light fixture. To this end, you'd want to go for the more decorative ones. They can ultimately refine a space through the dramatic, charming, or subtle light they produce. While there are so many designs to choose from, the following general tips should guide you in your selection and installation process:
Use mirrored sconces on the right and left sides of a door.
Fix wall sconces on both sides of a large art piece or as a boundary to a gallery wall.
Frame a mirror with wall sconces.
Choose wall sconces with mild brightness to not overpower the room's main lighting.
Place a heavier sconce below a smaller one.
Always secure them with enough screws to prevent them from falling off the wall.
Ensure the sconces are in a comfortable relation to your eye level. Ideally, keep the top of the sconce above eye level so the interior bulb remains hidden.
Conclusion
There are numerous wall decor ideas you can try. Top on the list is gallery walls, original paintings, mirrors, indoor plants, murals, and decorative sconces. But you can still go for other equally good options, such as accent walls, tapestries, shelves, plates, baskets, sculptures, calendars, chalkboards, or maps. Whichever wall decor you choose, don't forget to employ your creativity to pull off a stunning look that would captivate you, your family, and visitors.