Girls E-Mentorship (GEM) is a mentorship program founded, led and made up of dedicated women who believe every girl deserves equal opportunity. We spoke with Rochelle De Goias-Jackman, the founder, to find out more about them.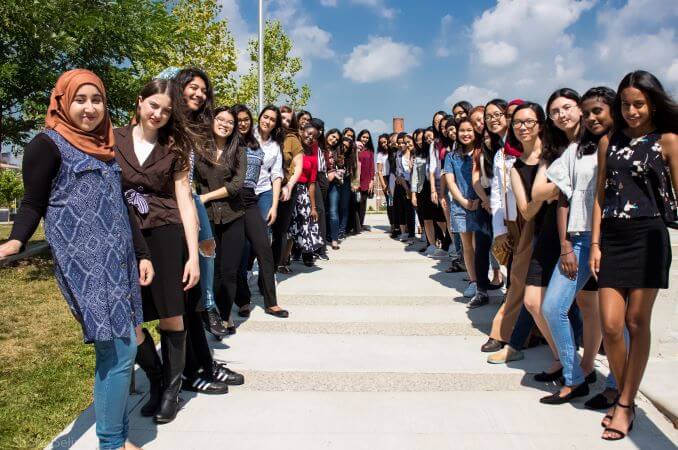 Describe your charity in a few sentences.
GEM is an evidenced based mentorship program, founded, led and made up of dedicated women who believe every girl deserves equal opportunity to develop skills, pursue higher education, build successful career paths, and attain productive and secure employment.
The GEM community is passionate about building more inclusive societies and advancing inclusive economic growth. By providing young women with mentorship, critical competencies, scholarships, internships and social capital, GEM offers a transformative experience that empowers success long after high school graduation.
When did you start/join it?
GEM was founded in 2012.
Since 2012, our program for marginalized high school girls lends us extensive expertise in the mentorship of young women and the issues that impact their lives.
What differentiates us is our focus on research, results and design thinking.
It took two years of collaborative design thinking and research with educators, social workers, policy experts, consultants, and marginalized high school girls to co-create GEM.
Every year we complete a social impact assessment with UofT to evaluate our results and improve our program.
What problem does it aim to solve?
The Problem: Marginalized, racialized girls, facing multiple socio-economic barriers have a disadvantage in achieving future prosperity and economic success.
The Solution: GEM provides research-based mentorship, internships, scholarships, professional skills and experiential workshops.
We believe mentorship is essential in fostering the success of the next generation.
We believe mentorship is critical to creating gender equality as well as diversity and inclusivity in Canada.
Our goal is to reduce systemic barriers, improve academic opportunities, improve career guidance, economic opportunities and enrich social capital for young girls facing multiple socio-economic barriers.
What made you want to get involved?
I always tell the story of when I was a graduate student, I noticed so many men in my program had formal and informal mentors. These mentors were opening doors for their mentees, leading to interviews and internships. Essentially, these mentors were helping the next generation of men succeed. What was interesting and unfortunate was none of the female students in my program had mentors.
Twenty years ago, it wasn't as common for women to mentor other women, and I became determined to change that.
Fast forward several years, I was still very interested in creating a mentorship culture for women and I was also very interested in social innovation. When I was at a stage in my career that I could give back (time and money) I decided to start GEM. I felt creating a mentorship culture in Toronto would not only lead to economic security for young girls facing socio-economic barriers but over time it would lead to diversity, inclusivity and equality in the workforce.
We know that we need to create a diverse talent pipeline if we want to see more diversity and inclusivity in c-suite positions and at the board level. I think mentorship is one of the ways to help us get there.
What more needs to be done?
We have only scratched the surface in terms of mentoring girls facing socio-economic barriers. We want to reach more girls in the GTA and outside of the GTA. There is so much to be done in smaller cities and rural communities.
How can our readers help?
-Apply to be a mentor at GEM!
-If you are a corporation that believes in diversity, equality and inclusion – talk to us about partnership opportunities and internships
-Donate to GEM
-Learn more about our program by visiting our website
-Follow us on social media (Instagram, LinkedIn, Facebook, Twitter)
-Read our published research studies and impact assessments
-Promote mentorship in your workplace and in your community
Do you have any events coming up?
This year, GEM is celebrating its 10th anniversary and we are looking forward to celebrating this milestone with our community.
We will be announcing an exciting new partnership for International Women's Day
We will be hosting a virtual Friendraiser for future mentors in the coming weeks. Email info@girlsementorship.com if you'd like to attend.
PAY IT FORWARD: What is an awesome local charity that you love?
There are so many awesome local charities. I'm a mother of two so I tend to gravitate towards any charity that helps children and youth.
I've always been a big fan of Pathways to Education. I simply love what they do.
Covenant House is a very important organization in our city and I'm so happy they received funding from The Slaight Foundation.
I also think Sick Kids is doing amazing work.
I also really respect the work of Charity Intelligence. They analyze hundreds of charities making it easier to assess impact and guide giving decisions.