Located in Flesherton, Ontario, lies the Lower Valley Beverage Company, a company founded by two families in 2014. The Chapmans and McGlaughlins founded the company with a commitment to simple and authentic living. They wanted a sustainable product while protecting the land where their water was sourced.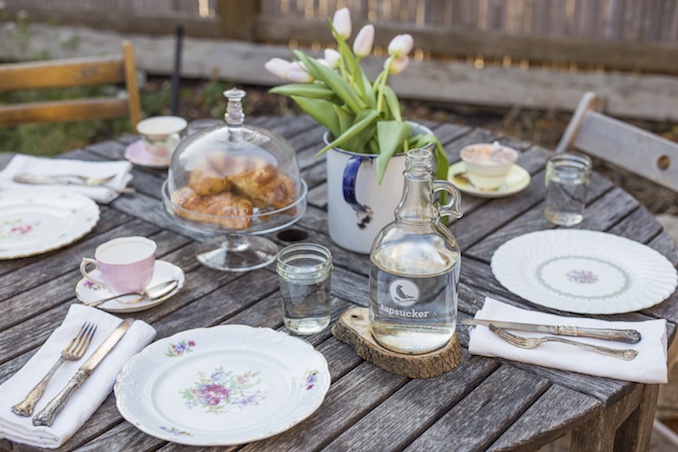 Their flagship product, Sapsucker Maple Tree Filtered Water, is sustainably harvested from mature maple trees, has no additives or preservatives, is non-GMO and is an organically certified product. The company's goal is to make Sapsucker the lowest-impact packaged water on the market.
I got to chat with them recently about their product and their commitment to making it have a low impact on the environment.
***
How much water does one tree produce in a season? How many trees do you have/use?
One tap will yield 40 gallons of sap in a good season. The number of taps per tree depends on the size of the tree. However, only mature trees (30+ years) are tapped for Sapsucker.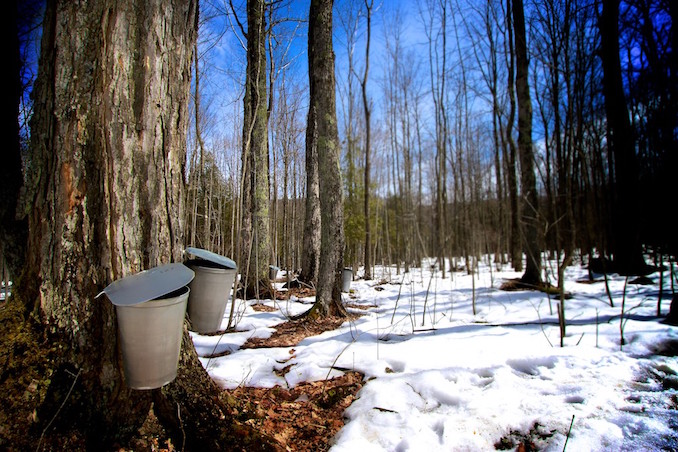 How many trees do we use?
A LOT! Sapsucker is sourced regionally from sustainable maple forests supporting the growth of local Ontario farmers and sustainable forest management. We only harvest once a year and harvest what we need.
How long is the season that you pull water from the trees?
Sapsucker is water harvested from mature maple trees, technically called sap. The early spring harvest season is only a few weeks long, and depends on just the right weather – cold enough for the trees to still have stores of energy for winter in their roots, but warm enough during the day for the sap to flow.
Early springtime provides us with the perfect temperature for harvesting maple water. Cool spring air means the trees still have stores of energy from winter, while the thawing of the earth provides warmth for the sap to flow. We have a small window to collect Sapsucker. Once buds appear on the trees, our harvest time is over. A maple tree can produce sap from maturity to 100 years of age or more without disrupting underground water resources (and, as a bonus, it naturally absorbs CO2 the whole time).
Is the sap used for syrup as well?
We are not maple syrup producers, and only boil a small amount for our families to enjoy.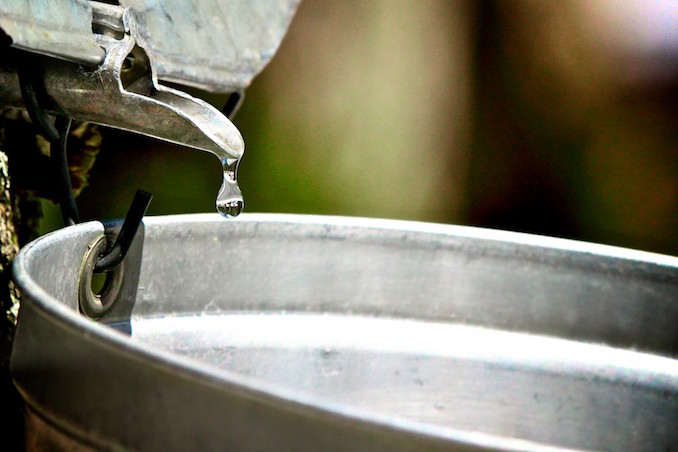 Explain the difference between the final water and sap for maple syrup
There is no difference. Sapsucker is water harvested from mature maple trees, technically called sap. Instead of boiling the sap to make maple syrup, we simply go from tree to package within 48 hours of harvest.
The water produced by a maple tree originates in the air and the earth around it, not from an underground aquifer. As it draws this moisture up through its roots and trunk, the tree acts as a natural filter, adding nutrients and subtle flavour along the way. After that, we don't change a thing. We pasteurize our product to extend its shelf life, but Sapsucker is otherwise just as nature made it.
Tell us about the containers and how are they environmentally friendly?
The most visible way in which we have committed to sustainability is on our packaging. We chose Tetra Pak for Sapsucker for a few reasons. One is that the packaging itself has a smaller carbon footprint than the alternatives, and it's recyclable in many municipalities. Tetra Pak also uses an innovative method of packaging that is aseptic. This method means our product requires less processing to make it ready to sell, allowing us to avoid the use of preservatives. Aseptic packaging also gives Sapsucker a longer shelf life, which helps us reduce waste from spoiled product. Finally, our Tetra packaging comes flat on a roll which allows us to fit exponentially more packaging on a truck than if we were using plastic or glass bottles and is much lighter, which is better for the environment as it means less transportation is needed. That's really meaningful to us because of our commitment to being one of the most sustainable packaged waters on the market.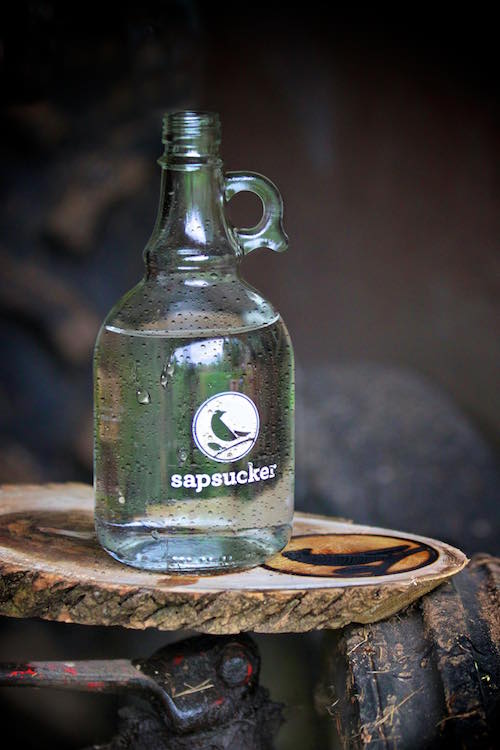 We're big believers in treading lightly. To us, sustainability is a way of life and we're committed in everything we do to be mindful about our impact. It's in this spirit that we've sourced the trees we harvest, our packaging, and our partners, so you can feel good about every aspect of our product.
Sapsucker is sourced as locally as possible. In fact, it's packaged in Toronto – just a couple hours from where it's harvested.
Are you selling outside of Ontario?
Yes, Sapsucker is sold in Ontario, British Columbia, Alberta and Saskatchewan.
Do you make any other products?
Yes we do. Watch our Instagram feed for the exciting announcement of a second tree water this spring.
How do you find the restaurants / retailers? What do you look for?
We love working with restaurants that share the same values as we do. We believe that food brings people together and where it comes from matters. Offering a more sustainable and local alternative to bottled water tells your guests that that no detail is unimportant when it comes sharing a meal as well as your commitment to local and more sustainable food. We look for retailers that believe in local, healthy and sustainable products.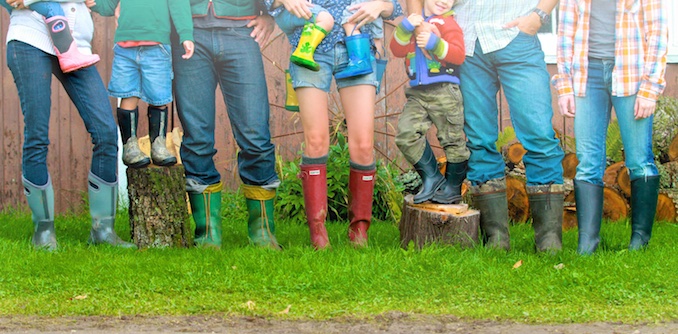 Anything else you want to include?
You can substitute Sapsucker for ordinary water almost any way you like. On its own as a light refreshment or after exercise, it offers the same hydration benefits, but with its own unique nutrients and characteristic hint of sweetness.
Sapsucker's mild minerality makes it a wonderful complement to a meal, which is how we love it best.
Maple trees pull water from the ground and filter it through their roots. The trees provide natural filtration for the water, which makes it naturally rich in minerals and anti-oxidants and gives it a fresh, clean taste with just a hint of sweetness. The brief harvest window of maple water makes it something truly special. Typically the harvest season lasts for only a few weeks each spring, from late March to early April. Not only is the harvest window a short one, maple tree filtered water has an alkalinity that means it doesn't stay fresh very long on its own – or at least that used to be the case. New packaging methods make it possible to share and enjoy Sapsucker throughout the year and we are thrilled to be sharing it with you!
***
For more information on Sapsucker, please visit their website.