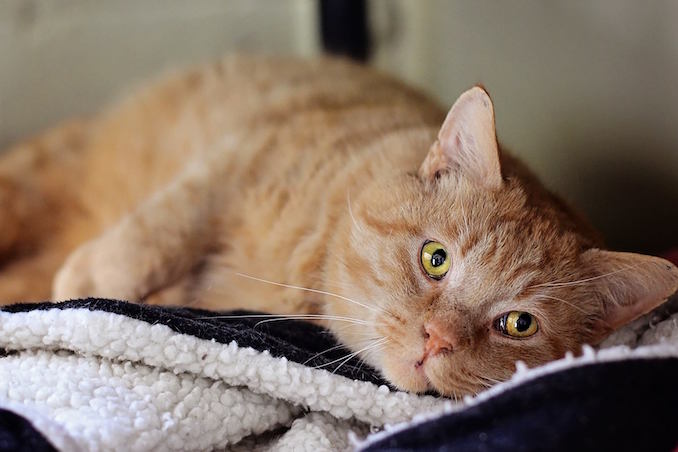 Name: Morris – Born: December 2013
Morris was rescued from a life on the streets when NTCR received a call about an abandoned cat that was left behind when his owners moved away without him. An absolutely handsome orange tabby with hypnotic amber eyes and a sweet, gentle loving nature. Learning to adapt to life in the shelter, Morris is a gentle giant who does not seek attention but turns on the charm to full throttle when it is given to him. Usually on first stroke he turns on his side as to make sure that his belly in not forgotten. With all that he has been through he completely trusts people and happily accepts all attention directed his way. Good with his roommates, Morris would make an excellent companion for a mature adult home, as he can startle with too much commotion. If you would like to be the one to give Morris the "furever" home & family he truly deserves, please fill out an adoption application and contact NTCR.
***
About North Toronto Cat Rescue
This column features Toronto pets available for adoption.
Our current features come from North Toronto Cat Rescue which is a no kill, no cage shelter in Markham, Ontario, Canada. They have saved over 2000 cats over the years from both the harsh environments of life on the streets and from kill shelters in Ontario and Québec. They care for both kittens and adult cats. I always like to promote getting an adult cat as it is a lot easier to pick the cat with the right temperament for you.
The NTCR shelter is run by volunteers with no government assistance. They currently have around 200 plus awesome cats that would love a good home. Go and visit them soon!
For more info, Visit the NTCR Website.
***
Fundraiser
On another Note, NTCR is in trouble as they are losing their home in 2016 for development of the area. If you can offer any help in finding a new home for the almost 200 cats at the shelter, that would be amazing.
*update 01/17 – They have been granted an extension for 6 months but animals will be removed in June if a new home is not found.