I recently got to chat with a Toronto creative who is the founder of a company called Bonne O. Bonne O is a carbonating device for your kitchen that can turn any still drink into a carbonated beverage. Unlike other home carbonization machines, Bonne O uses pucks to carbonate the drinks instead of CO2 cartridges. removing the need to manufacture, fill, and dispose of the tanks, lessening the environmental impact.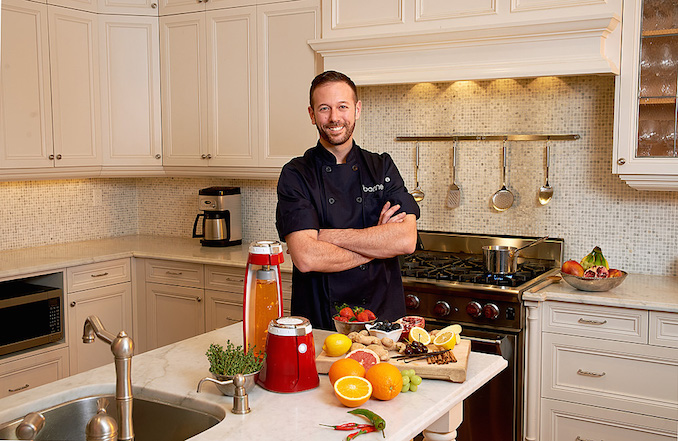 Bonne O is also a lot of fun because you can carbonate anything. Wine, iced tea, juice, you name it. I recently got to test one out at home and although I am not a huge carbonated drink fan, I got creative and carbonated a few different things. The device is very easy to use and to clean. Within minutes I had unwrapped it and started making drinks with the carbonization pucks. One can use a full puck for full carbonization, or a half puck for less carbonization. The Bonne O device can carbonate around a litre at a time and takes around 3 minutes to carbonate. Try mixing in fruit with your water for a fresh new taste!
The best part about this invention is that it is local! Here is my chat with founder Darren Hatherell.
Can you really add bubbles to anything with Bonne O? Can I put my orange juice or iced tea in the BPA bottle and carbonate it?
Yes, and that's just a start! Here is how we can get creative with oranges and tea. You can absolutely make Sparkling Orange Juice! Now add some vodka in the bottle for a Screwdriver. How about wine and orange juice for a Mimosa? Or real oranges and mint for a Sparkling Water Infused with Oranges & Mint. For steeped and chilled tea, simply add them to the bottle for Sparkling Iced Tea. Or put a tea bag in the bottle for an all-natural, Cold Brewed Sparkling Iced Tea. Now add some diluted honey in the flavour chamber for a naturally sweetened Sparkling Iced Tea. Are you ready for tea cocktails? The only limit is your imagination. Side bottle note: The bottles are BPA-free and dishwasher safe. Plus the bottom and top come off for easy cleaning.
How do the carbonating pucks work and why don't all companies do this? 
Bonne O carbonators are made of food-grade materials (sodium bicarbonate and citric acid). The carbonator is placed in the carbonation chamber and transfers only pure CO2 gas to the bottle to sparkle your beverage. Each 'puck' produces enough CO2 to fully carbonate one bottle. After use the liquid waste in the carbonator can be safely poured down the sink so there is no solid waste. They are safe, convenient and environmentally friendly. You don't need to handle a high-pressure CO2 tank and our 'pucks' can be shipped with e-commerce. Easy! Bonne O engineered, developed and patented this new innovation right here in Toronto. So if other companies want to use it they'll have to talk to us first.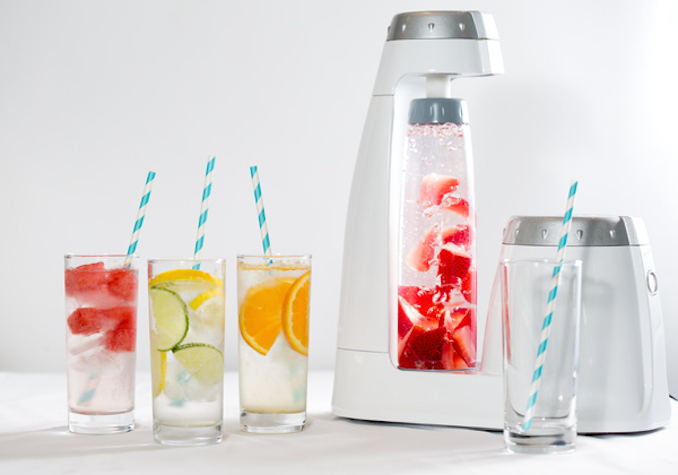 Where can we buy the cola and root beer flavour packs from Bonne O? Can we use an alternative brand flavour pack?
We encourage creativity. That means we want you to try creating your own flavours. Our recipe book and website have directions for creating 100% natural, homemade syrups for orange, lemon, pomegranate, ginger, root beer, cola and more. You can buy all of our products, including the syrups at Hudson's Bay, Home Outfitters and Crate & Barrel across Canada or on www.bonneo.ca You can use any flavour or syrup – not just ours. Keep in mind that the Bonne O is calibrated for natural syrups using cane sugar for sweetening. We recommend you stay away from artificially sweetened syrups.
Is there a way to make it even more eco friendly with fully recyclable or biodegradable packaging for the pucks and flavour packs?
Bonne O is a very environmentally friendly product. Each bottle of Bonne O you create with our reusable bottles avoids the creation, ocean shipping and waste or recycling of a 750ml bottle. To go zero-waste on the syrups, we do encourage making your own. It only takes about 15 minutes for a 3 week supply and it is really easy. When you don't have time, we have syrup partners that offer 100% recyclable glass bottles. Check bonneo.ca for recipes. The carbonator itself is a zero solid waste product – contrast that with the coffee pods that are so common today and are an environmental disaster. Our carbonator foil packaging is extremely thin to ensure minimal waste and the boxes the carbonators are shipped in are fully recyclable.
What made you turn down this path of creating the Bonne O device?
Personally, I had a bad Diet Coke habit. I quit by turning to sparkling water in mass quantities. After carrying case after case home from Costco it struck me that we were shipping this water I loved over the ocean. Shipping water over water – that's nuts. I thought there had to be a better, more convenient and environmentally friendly way to make all the drinks our family loves. That was the idea. Now with a phenomenal team, years of R&D and team effort, here we are!
What is in the flavour packs?
Many people make drinks with their Bonne O only using real ingredients you find in your kitchen or garden. Sparkling water infused with fruit instead of syrup is delicious and 100% natural. So for our syrups we tried to make our flavours as close to homemade as possible. You'll only see ingredients there I hope you'll recognize. For example, our Lemon Syrup contains cane sugar, water, lemon juice concentrate, citric acid and natural flavour. That's it, but you can do even better at home – it only requires lemons, sugar, water, your stove and 15 minutes. Try it!
What is next for Bonne O?
We have had such a wonderful response from Canadians to our innovation – engineered and designed in Canada! Our team feels that people around the world are ready to create beverages using real, natural ingredients. We're in the process of inking distribution arrangements for Singapore/Malaysia, China, Saudi Arabia, France and the
United States. Wish us luck!