The Umbrella Academy is a new Netflix show that is out now starring Toronto's Colm Feore as well as Ellen Page and Mary J. Blige. The show had its Canadian premiere on February 14th at the Bell TIFF Lightbox in downtown Toronto where the cast chatted with media before the screening.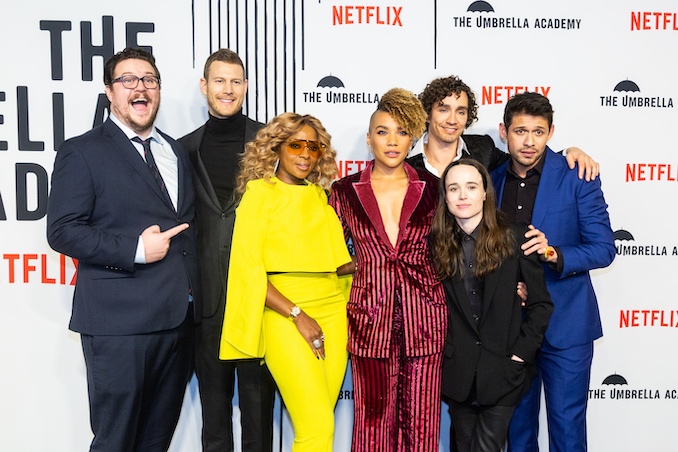 The show was almost entirely filmed in Toronto over a 7 month period and the screening was to host the entire cast, crew and their families.
The show follows seven characters who were all bought as babies by a billionaire (Colm Feore) after, on a day in the 1980s, multiple people worldwide experienced a birth without ever being pregnant. The babies grew up to have extraordinary powers, all except one, Vanya (Ellen Page).
The show jumps between two time periods. A time when the seven were teenagers and fought against evil and crime and present day when the characters have all gone separate ways and a rift in the family has kept them all apart.
The seven were all named by number until their mother gave them names (we learned in episode 1). Number 1 is Luther (Tom Hopper), Number 2 is Diego (David Castañeda), Number 3 is Allison (Emmy Raver-Lampman), Number 4 is Klaus (Robert Sheehan), Number 5 has no real name as he went missing as a child, Number 6 is Ben who was killed when he was young, and Number 7 is Vanya (Ellen Page). The characters as kids are played by Cameron Brodeur (Luther), Blake Talabis (Diego), Eden Cupid (Allison), Dante Albidone (Klaus), Aidan Gallagher (Number 5), Ethan Hwang (Ben), and T.J. McGibbon (Vanya).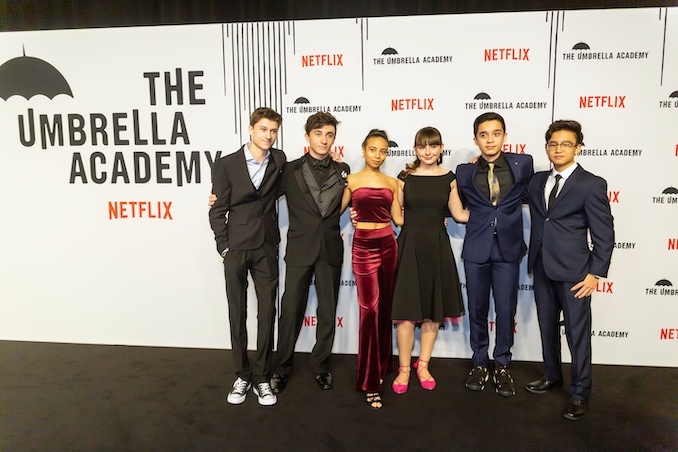 Mary J. Blige plays a villain named Cha-Cha who we did not meet in the first episode. On the red carpet, she explained how he did most of her own stunts. What a badass!
Actor Cameron Britton also plays a villain. You may remember him as the large and terrifying serial killer in Netflix's MINDHUNTER who is interviewed by the detectives in prison.
The show is ten episodes that are mostly 1 hour long except for two 45 minute episodes. Start your binge today!