I am a true Torontonian born and raised in the city. I thought I knew my city really well but Urban Capers' Scavenger Hunt took me off the beaten path to discover more. As we're in the mood for a good fright this month, we signed up for the Haunted Toronto hunt that revealed the darker side of our city's past.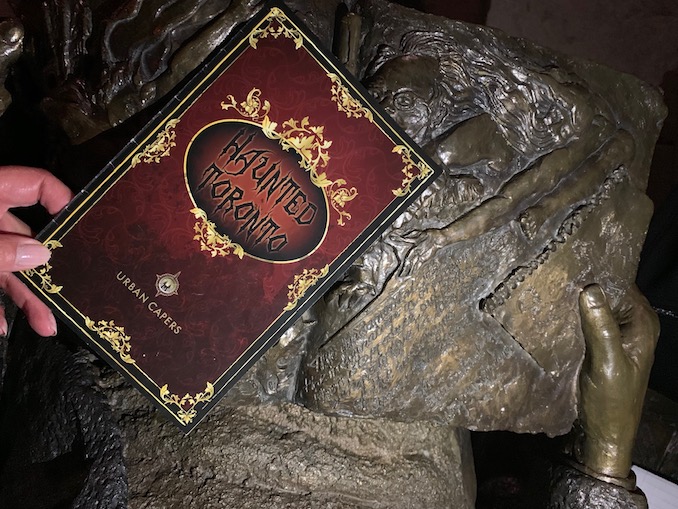 My sister and I dressed warmly for the night on the town. With sneakers and a flashlight we went to the meeting point with 30 other people consisting of locals and tourists, couples on dates, friends, and multi-generational families. We were told that we could be in groups anywhere from two to six people (to make it fair and fun). Name your team. We were the "Crazy Ghost-Busting Asians". Bonus points for creative names.
The rules were simple. You had two hours to complete the Scavenger Hunt. Each group had a different starting point. On this particular hunt there were 23 stops all within a 4 km walking distance. You had to return to the meeting spot exactly two hours to hit as many locations as you can. If you were late, points were docked. No need to run (unless you're spooked) but there are no actors, no zombies (that were officially part of this game, anyway). All the landmarks, buildings, statues, markings are part of Toronto's ghostly past. Each spot along the hunt were researched and fact checked by actual historians.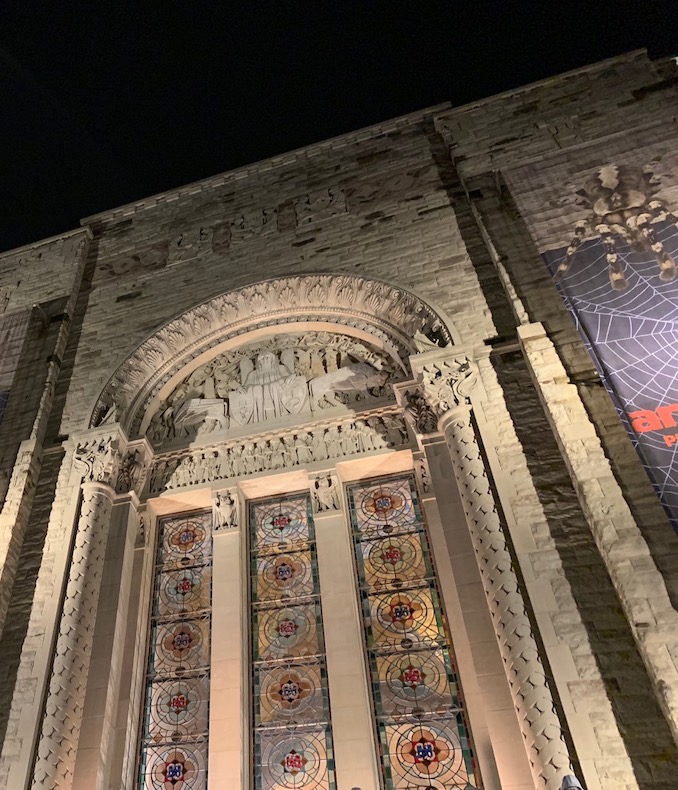 At each spot you had to answer a question that can only be found at the location. Your mobile device won't help you here. However, each team is given one "lifeline" to call for help. You can also enlist the help of strangers — which was actually quite fun! Thank you valet guys!
I thought I knew Toronto. I had heard of the ghosts of Hart House but there were many spots on this list that I had NO idea about. This gave the organizers a big smile when I mentioned to them at the end of the hunt.
It would not be fair to give it all, or any of it, away. But know that you will be encounter handless tales, visit an insane asylum, find out about traditions that will remind you of Hogwarts, and learn that Mr. Christie was more than just about good cookies.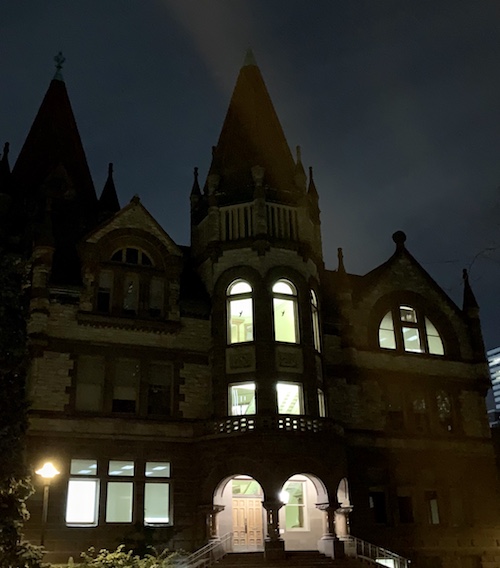 It was a creepy fun ghost-hunting night even though we didn't complete the list on time but definitely a great way to discover more about our city!
Urban Capers has several interesting themed Scavenger Hunts including St. Lawrence Market, Chinatown & Kensington Market, Whiskey Heist, and Murder the ROM and they run all year round. Haunted Toronto is well-done and perfect for Halloween!
TIPS: definitely dress comfortably, the ghosts don't care what you wear but be careful where you walk. You've been warned. A flashlight is highly recommended as clues given are very clever and takes some take more than looking at face value. Coffee in hand is fine too. Feel free to throw the competition off their game should you actually encounter them. It's also about strategy.
For more information visit urbancapers.com