Jack is a simple man who enjoys the simple things in life. He enjoys a cold cup of water paired with a fine array of chicken, duck, salmon, or venison bits on the side. There's nothing quite like coming home to a bowl full of ice cold water and a finely spooned, high-quality chicken or fish serving.
Jack is a very friendly and easygoing guy who LOVES company. He'll get comfy right next to you as you read or watch TV, he'll join you at the bottom of the bed for when it's sleep time, he'll follow you around the house and politely remind you about his water and food refills. Most importantly — and adorably — he loves welcoming you home!
When he's not bugging you for undivided attention and food, he likes spending time sleeping on his favourite mat or behind a couch.
Sometimes, poor little Jack can have trouble getting his poop INSIDE the litter box. There are a ton of ways to help him with this, like getting an extra big litter box.
Jack hopes to find a home without young children as they can sometimes be a little overwhelming for him, with all their touching and grabbing and hugging! He could totally become besties with a child so long as they respect his space! Most importantly, he hopes his new family would have the time to show him how much they love him.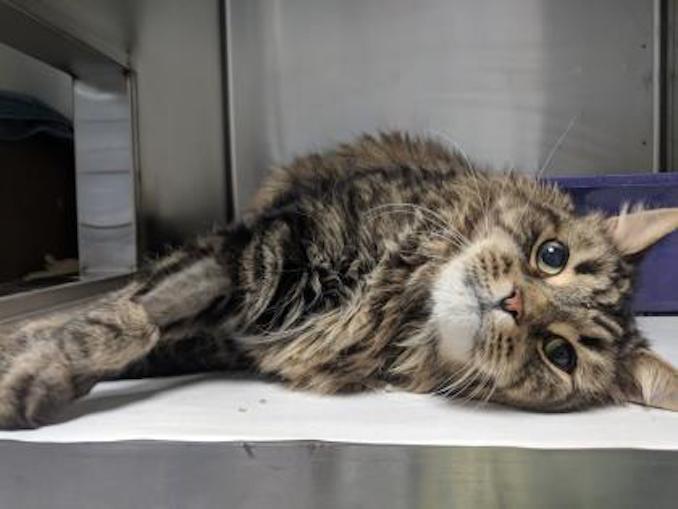 Jack
Age: 13 years 4 months
Sex: Male
Size: Medium
Colour: Grey
Spayed/Neutered: Yes
Declawed: No
In order to ensure a smooth and successful adoption, please remember to check all the basic requirements for adopting before coming in to the shelter.
About this column:
Each week we feature animals available for adoption from local shelters in the Toronto area with the hopes that our readers will assist in finding good homes for them. If you, or someone you know, has the resources to take care of one of these animals, please do get in touch with the appropriate shelter via the links provided.