Tomasina is a sweetie pie and purr machine who lives for the three f's — food, fun, and fashion. She loves snacks and playing with her little toys! If you have a lap and a kind voice to tell her how pretty she is, you're her new favourite. And fashion? Oh, don't get her started. Her favourite colour is pink, obviously. I mean, look how she struts her stuff in that little pink fur around her shoulder!
But she ain't just a pretty face! This girl has such a big heart, and love-love-loves lap sessions and scratches. She loves rolling around and talking about how wonderful it is to be her!
Only thing is, don't let her see those hands! Eek! In her opinion, our big hairless hands are NOT good fashion accessories. They totally ruin the look she's going for! If she sees em — hiYA! — she'll swat em away! Don't take it personally. She loves you. But as far your hands go … out of sight, out of mind, please!
Tomasina is such a sweetheart. She can be misunderstood because of her tendency to swat away at hands when people reach out to her. She doesn't mean to be rude! She just isn't sure how she feels about hands!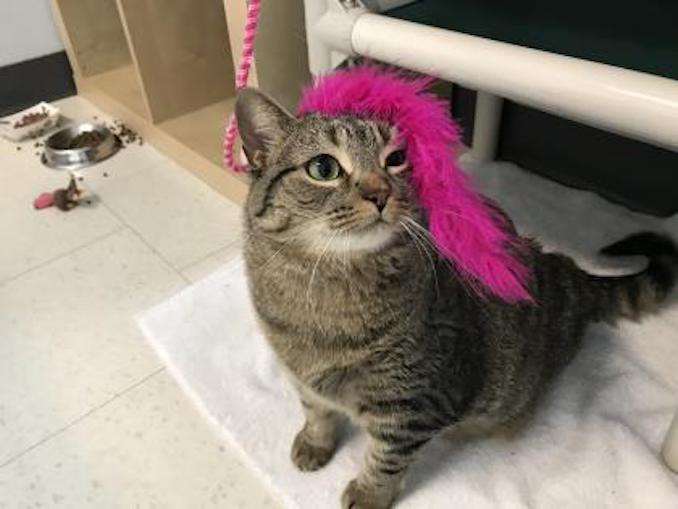 Age: 6 years 2 months
Sex: Female
Size: Medium
Colour: Brown
Spayed/Neutered: Yes
Declawed: No
In order to ensure a smooth and successful adoption, please remember to check all the basic requirements for adopting before coming in to the shelter.
About this column:
Each week we feature animals available for adoption from local shelters in the Toronto area with the hopes that our readers will assist in finding good homes for them. If you, or someone you know, has the resources to take care of one of these animals, please do get in touch with the appropriate shelter via the links provided.