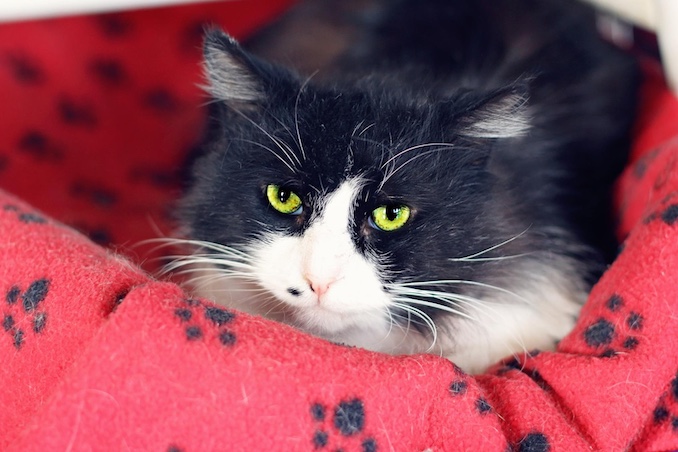 Benjamin – DOB: December 2012
Benjamin was rescued form a life on the streets when he was found in the dead of winter, searching through garbage at the back of a Sports Bar in Woodbridge. When he first came to North Toronto Cat Rescue he was extremely scared of people and spend most of his time hiding in his carrier. Slowly he started to realize that he could trust people and began to move to the front of his crate, make eye contact and eventually accept and anticipate being petted and getting treats. A very handsome medium haired tuxedo with the cutest little black freckle on his white face and an adorable pink nose and lips. Benjamin has a shy and timid nature who needs a very slow approach to establish trust and is unsure when you first start to pet him but when he is comfortable will stretch out his head to enjoy a good neck rub and enjoy the "luvins". Benjamin is good with other cats but tends to prefer to be on his own we feel due to his insecurity. He will need a patient owner who understands his need to feel safe and secure and is willing to work with him at his own pace, providing him with reassurance and unconditional love.
***
About North Toronto Cat Rescue
This column features Toronto pets available for adoption.
Our current features come from North Toronto Cat Rescue which is a no kill, no cage shelter in Markham, Ontario, Canada. They have saved over 2000 cats over the years from both the harsh environments of life on the streets and from kill shelters in Ontario and Québec. They care for both kittens and adult cats. I always like to promote getting an adult cat as it is a lot easier to pick the cat with the right temperament for you.
The NTCR shelter is run by volunteers with no government assistance. They currently have around 200 plus awesome cats that would love a good home. Go and visit them soon!
For more info, Visit the NTCR Website.
***
Fundraiser
On another Note, NTCR is in trouble as they are losing their home in 2016 for development of the area. If you can offer any help in finding a new home for the almost 200 cats at the shelter, that would be amazing.