On select evenings, the ROM stays open late to throwdown a party called Friday Night Live (FNL), attended by a massive amount of millennials looking for unique #IRL engagement. Where else can you grab a beer with friends and cruise beneath towering dinosaurs?
Exploring the whole museum after dark – with a drink in your hand – is an adventure! Of the 3,000 people who on average attend a Friday night party, the average age range is 20 to 35, and interestingly, a high percentage are from the GTA.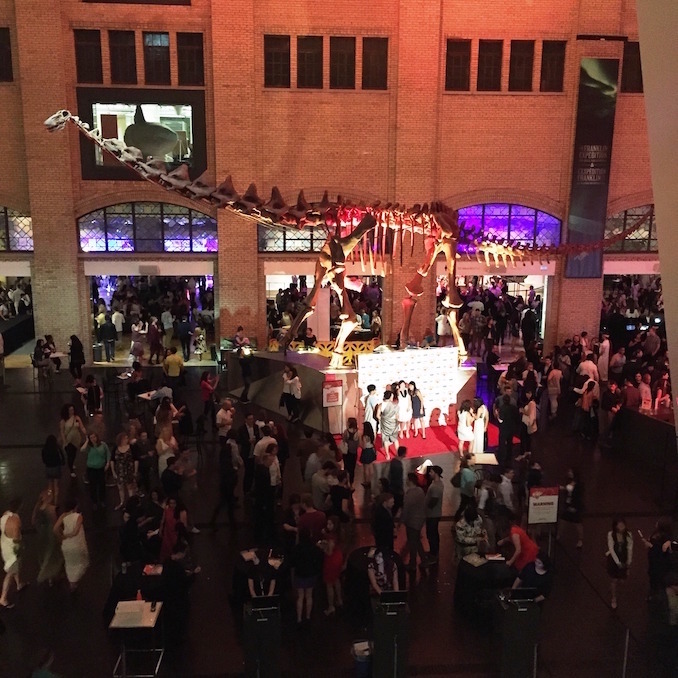 Extra Fresh Way To Meet Fellow Torontonians!
Curious to find out why young Torontonians love FNL so much, we went to a ROM Friday party. One young man said it was wild to be able to grab a beer, see the dinosaurs and share the moment with friends. Another guest said: "Once you graduate, you start going to work, and you stop learning. At FNL you always learn something, it gives you a good feeling." Someone else mentioned that they hadn't been to the ROM since being a kid, and they loved coming back as a young adult.
Other people felt that FNL parties were more fun [than going out to a nightclub] because people are more approachable. The exhibitions and artifacts act as natural conversation starters – and you just don't get that in a basic bar environment. The interesting thing about our conversations with millennials was how enthusiastic they were about being at the museum at night.
The consensus: FNL parties are ultra fun and friendly – you grab a drink, listen to music or dance while chatting with friends or new faces. The whole atmosphere is a giant conversation starter and the constant movement from room to room is ideal for cruising. Bye-bye Tinder!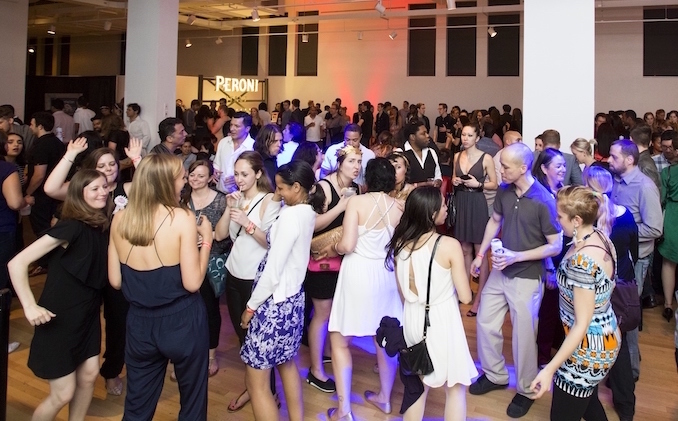 Diverse Year-Round Party Connects Community
FNL parties let guests experience the museum in a fun new way with live DJs, bands and fashion shows featuring local and national talent, there is also dancing on various floors along with pop-up food stations, plus ROM-inspired activities that connect with the evening's theme.
As the party host, the ROM supports community engagement, education and cultural awareness as a civic hub connected with Toronto's diverse population through inspired programming accessible to everyone. Each FNL event has a unique theme tied to a current ROM exhibition or permanent collection. Likewise, FNL parties are often connected with Toronto cultural events and particular dates, for example Colour ROM Proud in June in partnership with Pride Toronto, and Lunar Love in February connected with the Lunar New Year.
#FNLROM events are seasonal; Winter, Spring and Fall. The next series of Friday Night Live parties kick off on the 4th of May until 29th June. FYI: In the Spring and Fall, FNL runs for 9 consecutive Fridays.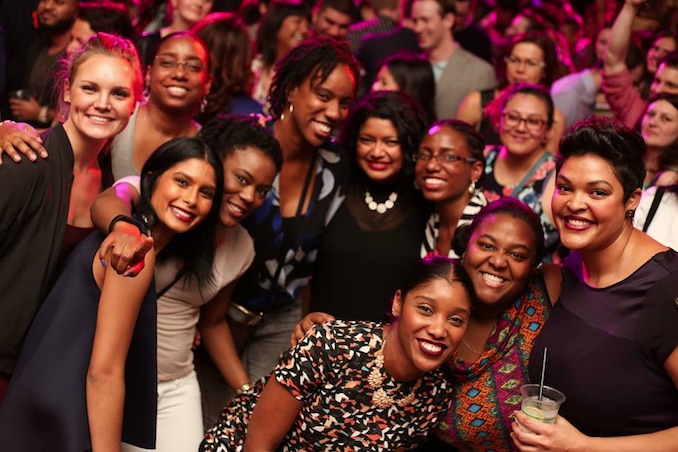 Here's a sneak peek at the Spring FNL thematic lineup:
May 4 – Bollywood Beats
May 11 – Superheroes
May 18 – Cottage Country
May 25 – DinoNite
June 1 – Techno Fashion
June 8 – Indigenous NOW
June 15 – Colour ROM Proud
June 22 – Chill Vibe
June 29 – Arachnophile
***
For upcoming Friday Night Live event information visit: https://www.rom.on.ca/en/whats-on/rom-friday-night-live
Advance or early-bird tickets available online. Day of event tickets available at the ROM starting at 7:00 pm, $17 adults, $15.50 students/seniors, $5 members. Entrance is guaranteed to early-bird ticket holders before 8:00 pm. After 8:00 pm, entry is based on capacity. Party hours are from 7:00 PM to 11:30 PM.
Advanced tixs are strongly recommended. This is a 19+ event, you will be asked for valid ID.
ROM student membership (ages 15 – 25 with valid student ID) costs only $54 dollars a year!
https://www.rom.on.ca/en/join-us/membership/become-a-member