"This recipe is adapted from one introduced to me by my Syrian friend, Noel, during my early years in Canada. I make this cake for myself regularly and freeze it in single servings. It is fresh and tart and contains less than 1.25 tablespoons of sugar per slice" – Mila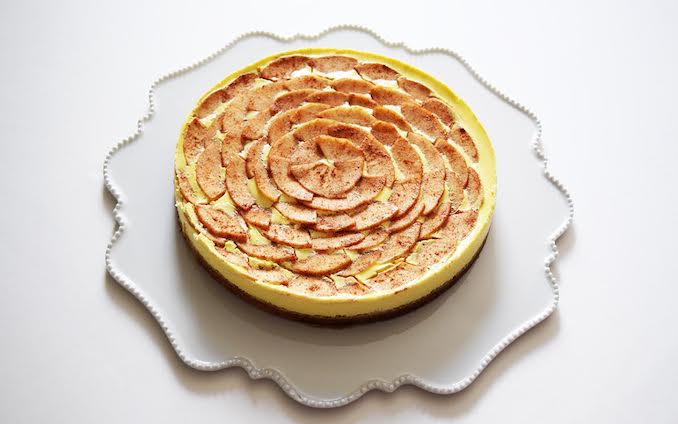 Mila's Apple Cheesecake
Serves 8
Working time about 1.5hrs
Equipment and Tools
-Stand mixer or pastry cutter, wide deep bowl, and a hand mixer
-Parchment paper
-Rolling pin
-8 or 9" springform pan
-3 steel cups (not essential)
-Large bowl
-Cutting board
-Paring knife
-Aluminum foil
-Plastic wrap
-Ceramic plate large enough to cover springform pan
-Paper towel
-Rubber band
-Palette knife or any small, thin knife
-2 large chef's knives
Cake Base
-1c all purpose flour, sifted and then measured
-1/2c red fife or spelt flour, unsifted
-1/2c or 113g butter at 21C
-1/4c fine sugar
-zest of 1/2 lemon
-1 pinch salt
1. Preheat oven to 350F.
2. Measure and cube the butter. Place it on a plate and monitor until it reaches 21C.
3. Combine the two flours with a whisk in a medium bowl. Set aside.
4. Cream butter, sugar, and salt with paddle attachment.
5. Add lemon zest. Beat to combine.
6. Add flour and stir on low until it all comes together into one big mass.
7. If you are using a pastry cutter, place the flour in a large bowl and toss in the cubed butter. Use your hands to cover the butter with the flour. Zest lemon on top then work with a pastry cutter until it comes together. Touch the dough as little as possible, as this will melt the butter and change the texture of the cake when it is baked.
8. Roll the dough between two pieces of parchment into a circle that is slightly smaller than your springform pan; it shouldn't be sticky. Remove the top layer of parchment and place the base of the springform pan onto the dough.
9. Flip the dough onto the pan base and peel off the bottom layer of parchment. Centre the dough circle and attach the springform pan ring.
Using your palm and fingers, push the dough to the pan edge, making sure it is as even as possible.
10. Bake for 10min, rotate, and then bake 5min more.
11. Use a spoon to very gently push down what puffed up during baking.
12. Leave oven on to bake the filling.
Apples
-1.5 Granny Smith Apple (about 250g peeled and cored)
-1t cinnamon
-2T fine sugar
1. 1. Combine sugar and cinnamon in a large bowl with whisk or fingers.
2. Peel the apples. Use a sharp paring knife to quarter the apples and remove cores.
3. Place apple on a cutting board on the flat side, so it is stable on the surface of the board.
4. Cut the apple very thinly. 1/4 apple should yield about 25 slices.
5. Toss into bowl with sugar and cinnamon, rubbing the slices against each other.
6. Set aside while you make the filling.
Fill
-400g cream cheese
-6XL egg yolks
-1/4c milk
-1/4c fine sugar
-1t vanilla extract
-2t lemon juice
1. Separate egg yolks from whites and place into two bowls, storing the whites for other use and leaving the yolks out.
2. Beat sugar and cream cheese with whisk attachment on medium.
3. On low speed, gradually add egg yolks, one at a time, waiting until each is incorporated before adding the next.
4. Scrape and re-beat.
5. Add lemon juice and vanilla extract. Mix until combined. Then add milk gradually in 2 parts.
6. Wrap 3 layers of aluminum foil tightly onto the base of the springform pan to prevent leaking. Pour the filling into the springform pan.
7. Lay apples on top in slightly overlapping circles, starting at the edge and working inwards. Place gently in oven with 3-4 steel cups filled with hot water from the tap. This will reduce cracking but is not essential.
8. Bake for 45min. Please note that if your springform pan is light in colour, it may take a little bit more time.
9. Cool for 5min at room temperature.
10. Place paper towel on top of springform pan. Cover with a plate and top with a weight.
11. Cool 1.5-2hrs at room temperature. Remove aluminum foil.
12. Place a new paper towel. Cover with plastic wrap and use a rubber band to hold it together. Cool in fridge for 12hrs.
13. To un-mould, soak a kitchen towel in hot water and rub the pan and latch. Unlatch the springform pan. Run a palette knife or any small thin knife under hot water from the tap and use it to clean up the sides of the cake.
14. To release the base drag a sharp chef's knife or any large, sharp and thin knife along the edge and push between the pan and cake base turning the cake round and round. Then, push in the second knife. Use the knives to carefully transfer the cake onto a serving plate.
15. Enjoy! You can portion it into single servings and freeze it for 1 month. To refresh, leave in fridge overnight or for 8hrs.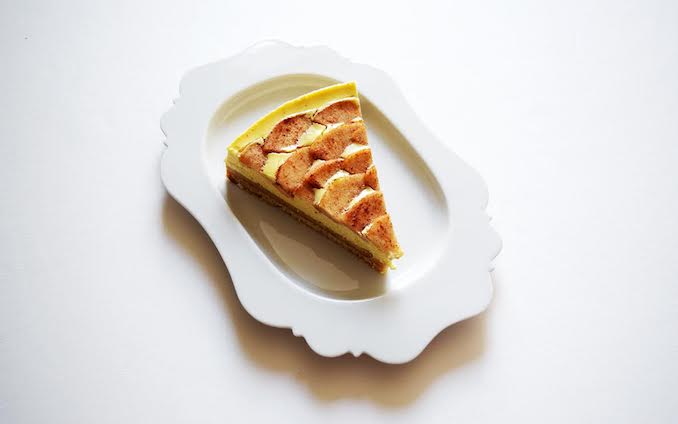 About Milas Splendid Sweets
Bespoke Organic Cakes & Pastries. Low Sugar & Animal Friendly, with Gluten Free options. Our Chocolate & Coffee is Rainforest Alliance Certified & Fair Trade.
Visit their website for more info.