Stephen Low has spent three decades producing large-format cinema experiences. His latest, The Trolley, will debut at this year's Hot Docs Film Festival as a Special Presentation. The film captures a stunning "how things work" approach to one of the world's most powerful means of transportation. This film is considered "a love letter" to the moving wonder and follows the extraordinary ride from the 19th century beginnings to today and all its complexities. We particularly have this documentary on our list as Toronto's system remains as one of a few cities in North America that still functions on an extensive streetcar network and is featured in the film.
The Trolley will have its World Premiere at the Hot Docs Film Festival (April 26 to May 6, 2018) with a free screening on Saturday, May 5th at the Cinesphere, Ontario Place at 3 pm. Tickets must be reserved in advance.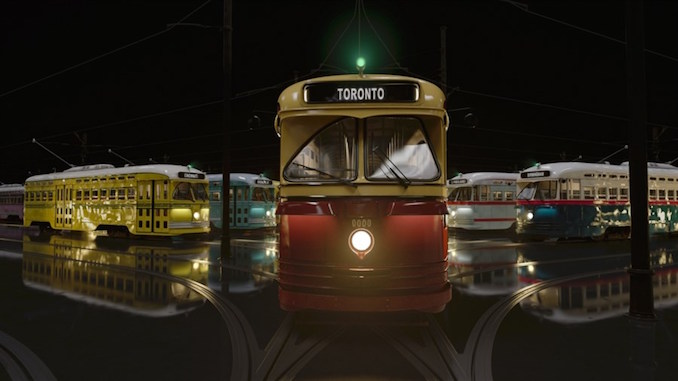 We had a chance to chat with filmmaker Stephen Low recently about this incredible film and thoughts on our transit system…
What's your favourite streetcar route in Toronto?
I like King Street because it's among the most interesting and much faster and more effective now that the cars are mostly out of the way.
Where do you prefer to sit?
I like to sit all over the place and even walk around during the journey. I like to stretch my legs and often don't sit at all.
Why do you think Torontonians have a love/hate relationship with public transit? Do other cosmopolitan cities embrace their public transit systems better?
I think Toronto and indeed all Canadian cities are still car dominated long after automobiles have become dangerous, wasteful and ineffective in large cities all over the world. Governments love cars because of the stupendous taxes generated from fuel, sales taxes, licensing and on and on. And they seem not to care if people can't get to work.
What inspired you to create this documentary?
A number of politicians were fond of saying that "the streetcars are always getting in the way" and other such nonsense, oblivious to the fact that they carry a hundred times more people (and now hundreds of times more people) than a few SUV jerks blocking them at every intersection.
What kind of democracy favours a handful of private motorists over hundreds of people trying to get home using public transit? It's even more obscene when you consider that electric rail is potentially fossil free. (and already is fossil free in many cities around the world.) Calgary's light rail is powered by wind mills– they call it "riding the wind!"
What have you learned from visiting the various trolley systems around the world?
Great public transit makes possible cleaner, quieter, safer, more affordable cities with far more public space. It's quite simply a better way to live. People are thinner and healthier too and probably more social. Many cities grass over their rail lines improving drainage, acoustics, and aesthetics too.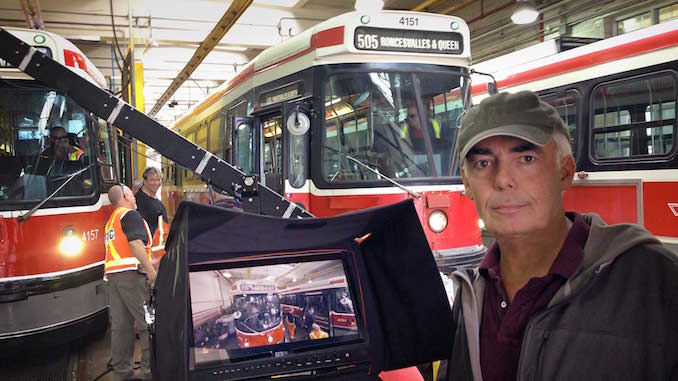 Do you have a prestocard?
I don't have one because I'm not currently living in Toronto. But when I come back I will certainly get one.
Any thoughts on the hotly debated King Street Pilot Project?
It works great. I think it's just the first step in getting cars completely out of the way of emission free rail transit. Private cars were always the ones in the way— an obscenity that should have never been allowed in the first place.
Most of the worlds people seek to live in cities. It's imperative that we provide highly efficient, clean zero emission transportation for these billions of people.
If we stupidly cling to bad ideas like fossil producing automotive gridlock we're doomed. It's really that simple.