Forget your traditional Taco Night. Try a new Latin food staple that will be sure to keep your guests salivating. The Pabellon Arepa was created by Chef Rafael Badell of Arepa Café, Toronto. The 25 year old has been cooking in the kitchen since 2016. He creates special weekly menu that features authentic and traditional handcrafted arepa's to its customers. His inspiration behind this recipe comes from providing an experience that tries to fully showcase the flavours and aromas of South American cuisine. The restaurant itself consists of a youthful, committed and dedicated team serving arepas in Canada. It is a place for breakfast, lunch, afternoon snack or dinner, and sometimes a stop to eat and drink during a good night.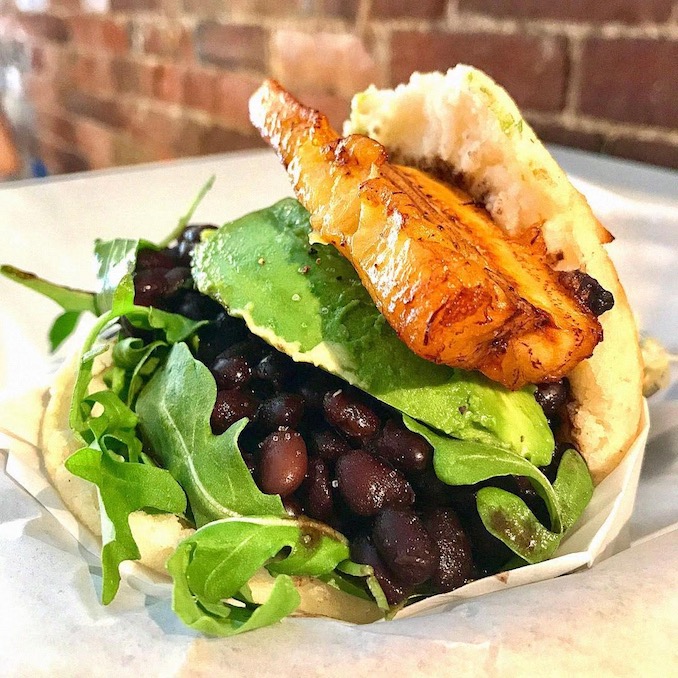 Pabellon Veggie Arepa Recipe
Serves: 4-6ppl
Toppings
Ingredients
-Pabellon Arepa
-Grilled cornmeal Arepas
-Fried sweet Plantain
-Black Beans
-Mozzarella Cheese
-Avocado
-Black Beans
-1 Spanish onion sliced in julienne
-2 Garlic cloves roughly chopped
-3 Sweet Peppers grated
-1/4 Cup Sugar Cane
-2 Cups Black beans
-Oregano
-Cumin
-Salt and pepper to taste
Instructions
-Start by sautéing the onions on a preheated pan on medium heat and cook for about 7 minutes. -Add garlic and cook until very fragrant 1-2 minutes.
-While the onions and garlic are cooking rinse the black beans on a colander and let them drain. (black beans can be soaked overnight which will reduce the cooking time)
-Add spices and cook for a few seconds. To prevent them from burning add the grated peppers and sugar cane and bring the heat to medium high.
-Add black beans and cover with water. Once the liquid comes to boil reduce to low heat and cook for 3-4 hours checking and steering regularly.
-More liquid can be added if necessary during the process.
Arepas
Ingredients
-2 cups Cornmeal flour
-2.5 cups of Water
-Pinch of Salt
Instructions
-Add water and salt to a bowl and slowly add cornmeal flour while constantly steering.
-Let the dough rest for about 5 minutes.
-Portion into round balls according to the desire size.
-Cook on a pan on medium heat for about 7 minutes each side.
Assembly 
-Open arepas with a butter knife and spread butter if desire.
-Add some slices of fried sweet plantain.
-Add a few tablespoons of black beans
-Top with mozzarella cheese and a few slices of avocado.
Visit their restaurant and be sure to check out the rest of their menu items on their website.