Name: Dynesti Williams
# of Albums/Singles: 2 EP's / 5 singles
Latest Release: "Balcony (Lost It)"
Latest Video: "Balcony (Lost It)"
Bio
Dynesti Williams inspires people to reconnect to their higher selves through bold and unapologetic live performances, lyrics, videos, and sonic experiences. She is a dynamic entertainer from Toronto, the largest city in Canada, who uses her abilities to raise the vibrations of every space she enters. Nicknamed "The Dyna" for delivering energy-like "food for the soul", Dynesti Williams invites you to explore the balance of unity and chaos through the flavor of Hip-Hop/Soul with a "dash" of Reggae.
Beginning with singing and song-writing at the age of eight, Dynesti is no stranger to the art of performance. Growing up in a low-income community housing area in Toronto's west end, her experiences offered endless inspiration for her art and business. When her mother was diagnosed with depression, her understanding of happiness was altered, and song-writing became her therapy.
Later experiencing life in-and- out of homelessness for many years, Dynesti grew to find that there are as many things to laugh about in life as there are to cry about. This led her to focus on mental health stability as the foundation of her art inspiring the title of her latest EP, The Balance, which dropped June 2016.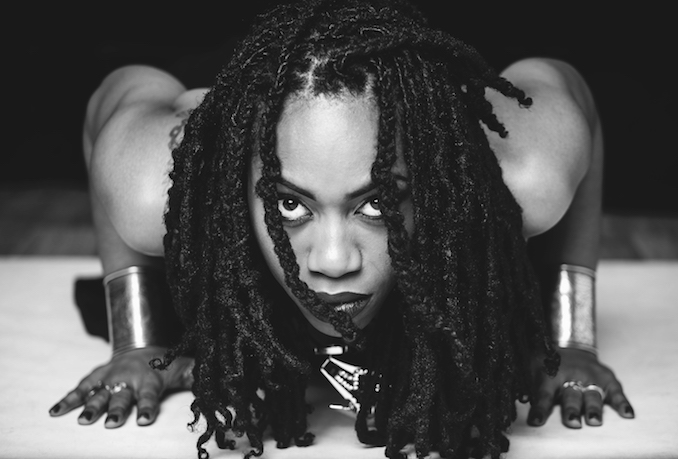 "This world, and all of the people in it, are f**ked up, but they're beautiful. Everything is beautifully f**ked up. That contrast is art. That art is what I make music about.
— Dynesti Williams
This contrast is embodied by her reggae-influenced jazzy singing and tough-love rap flow. She has been compared to various artists from Jill Scott to Busta Rhymes as she treats songs like various food dishes for her audience, validating her nickname.
Dynesti's performance training began in church choirs and arts school, and intensified through the non-profit arts, and for-profit business sectors of Toronto. She recognizes movements such as SKETCH Working Arts, UNITY Charity, Coalition Music, Reaching Intelligent Souls Everywhere (R.I.S.E.) Edutainment, and City of Toronto as initiatives that had a life-changing impact on her personal and artistic development. Building community remains one of her core passions and pursuits. In the future, she hopes work with talented youth on the margins.
Latest Single:
"Balcony (Lost It)" (Prod. by Timian, and Frank Dukes)
Favourite Restaurant:
Any 1st or 2nd generation family restaurant in Toronto with home cooking from their country of origin.
Favourite band as teenager:
Destiny's Child
Favourite band now:
Anderson Paak
Guilty Pleasure Song:
"Give It To Me Baby" – Rick James
Live Show Ritual:
Rock start hair whipping with my dredlocks
Favourite local artist:
There is too much diverse world class talent in Toronto for me to choose a favorite local artist.
Sneaky Dees nachos, Hey Meatball spaghetti or a superfood salad from Fresh?
Sneaky Dees nachos
Queen or College St?
Queen St all day erryday.
Trinity Bellwoods or Highpark?
I grew up near high park, so it will always be my favorite one in the city
EP or LP?
LP
Early bird or night owl?
Total night owl
Road or studio?
Road. I love meeting new people and experiencing new places.
Swiss Chalet or Roti?
Roti… to choose Swiss Chalet as a person of Caribbean decent would be a sacrilegious abomination!
Favourite Music Video?
"Work It" – Missy Elliott