This year's Trillium Book Award will see six English and five French books in the final round before a winner in each category will be chosen on June 20th at a dinner event in Toronto. Writers have to be from Ontario and award recipients will receive $20,000 and their publishers will also receive $2,500 to promote their winning title. All finalists will receive $500.

The Ontario government's prestigious award for literature has seen winners such as Michael Ondaatje, Austin Clarke, Alice Munro and Thomas King. Each year, winners are selected in English and French categories. The award encourages excellence in literature by investing in Ontario-based writers and spotlighting our incredible talent in the art.
Three titles this year are shortlisted for the Trillium Book Award for Poetry in the English language and there is also an award for Children's Literature in the French language. The winner for each of these awards receives $10,000 and their publisher $2,000 for promotion of the titles. Finalists for these awards also receive a $500 honorarium.
Here are this year's finalists.
English-language Finalists for the Trillium Book Award:
André Alexis, The Hidden Keys, Coach House Books
Kamal Al-Solaylee, Brown, HarperCollins Publishers
Danila Botha, For All the Men (and Some of the Women) I've Known, Tightrope Books
Leesa Dean, Waiting for the Cyclone, Brindle & Glass Publishing
Susan Holbrook, Throaty Wipes, Coach House Books
Melanie Mah, The Sweetest One, Cormorant Books
French-language Finalists for the Trillium Book Award:
Jean Boisjoli, La mesure du temps, Éditions Prise de parole
Louis L'Allier, Nikolaos, le copiste, Éditions David
Éric Mathieu, Les suicidés d'Eau-Claire, Éditeur La Mèche
Paul-François Sylvestre, Cinquante ans de « p'tits bonheurs » au Théâtre français de Toronto, Éditions du Gref
Michèle Vinet, L'enfant-feu, Éditions Prise de parole
Finalists for the Trillium Book Award for Poetry in English language:
Laurie D. Graham, Settler Education: Poems, McClelland & Stewart
Meaghan Strimas, Yes or Nope, Mansfield Press
Dane Swan, A Mingus Lullaby, Guernica Editions
Finalists for the Trillium Book Award for Children's Literature in French language:
Pierre-Luc Bélanger, Ski, blanche et avalanche, Éditions David
Gilles Dubois, Nanuktalva, Éditions David
Daniel Marchildon, Zazette, la chatte des Ouendats, Soulières Éditeur
***
There is also a FREE reading event where finalists will read from their nominated works. Visit the event page to register.
***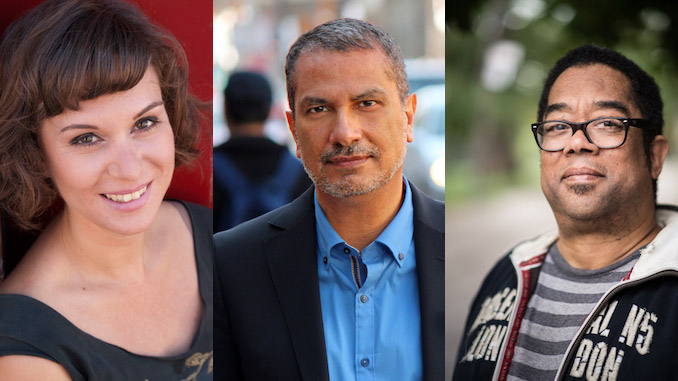 2017 Trillium Book Award Contest
We have a great contest for the ultimate TO Lit fan. We are giving away a full set of the English shortlisted books and 2 tickets to the award dinner on June 20th in downtown Toronto.
How to Enter
Facebook
1. Like Toronto Guardian on Facebook and share the post shown below.
2. Comment on the Facebook link below, or at the bottom of this article, with the first book you would read of the set!
Twitter
1. Follow Toronto Guardian on Twitter and ReTweet the tweet shown below.
2. Tweet and include #TrilliumBookAward and @TORguardian with the first book you would read of the set!
#CONTEST: This is a great prize for the Ontario Literature fan – #TrilliumBookAward – https://t.co/5xUVqWc4nD pic.twitter.com/GgkyN5vJsW

— Toronto Guardian (@TORGuardian) June 8, 2017