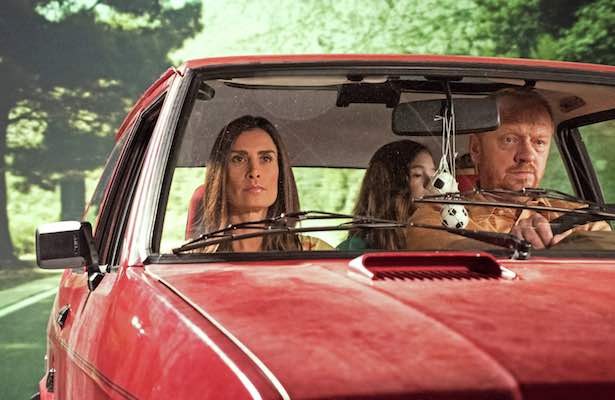 Our city is full of immigrant stories of hope and dreams. The Waiting Room, directed by Igor Drljaca, is about Jasmin (Jasmin Geljo), once a successful actor in former Yugoslavia, now lives in Toronto with his second wife (Ma-Anne Dionisio) and young son (Filip Geljo). While juggling a construction job and a busy audition schedule, he dreams of re-launching an old televised stage show that made him famous in his homeland. When he is cast in a role that triggers recollections of the civil war, he is forced to reconcile his current reality with memories of his past success.
Director Igor Drljaca was born in Sarajevo, Bosnia and Herzegovina and moved to Canada in 1993 due to the wars in former Yugoslavia. He completed his Master's in Film Production at York University's graduate program in 2011 He runs the production company TimeLapse Pictures with Albert Shin. His award winning shorts include Woman in Purple (2010), and The Fuse: or How I burned Simon Bolivar (2011), which have screened at hundreds of festivals. His critically acclaimed feature film Krivina (2012) premiered at TIFF. In 2014, he co-produced Albert Shin's In Her Place.
This film, The Waiting Room, is his sophomore feature and will have it's North American Premiere during this year's Toronto International Film Festival as part of the exciting Contemporary World Cinema series.
We had a chance to speak with Igor Drljaca about his film and why Toronto?
The Waiting Room is such a fitting title for this film. Film lovers are always curious as to how the name came about. Can you tell us about that?
Igor: The title emerged early in the writing process. The working title was originally only in Bosnian / Serbo-Croatian, Čekaonica, since The Waiting Room seemed like a far too common English title that has been used by other films. But it felt so appropriate and really captured something specific about the film. The title really spoke to not just merely the immigrant experience but to the experiences of entertainment / cultural workers, actors, performers, etc.
The film is based on reality and fiction. Why did you decide to go that route?
Igor: I've known Jasmin for a decade now, and his life story really captures the frictions that I often saw within the former Yugoslav community. I wanted to combine archives of Jasmin's performances in the 80's and 90's from before the war, where he played comedic roles on a popular stage show called Audicija. Jasmin's real son is also in the film playing his fictional son, so this type of marriage between fiction and reality allows for many exciting possibilities while writing and filming.
It's not the immigrant story that most people would expect…immigrants have seen the film, what did they think?
Igor: A number of immigrants have seen it. While I would prefer you ask them, the ones that approached me were moved by the story, and surprised by how different The Waiting Room's take on immigration was from other immigrant films that usually look at the economic troubles new arrivals struggle with. In many ways I always saw this film as a character study of an actor experiencing a mid-life crisis. The immigrant experiences inform the narrative but are not the only focus.
You've filmed this in Toronto, why?
Igor: I spent most of my life in Toronto, but with a perspective that is very specific to war refugees that left the wars in former Yugoslavia, a type of immigration that is not voluntary. These people feel like they lost a good life somewhere, but that somewhere is partially a fiction of their own making. Toronto is a city that offers many opportunities, but often the trauma's carried from the former countries, make it difficult for some new immigrants to see that. They still desire to eventually return to this idealized home they left behind. I was always working with a very specific idea, of an immigrant performer and how he navigates the intricacies of maintaining a footprint in an industry that sees him as a caricature, through ironically he became famous in his old country for playing a caricature as well. Toronto, as a city, is not a very secure place in terms of its own identity, and I wanted to create an atmosphere where one could feel this.
What feelings or emotions are running though your mind about your film screening at TIFF?
Igor: Overwhelmed, excited, joyful. It is a lot of work before the premiere even takes place, but I really feel humbled by the support this festival continues to show in my work. It has a very important significance in my growth as a filmmaker, not just because the home-town festival, but because they've been extremely supportive of new voices and new approaches to making films in this country. I've screened a few shorts and my first feature Krivina at TIFF in 2012, so I hope to be coming here with my future work as well.
In three words, how would you describe Toronto?
Igor: Eclectic, Cozy, Insecure