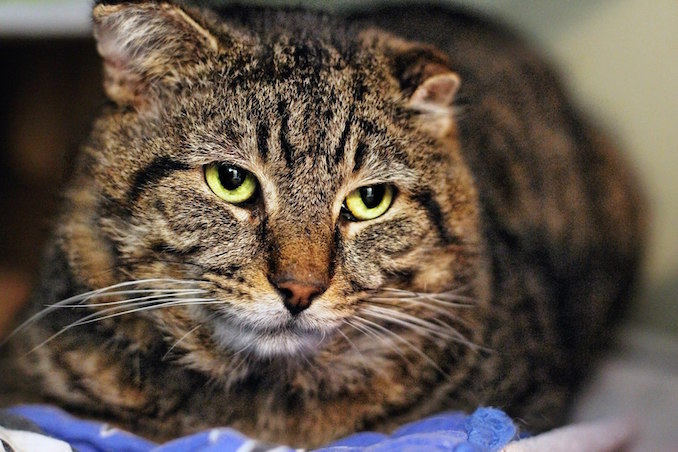 Name: Rufus – Born: February 2011
Special Needs: Tested + for FIV – Feline Immunodeficiency Virus
Rufus the cat was rescued from a very difficult life on the streets and bares the scars and battle marks to prove it. He must of had some positive human interaction in the past, as when he first arrived at the shelter he warmed quickly to the volunteers. Rufus is a remarkably handsome tabby with thick dense fur, intense amber eyes and a gentle shy purrsonality. He is is adapting nicely to being an indoor cat at the shelter, he enjoys being served his dinner, cuddling up or stretching out in a soft comfortable warm bed, learning what toys are and how to play and happily accepts human touch and attention. Rufus would make the a purrfect companion for a mature slow placed household. If you what to show Rufus what it is like to have unconditional love and a furever home & family, please fill out an adoption application an contact NTCR.
***
About North Toronto Cat Rescue
This column features Toronto pets available for adoption.
Our current features come from North Toronto Cat Rescue which is a no kill, no cage shelter in Markham, Ontario, Canada. They have saved over 2000 cats over the years from both the harsh environments of life on the streets and from kill shelters in Ontario and Québec. They care for both kittens and adult cats. I always like to promote getting an adult cat as it is a lot easier to pick the cat with the right temperament for you.
The NTCR shelter is run by volunteers with no government assistance. They currently have around 200 plus awesome cats that would love a good home. Go and visit them soon!
For more info, Visit the NTCR Website.
***
Fundraiser
On another Note, NTCR is in trouble as they are losing their home in 2016 for development of the area. If you can offer any help in finding a new home for the almost 200 cats at the shelter, that would be amazing.