Whether you have kids, or not, The Hospital for Sick Children (aka SickKids) is a place that has touched us all. As a young child growing up in the city, I had several visits with my parents. As I started on my career, I had spent time volunteering after work reading and spending time playing with kids post-op when their parents couldn't be with them. One of the most rewarding experiences in my life. As a parent, I've come full circle to appreciate the world-renowned facilities and staff and have never been more grateful that this hospital is there when we need it.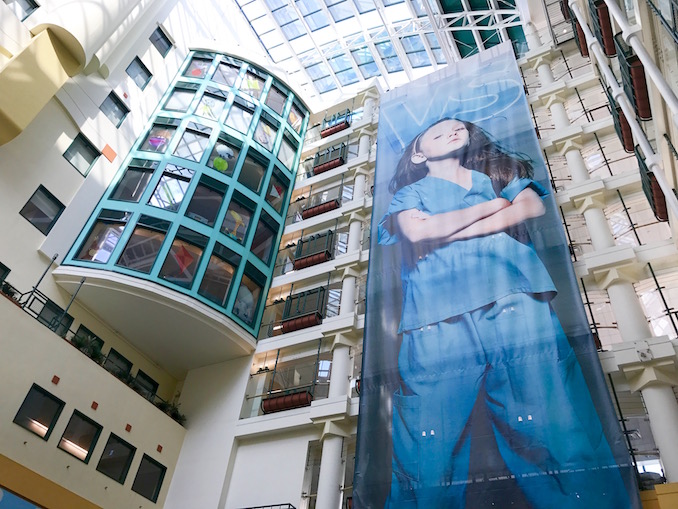 When you need to spend time at the hospital life is thrown out of whack. For parents and kids, it's often times full of ups and downs and taking things day by day. No doubt that bringing some sort of normalcy to a family's life can make a hospital stay easier.
There are many corporations, schools, organizations and individuals that are interested in supporting SickKids and in all creative ways. I can recall book publishers, gaming console companies, and craft supply companies all wanting to contribute to helping patient stays more enjoyable. I've seen individual families raise funds to donate television sets to patient rooms. It's pretty amazing.
The newest initiative, the Samsung Space, was unveiled recently — named by the hospital's Childrens' Council. Located on the top floor of SickKids, this interactive digital healing (and fun) room is a bright and comfortable space filled with natural light streaming in from the large windows. The space itself is meant to be a place where patients and their families can spend time together to read, interact with technology including VR, 360 Cameras, digital tables and tablets, television and simply hang out.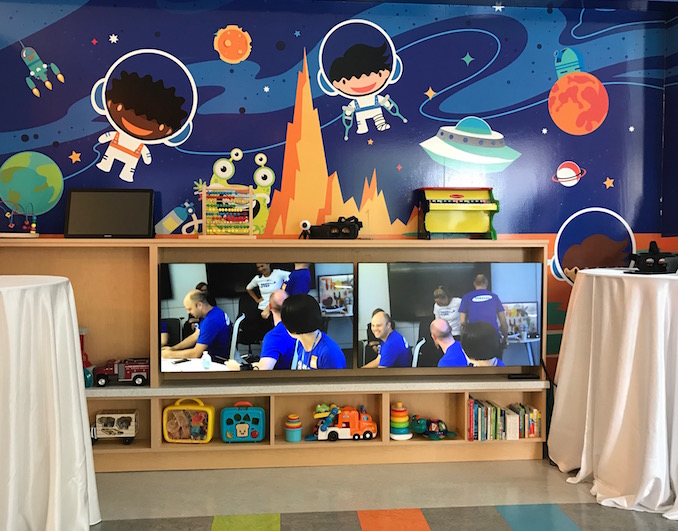 Karmina Karmali, Director, Centre for Innovation & Excellence in Child and Family-Centred Care at SickKids, tells us that the design of the space was a collaboration between SickKids and Samsung Canada. "The Childrens' Council played a significant role in the design of this space, " says Karmali. "This space is so important, not only for our patients but also for their siblings and for their parents. Child and Family Centred Care is an important part of the mission and philosophy at the Hospital for Sick Children. We strive very hard to improve the experience of families during their hospitalization. One of the things we've heard from both patients and their families is that having access to spaces apart from the clinical areas improves their hospital stay and experience. This type of space is healing for our patients and much needed for families who are going through difficult times. The space is anything but clinical. It is warm and inviting, it's fun and it's a space that creates a sense of normalcy that is very important for children."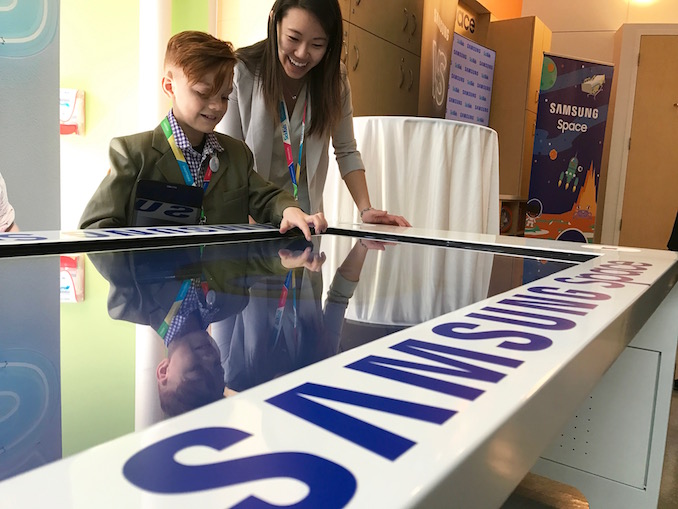 Samsung Canada has committed to a multi-year partnership with SickKids that includes a $1 million donation to the Foundation as well as technology . "The funding also allows us to staff the space with child care specialists who will develop programs to lead children in play," said Karmali. "Play is an important part of development and growth in children. The technology that we have will be integrated into our programs. The space will also be available to teachers at SickKids who provide schooling services to children during their hospitalization.
"When we asked our staff about what was close to their hearts that they would like us to be involved in, SickKids was a clear choice," said Mark Childs, Chief Brand Officer, Samsung Canada. "It truly comes from the heart and this hospital touches us deeply." Child's also tells us that their company has also committed volunteer hours to work closely with SickKids staff in building the right space for families  — to just do what families would normally do if they were at home.