I have completed 2 missions with Médecins Sans Frontières. Most recently I was the Medical Activities Manager in South Sudan. I was in charge of the inpatient department of a tent-based hospital located within a UN refugee camp in Malakal serving upwards of 45 000 people. The hospital was a 50 bed hospital that admitted all ages from cradle to grave. There was a therapeutic feeding program for malnourished children under the age of 5, a TB and HIV program, and centre for identifying and treating visceral leishmaniasis, an almost unknown disease with pockets of cases only in South Sudan and India. My main role was to oversee the admitted patients and to ensure they received the best care available. There were no local doctors within the camp, but there were clinical officers that function like physician assistants here in Canada. Another main role of mine was knowledge transfer and education. I ensured the clinical officers were comfortable identifying and treating the common ailments of this population through training and bedside teaching.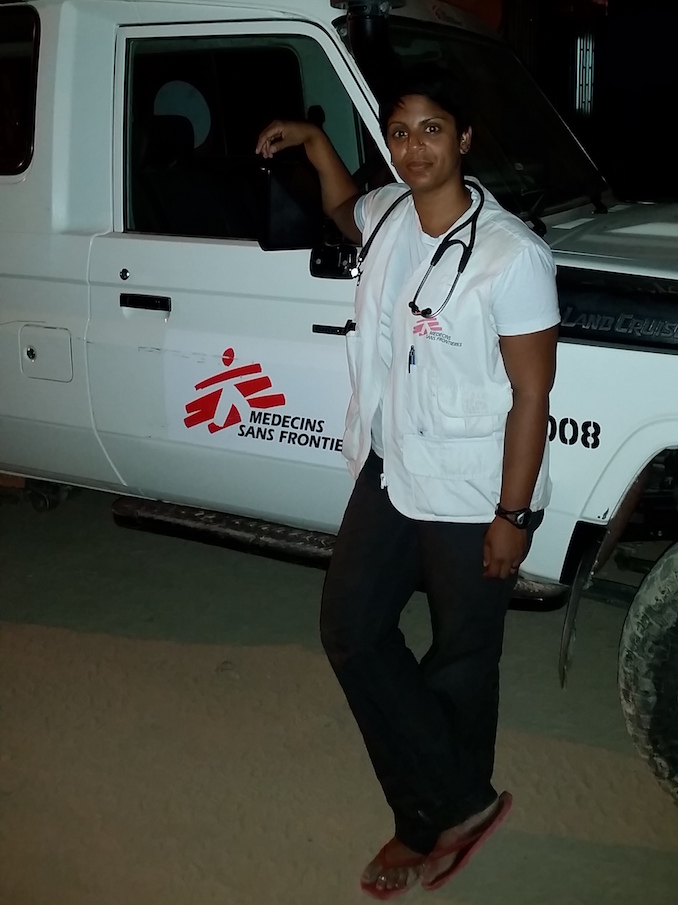 Sunita Swaminathan – Medical Activities Manager for Doctors Without Borders
I have also worked in a similar capacity in Afghanistan. I was in charge of the adult portion of the inpatient department of a provincial referral hospital in Lashkar Gah, Helmand province. In this case there were a number of local doctors working in the hospital. Their medical knowledge was quite limited, therefore a large portion of my role was teaching proper identification and management of many medical diagnoses. There was also a significant management portion of my role including creating schedules for the doctors, ensuring attendance, etc.
What made you want to work with MSF? What is your background work in? Where were you working prior?
I was inspired to work with MSF when I was in my first year of university. I heard Dr. James Orbinski accept the Nobel Peace Prize on behalf of MSF. I never thought of how lucky I was growing up in Canada where healthcare is a right and not a privilege. I knew that as soon as I was able, I would work with this wonderful organization. I currently work as a full time emergency physician with the University Health Network here in Toronto. I am so fortunate to work with a group of doctors that see the importance of Global Medicine and have been flexible enough to allow me to take breaks from my academic and clinical responsibilities here in Toronto to complete missions with MSF.
-How old were you when you realized you wanted to help in this way?
I think I was 7 years old when I realized that I wanted to be a doctor when I grew up. When visiting my grandfather in India, I saw that he would have these private meetings in the front room of his home. I later found out he was running a free clinic for those in the neighbourhood that didn't have access to basic medicine. This idea has stuck with me since then and was the main motivating factor for first pursuing medicine and ultimately working with MSF.
What is the longest amount of time you have been on the road with MSF?
My first mission in Afghanistan was the longest time I'd been away…almost 6 months away. 
What are some of the challenges in your field at MSF?
Each project in MSF has its own unique challenges. In Afghanistan, it was basically a locked project. Meaning, we had no freedom of movement outside of our living quarters or the hospital. Every day we went to the hospital at the same time and returned to our living quarters at the same time. There was no venturing out to discover our community as it wasn't safe for us to do so. It was difficult not to have a little cabin fever! Again in South Sudan, conditions were rough. The temperature reached almost 50 degrees Celsius during the day in the hospital and didn't cool down all that much at night. It made sleeping in a shared tent difficult to say the least! Also in both cases, it's hard to be away from family with sometimes little contact…depending on how well the internet is working!
What is needed to improve these conditions?
MSF works to make the conditions the best they can with the resources available. They know that happy fieldworkers are hard-working fieldworkers. In Afghanistan, we were given a room each for some privacy and we had a gym in our complex to work off some of the extra energy and to relax with a television. In South Sudan, I was at the tail end of tent living. MSF upgraded the living conditions to individual trailers with air conditioning and privacy. MSF also ensures that their staff get a break during their assignments. On shorter projects a long weekend rest in the capital city or on longer assignment with a full week R & R, usually outside of the project country. MSF continually works to make sure project life is improving. But the focus is always on the project itself. I think if there is anything that can be done to improve the project (i.e. funding for medication, shipments that arrive on time, etc.) then the conditions would be easier to manage.
***
Learn more about MSF on their website.