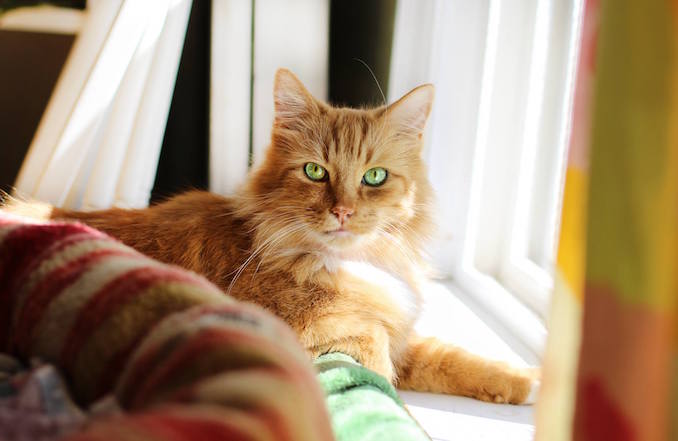 Name: Rascal – Born: March 2008
Rascal is patiently waiting and ready for a "furever" home and family that will show him what it is like to be loved unconditionally. He was adopted for 3 years but when he presented with Pancreatitis he was surrendered back to NTCR, as the owners were not prepared to deal with this health issue and the related costs. He was taken to the vet, placed in foster care in which his condition has been successfully controlled by a prescription diet. He is currently in the shelter and has maintained his health with no issues to date. Rascal is a handsome long haired ginger with alluring green eyes with a sweet and gentle heart of gold. Rascal first need is to feel safe and secure, as he is very sensitive to loud noises, aggressive animals or people and disruption. Once feeling secure his true incredible purrsonality shines though, which is that of an affectionate, loving, loyal companion that will come up to you and request pets with a rusty meow. Once the luvings starts, so does his loud purr of contentment, along with the occasional drop of drool to let you know he is in pure bliss. Rascal would do best in a quite mature adult home where he can feel safe allowing his tenderness devotion and to blossom with no bounds. If you want to be the one to show this amazing soul unconditional love and give him the "furever" home family he so deserves, please fill out an adoption application and contact NTCR.
***
About North Toronto Cat Rescue
This column features Toronto pets available for adoption.
Our current features come from North Toronto Cat Rescue which is a no kill, no cage shelter in Markham, Ontario, Canada. They have saved over 2000 cats over the years from both the harsh environments of life on the streets and from kill shelters in Ontario and Québec. They care for both kittens and adult cats. I always like to promote getting an adult cat as it is a lot easier to pick the cat with the right temperament for you.
The NTCR shelter is run by volunteers with no government assistance. They currently have around 200 plus awesome cats that would love a good home. Go and visit them soon!
For more info, Visit the NTCR Website.
***
Fundraiser
On another Note, NTCR is in trouble as they are losing their home in 2016 for development of the area. If you can offer any help in finding a new home for the almost 200 cats at the shelter, that would be amazing.