Family Day (February 20) is coming up and it's a holiday we appreciate and love during the gloomy winter months. If you've got kids in the city, chances are the school boards have also tacked on an extra day to make it a four-day weekend! If you're planning to spend time in and around the city, here are some great activities and places to take the family.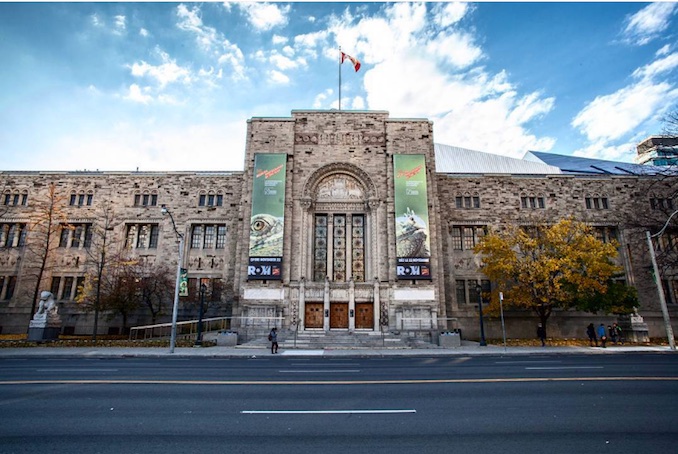 One World Family Sunday Weekend at the Royal Ontario Museum: (February 18, 19 & 20)
Celebrating Canada's rich multicultural landscape at the ROM. Enjoy traditional and contemporary arts and culture from various communities. Saturday enjoy Lunar New Year themed fun with Chinese arts & crafts, Lion Dances, Fortune Telling, Tea Tasting. Visit with Asafo Flag artists from Ghana and join in fun workshops on Saturday.  'Dance through Time' with Opera Atelier on Monday as they perform historical dances.Share what Canada means to you in a multilingual video 'Here's My Canada' contest for a chance to win prizes. ROM animal care keepers as they bring out some of nature's friendliest creatures and learn more about biodiversity of our planet. (General Admission prices range from $14 to $20)
The Drake + Monkey Bunch: (February 19 & 20), Drake Hotel
This annual family friendly celebration of live music and loads of fun invites kids and their adults to go ape! Event happens in the hotel's Underground venue. Cover $10 or $30 for family of 4. Reserve for lunch on the same day and get 15% off your meal.
TIFF Family Day: (February 20), 350 King Street West
The TIFF Bell Lightbox will host an exciting roster of family-focused programming. Enjoy some of the most celebrated films of the TIFF Kids International Film Festival as well as classics like Willy Wonka and the Chocolate Factory. The innovative digiPlaySpace exhibition will unveil the latest in interactive digital, art and design activities from Canada and around the world. (See site for ticket prices)
Young People's Theatre: (February 20), 165 Front Street East
On Family Day, YPT will present two special productions for kids plus free craft activities that are themed around the shows. Roald Dahl's James and the Giant Peach for ages 6 and up is a fun musical version of the beloved children's story. Scenes From a Tree is an award-winning production designed for babies 18 months and tots. Tickets range from $10 to $41.
Kids take over the Art Gallery of Ontario: (February 20)
Once again, the AGO transforms into the Kids' Gallery of Ontario (KGO) with an incredible line up of art activities inspired by the ongoing exhibition Francis Alys: A Story of Negotiation, tours, family yoga, short films and interactive performances. All activities are included in the price of admission. Special discounted family pass available for advance purchase for only $39 (2 adults and up to 5 kids ages 6 to 17).
Ontario Science Centre: 770 Don Mills Road
Family Day weekend is an ideal time to visit the Science Centre as they've just recently unveiled several new exhibitions including Canada150, BioMechanics: The Machine Inside that is both fascinating and a curiosity. Shrimp that can break through glass? Discover how living creatures are "built". The newest IMAX film "Dream Big" also opens this weekend. (General admission for the Science Centre from $13 to $22. Additional charge for IMAX film)
Toronto Light Fest at the Distillery District: (ongoing until March 12)
This is the inaugural year of this beautiful nighttime display of  21 public art installations (free). Created by local and international artist, Toronto Light Fest is meant to draw us out of our cocoons to cozy up to the warmth of glowing lights. It's reminds us to embrace our winter nights and then head into the many shops and cafes to warm up. Hot chocolate anyone? You can read more about it on our post here.
Ice Breakers: (ongoing until February 26)
Plan a visit along Toronto's Harbourfront to check out the newest public art exhibition (free). There are five "Ice Breaker" interactive installations between Yonge Street and Bathurst Street. Download the app to enhance your exploration.
Winter Stations: Beaches (February 20 to March 27)
This is the third year for this very popular public art installation (free) along the waterfront of the Beaches. Selected winners of the international design competition bring temporary installations to the stunning landscape where land meets lake. This year's theme is Catalyst: Converting one form or substance into another. Artists and designers were asked to "unearth and intervene in such a way as to open up the landscape, as well as the minds of those who come to view and interact with the installations." Five installations are by artists and three are by students at University of Toronto, University of Waterloo, and Humber College.
Beauty and the Beast Castle experience at Casa Loma: (February 17 to 20)
Fans of the Disney classic will want to visit Toronto's own fairy tale castle for this special exhibition with a rare opportunity to see original props used on set of the film's upcoming release, check out interactive exhibits and costumes. This is the only Canadian stop for this Disney experience. Advance tickets definitely recommended. Tickets range from $15 to $25.
Canadian International Auto Show: (February 17 to 26) Metro Toronto Convention Centre
Something for everyone is true when it comes to the annual CIAS. But Family Day (February 20) is a good day to visit as the show pulls out all the bells and whistles including entertainment, prize giveaways, kid friendly activities. In the past there have been special sport celebrity appearances. Celebrate 50 Years of Grand Prix in Canada at the special exhibit that showcases the history, cars and drivers. Aspiring car aficionados will want to visit Auto Exotica that showcases the ultimate luxury cars. If little kids get tired, drop them off at the Volkswagen PlayCare Centre.  Family pass $45 (2 adults and 2 children between ages 7-12)