I got a chance to chat with owner Carrie Shibinsky and her Community Manager, Trish Cassling about their new website Artbomb that was born in Toronto.
The site takes after the idea of daily deal websites such as Groupon but ads the twist of art. Each day a new Canadian artist is featured along with a piece of their work for sale. The artists are all up and coming, and the deals are a steal compared to what you would pay in a gallery.
Here is an example of one of their daily artists, Toronto native Jen Mann.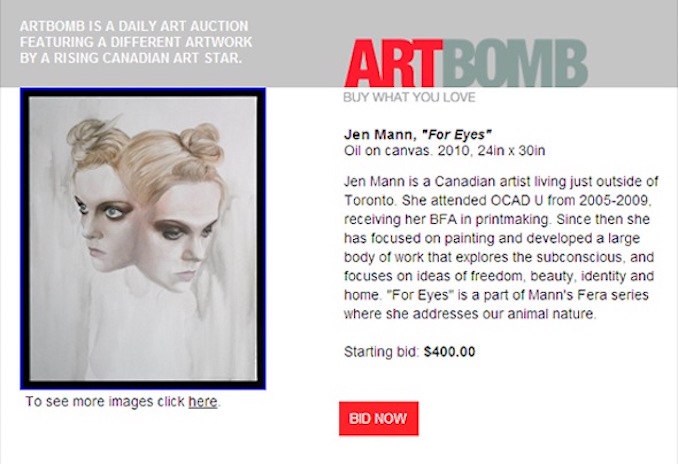 How did you come up for the idea of ArtBombDaily.Com?
After working for the Art Gallery of Ontario (AGO) for 20 years I was laid off due to financial cutbacks. I really wanted to stay connected to the art scene and support artists so I created Artbomb as a marketing strategy to help profile artists and their work. After a great deal of research I learned that there are only approximately 100 private art galleries in the city and thousands of working artists. I realized that there was definitely a need for a vehicle to help promote artists. I also realized that there were many sites on the internet that sell art, but not one, that brings the art to you everyday by a special eblast into your inbox. Artbomb is a fresh approach to buying art. Artbomb speaks to everyone, particularly young, tech savvy individuals. People who want to own original art but don't know where to begin. People with homes they want to decorate with work that is meaningful to them. Condo buyers, young couples, people who want to support emerging, local art.
What types of artists do you show? 
The artwork – including painting, prints, photography, sculpture, drawing, mixed media and video art – reflects a broad cross-section of Toronto's most exciting talent. Artbomb features seasoned professional artists repped by big named Galleries from Jane Hinton, 17 years with Mira Goddard to recent OCAD grads.
Why 1 a day?
It was imperative that I designed a site that adhered to the mandate: "Buy What You Love". Artbomb is minimal on purpose. I do not want subscribers to be bombarded with links and multiple works and multiple messages. I want the Artbomb subscribers to receive the one work and be able to focus on that one work and fall in love or not – It's a split second decision, people are busy.
Why are these daily deals websites so popular?
People are more comfortable now than ever with online shopping. There are basically no industries left that aren't affected by people using the web as an impactful channel of commerce. People are looking for convenience and ease. They want to know where to go to find something. They have no time to browse. They want to be directed to things they may find interesting. This is where the curated aspect of Artbomb is important. The rise in a search of 'authenticity' means people are tiring of IKEA, and manufactured products to decorate their homes. They are looking for something original, whether it is an item brought back from travel, or original art. There is also a trend towards celebrating our city and supporting the 'local' in food, but also in fashion and in the visual arts.
How do you find the artists?
Artbomb's curator (Lisa Campos Aziz) is extremely educated on the Canadian art scene and has a good eye for the rising stars. Artists are also encouraged to submit work for consideration through our site.
What kinds of other companies do you work with and how do you work together? 
We are working hard to collaborate and build cross promotions with like-minded organizations. We want to continue growing and creating awareness and the best way to do this is working together. Artbomb's business model is based on subscribers, so we must keep moving forward. We currently are working with the ROM with a discount to their members; the Gladstone Hotel is curating the first Monday of every month "Gladstone Mondays"; The Spoke Club and Artbomb are finalizing the details on an artists talk series and many others.
What are the biggest challenges? 
Not enough hours in the day to do everything we want to do!
What are some other Toronto businesses that you think are awesome? 
I love and try to support all of those small cottage industries that people start on a wing and a prayer – promoting something they believe in and are good at.
What is next for your site? 
Artbomb hopes to continue to build awareness of our brand and do more cross-promotions in the city of Toronto. We hope to branch out into other vehicles to help bring more exposure for each artist through exhibitions and education.