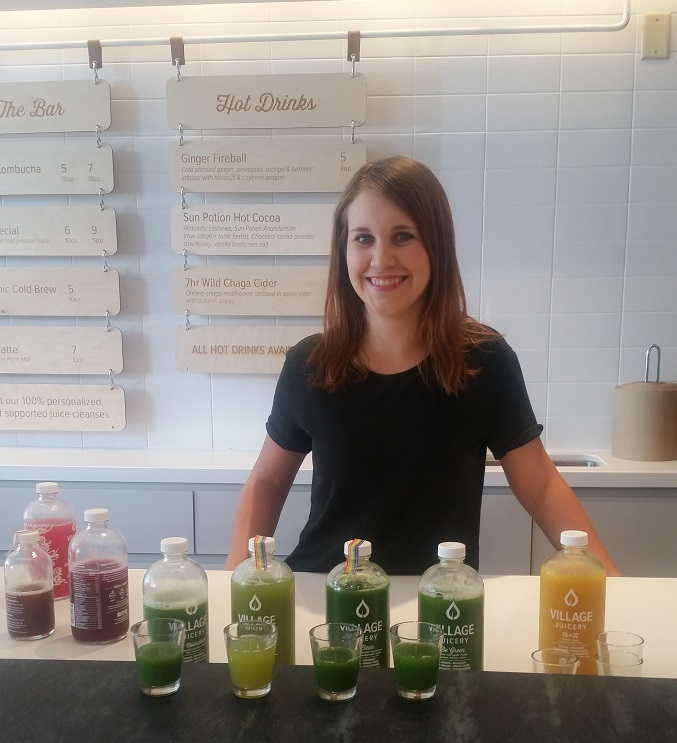 Last week we met Gabby Ouimet from Village Juicery and learned all about juice goodness. This week, we talk sun care with the Certified Nutritional Practitioner (CNP), who also has her Bachelors in Kinesiology (BScH Kin) and is 3 weeks shy of her Masters of Public Health (MPH). Take it away, Gabby!
***
I'm Gabby Ouimet, CNP and in-house holistic nutritionist with Village Juicery. During this time of year, there's nothing I want to do more than lounge in the sun! Living in Canada, we aren't always able to spend time in the sun, which is why getting in a healthy dose of sun exposure is important. Spending time in the sun allows our bodies to create vitamin D, which is critical for bone strength, hormonal balance, is beneficial for our mood and is even a cancer and immune-system protective!
Of course, although the sun has its benefits it's also harming, which is why it's important to prevent our skin from the negative effects of the sun through your diet and conscious sun exposure. Here are my top 5 tips for getting the most out of your summer sun!
1. Load up your diet with antioxidant rich foods like blueberries, watermelon, dark green veggies and green tea to protect your skin from free radical damage.
2. Choose a clean sunscreen. Look for sunscreens that are mineral-based (like zinc oxide) and contain no nanoparticles. Use the same judgement you would when choosing a lotion and avoid other common, but harmful, ingredients like parabens, BHT and parfum.
3. Help your body recover from sun damage with soothing, antioxidant-rich creams that contain aloe, sea buckthorn and/or rose hip.
4. Don't neglect your body's need for sun! Safe sun exposure is important once a day so skin can soak up and produce cancer-fighting vitamin D.
5. Remember – sun protection is something to think about before, during and after sun exposure! Make SPF your friend.