Its finally summer and that means golfers all over Toronto are gearing up to get outside and work on their game. They'll be practicing their swing, putting and chipping with just about anything they can poke a stick at because golf is an itch that must be scratched. Whether you're just new to the game, or you're already a skilled veteran who dreams of 'breaking eighty' you may find yourself seeking golf lessons this season.
If you live in this great city you may wish to know the names and locations of nearby golf pros, and what exactly they offer and at what prices. There are golf courses all around the G.T.A., especially in the western reaches of the city, and golfers with cars have a lot of choices. But if you don't have a personal vehicle then your selection is limited to whatever you can access by subway and bus.
Practicing your swing by hitting golf balls is strictly prohibited in many Toronto parks (and that includes all the beaches) and carries a steep fine and possible criminal charges (reckless behaviour, or mischief). Even 'putting' golf balls on the grass in city parks is not allowed. Urban golfers must instead restrict their passion to driving ranges and golf courses where they can also sign up for golf lessons.
Humber Valley Golf Academy in Etobicoke has a golf pro named Michael Dale CPGA at the helm, and if you book private lessons there you'll pay about $110 an hour plus HST and he'll probably be your golf instructor. Humber Valley Golf Course is a lovely piece of property that consistently defies visitors' expectations. The place is open to the public, located practically inside the city and is affordably priced, yet surprisingly underutilized. Michael himself also has a good reputation too and has been a member of the CPGA since 2004. He's been creating junior golf programs and teaching public lessons for over fifteen years so he knows his stuff and how to teach all elements the game,
Bradlee Ryall teaches golf lessons at Lionhead Golf Club on Mississauga Rd just south of Brampton where he's the Director of Golf Instruction for all Kaneff Golf Academies at all six of their golf courses. Bradlee's golf school imparts high quality training to people of all ages in a very pleasant outdoor setting with great amenities at a good price. On average, golf lessons are only $100 an hour for adult private coaching. This is the fee before discounts or group amortizations, and that's the benchmark we'll use throughout this report, the price of a one-hour adult level private golf lesson.
Bradlee Ryall is probably the best golf instructor in Ontario for younger players because he's just a young player himself and it wasn't that long ago he was a real competitor. Junior High Achievers love him because he relates real world tips and knowledge of actual courses and the obstacles these kids will face on their path to qualifying. Bradlee was named PGA of Ontario Junior Leader of the Year at the end of 2015, and has now taken his signature junior learning pyramid and customized it for all Kaneff Golf properties. At his golf academy, students work their way up through classes which are sequential degrees of proficiency. This is similar to the way karate and swimming are organized but instead of receiving belts or badges for graduating from one level to the next, students here receive rubber bracelets to identify their progress. At his junior summer golf camps and during junior league games, all Bradlee Ryall's students wear their ranked bracelets with special pride.
The Gary Kent Golf School at the Scarborough Golf Course is another reputable training facility near Toronto. This academy was created by the golf pro Gary Kent and is popular with business executives over age fifty. The Gary Kent Golf School is presently expanding across the province propelled by Gary's own teaching systems called Green Tee Programs™. Competitively priced, the school charges $100 for a one hour private lesson. Gary's unique educational formula is well liked by students, especially older golfers and non competitive juniors because it "eliminates many of the frustrations, fears and embarrassment of trying to play consistently great golf". His training regime adopts a slightly more relaxed and informal approach to learning the game. Gary sets objectives that help players recognize and achieve their goals at their own pace. His team of well trained and highly motivated staff work together to make their golf school an enjoyable and affordable place to learn or improve your golf game.
David Fritz is the Golf Pro behind the David Fritz Golf Academy which is available at eight or more different golf courses across south western Ontario. David is certainly the biggest trainer and golf lesson solutions market leader in this province with his most popular locations found in Oakville, Richmond Hill, and Aurora.
With over twenty years of professional golf instruction experience, David provides uniquely tailored golf lessons that are customized to match your personal needs. He's also know for hosting Junior Golf Clinics at the St. Andrew's Valley Golf Club just north of the city.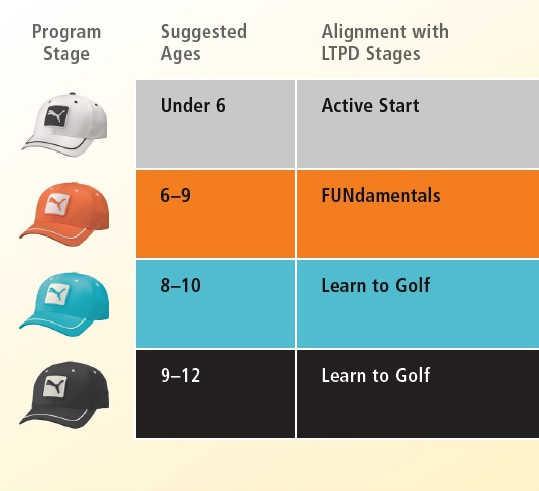 Like many other golf pros David uses special clothing to separate students by age or ability and his system is based on various coloured hats.
Chima McLean is one of the area's oldest and busiest golf pros. Unlike the other trainers on this list, Chima's school is not situated on a golf course but rather he teaches the great game from inside his air conditioned studio in the heart of downtown Toronto. King's Golf Academy is located on the third floor of 124 Church Street (south west corner of Richmond and Church St) and facilities are complete with a mini driving range and putting greens. As a golf pro he has everything he needs to help Bay St executives who can walk to and from the facility from their office towers. Not surprisingly, and because of the convenience and the high demand for his time, Chima's prices are more than double what you pay out at the course; training at King's Golf Academy costs approximately $260 per hour.
Let us know where you get your golf lessons!